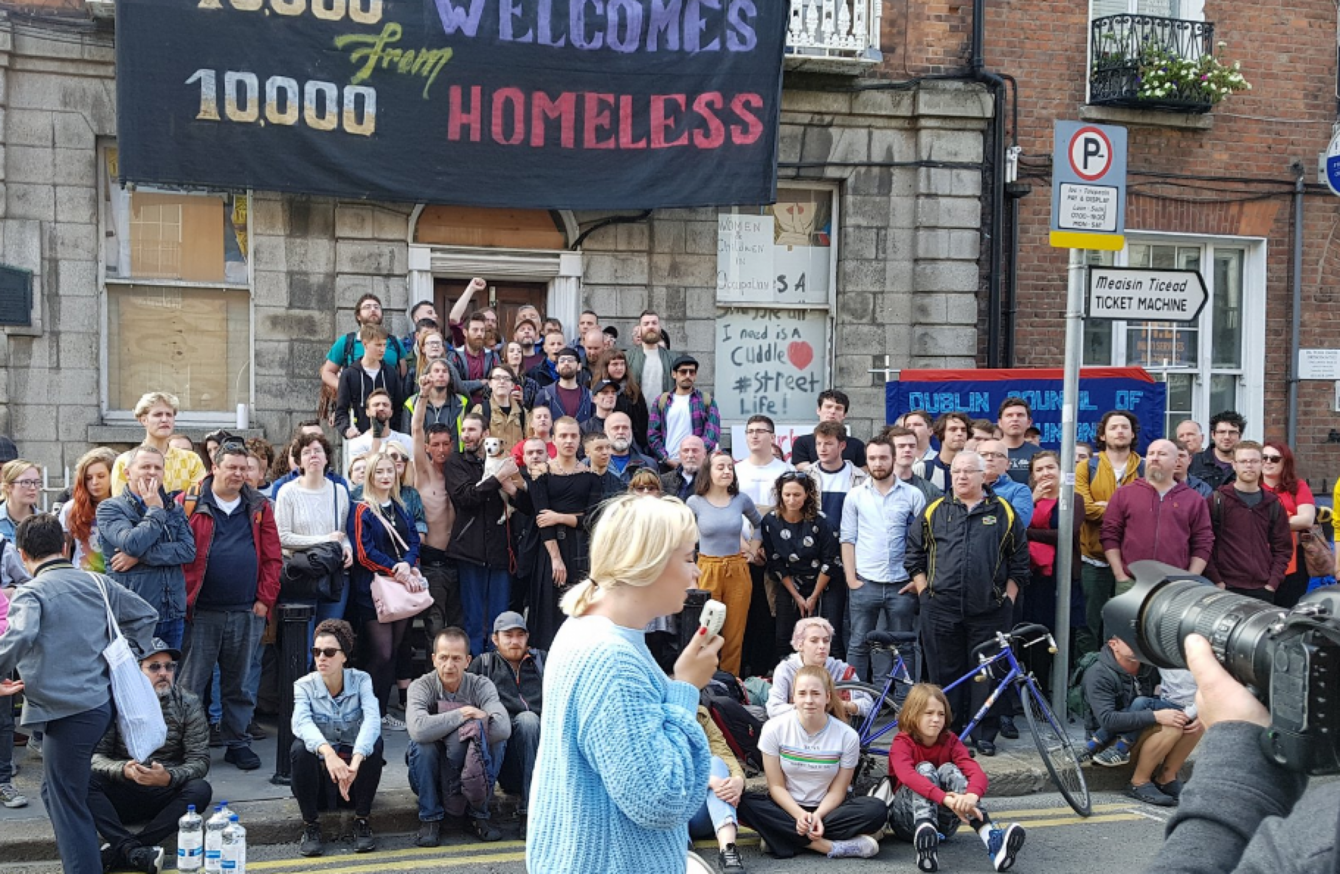 HOUSING ACTIVISTS HAVE vowed not to leave a house on Frederick Street North in Dublin city after being told to vacate by the High Court.
A rally is now taking place outside the house, with activists shouting slogans like 'Leo, Leo, Leo – out, out, out'.
Just after 2pm, a number of gardaí appeared at the site. There were chants of "shame, shame" and "where's our injunction".
The deadline to leave was 2pm this afternoon. One of those speaking at the event is TD Paul Murphy, who said he is expecting resistance. "It's a great location for it"
The activists want the building taken under a compulsory purchase order. 
"We are trying to live that's all we're trying to do," a man, who says he's been homeless for 22 years, told the crowd. "We own the streets."
It's understood that there are several groups still inside the building – which is not derelict – and that there is some furniture inside.
 (Can't see the video? Click here)
One speaker called for Sinn Féin leader Mary Lou McDonald to stand at the building in solidarity with the people inside.
High Court
Yesterday, the High Court ordered that persons occupying a house in Dublin's north inner city must vacate the property by 2pm today.
Justice Michael Quinn granted Patricia Ní Greil, the owner of 34 North Frederick Street, Dublin 1, injunctions requiring persons unknown to vacate and cease trespassing and get out of the four-storey building.
The court heard that the people involved are believed to have previously been in occupation of a property at Summerhill Parade, Ballybough, also in Dublin 1. 
In statements to the media, the occupiers said their actions are designed to highlight the current housing crisis. They left the Summerhill property on 17 August last after the owner of that property secured a High Court injunction.
There was no appearance before the court yesterday by the occupying group and no representations were made on their behalf to the judge. 
With reporting from the scene by Cianan Brennan. Additional reporting by Aodhan O'Faolain and Ray Managh. Comments are closed for legal reasons.