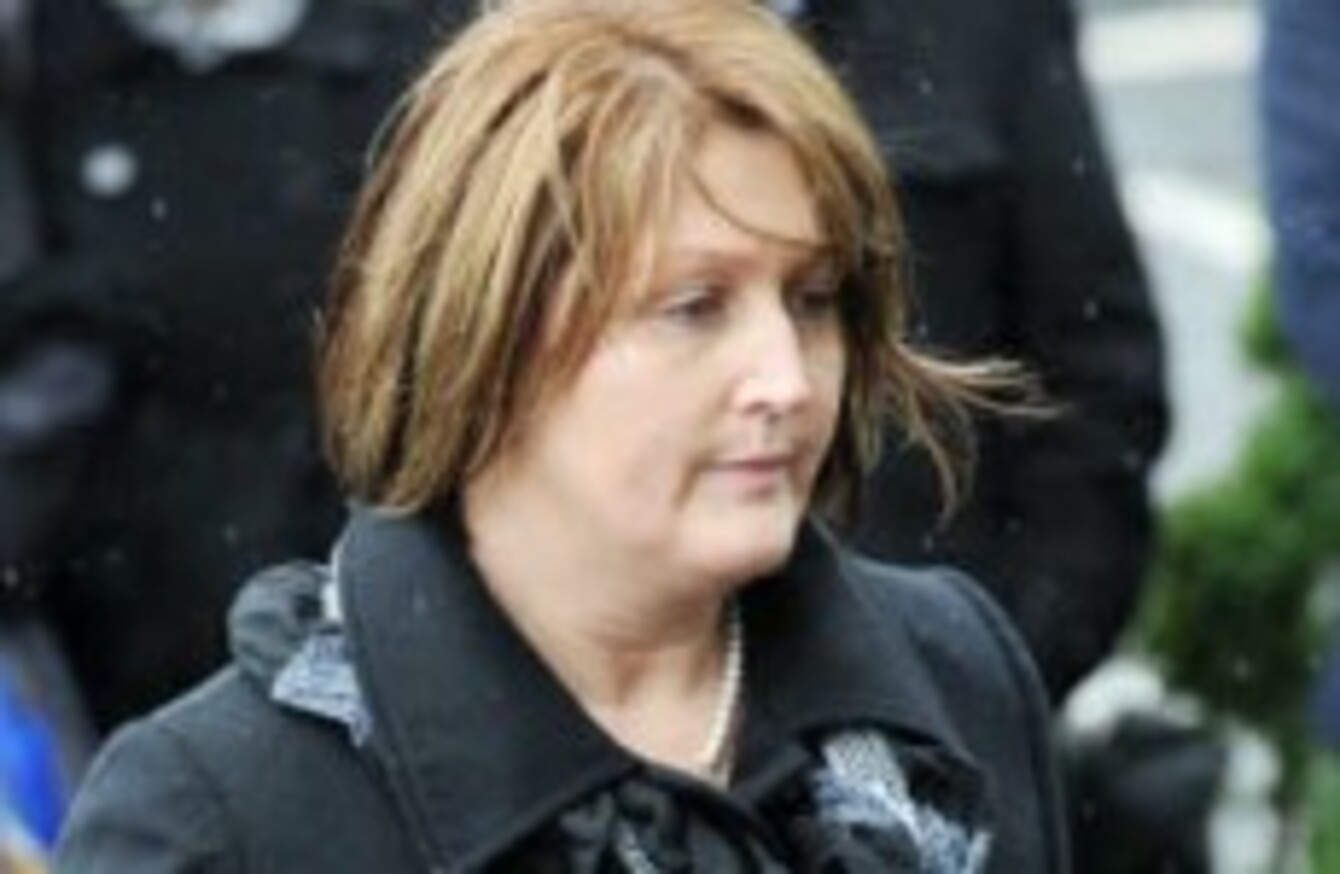 Image: Laura Hutton via Photocall Ireland
Image: Laura Hutton via Photocall Ireland
ON THIS DATE two years ago Detective Garda Adrian Donohoe was shot dead outside Lordship Credit Union, his killers leaving a wife and two small children without a husband and father.
The 41 year old was killed on the cold and dark January night when a gang of criminals ransacked the credit union while he was on duty.
He was stationed at Dundalk Garda Station and lived with his wife Caroline and their children less than a mile away from where he was shot down.
A candlelight vigil was held outside the Credit Union on Friday night. His second-year anniversary mass will be held this morning at St Joseph's Redemptorist Church at 11 o'clock.
Father Michael Cusack told TheJournal.ie:
Caroline has now been left to be the mother and father of her young children. This wasn't her life plan but she's doing a sterling job.
One of the children made their communion last year while the other will be celebrate the occasion this year. Cusack said it is during these family events, as well as Christmas time, when Adrian is most missed.
In situations where you can't explain to children what happened it's very hard. Their father was shot by a bad man… If it was sickness you could explain that sometimes people get sick but not with this. It's very hard for the children.
Family given life sentence
Over the two years there have been 5,000 investigation leads with over 400,000 hours of CCTV reviewed. Five men from a South Armagh gang are suspected of the attack- two are believed to be in Northern Ireland while three fled to the US.
Father Michael Cusack said, "I'm very disappointed that two years on no one has been apprehended despite many rumors that the gardaí were closing in.
"I also believe justice is going to be denied to Caroline, her kids and Adrian's family because nobody can replace that person in their life.
The family have been given a life sentence.
Speaking about the community's reaction to the attack which he describes as a 'horrendously brutal and savage act', Cusack said, "People are quite sensitive about it, Adrian was a very big loss to the community.
"Justice is needed – while it's open ended there's no resolution for anybody because you're thinking people have got away with this.
He added, "What would be justice is another days work."
In a statement the Minister for Justice, Frances Fitzgerald, said:
Commissioner Nóirín O'Sullivan has assured me that this investigation will continue for as long as it takes … everything possible will be done to bring the perpetrators of this cowardly and evil act to justice.
"They have the unswerving support of the Government and the Irish people in those efforts."
A local councillor and former detective, Richie Culhane, told TheJournal.ie that he is up to speed with the investigation and a huge amount of evidence had been generated in the last two years.
However, two years on from this terrible murder and nobody has been brought to justice as the clock ticks on.