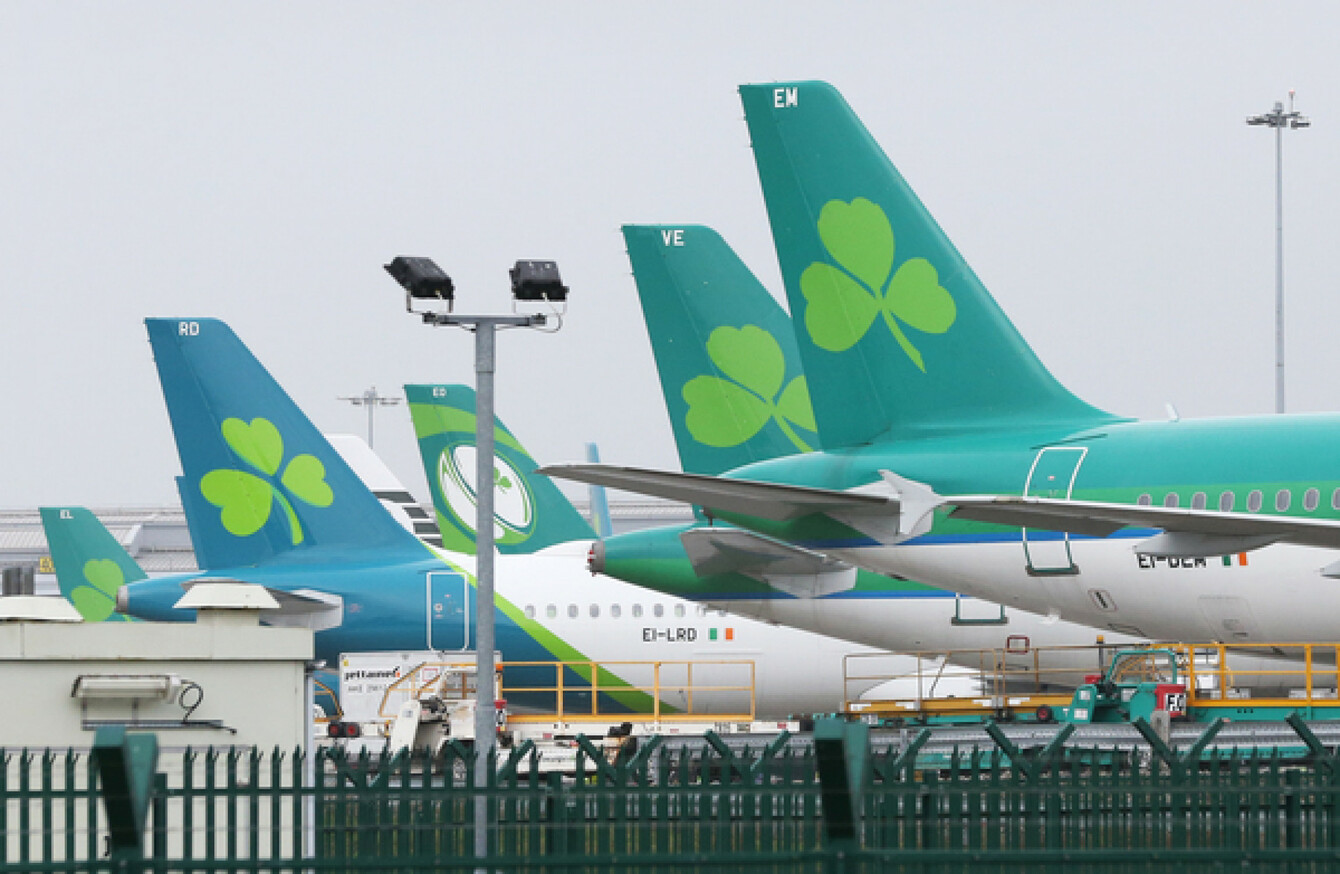 File image of Aer Lingus planes at Dublin Airport.
Image: Sasko Lazarov
File image of Aer Lingus planes at Dublin Airport.
Image: Sasko Lazarov
Updated Jun 22nd 2021, 12:14 PM
AER LINGUS' DECISION to close its Shannon cabin crew base is "in the interest of connectivity in the region", the airline's new chief executive Lynne Embleton has said.
The airline announced at the end of last month that it would permanently close its cabin crew base in Shannon and temporarily close its Cork cabin crew base.
"We did not take the decision lightly and a reversal will not be possible," the company said in its opening statement.
Some 81 cabin crew in Shannon were to be offered enhanced severance terms or a base transfer to Dublin, if possible. Around 45 ground staff were to be laid off. 
Embleton added, "We have fully evaluated this decision, and it is significantly better for Aer Lingus — and therefore better for sustaining routes — to be drawing on cabin crew from an alternative base.
"This was a decision not taken overnight, not taken lightly and one for which we are fully aware of the financial implications."
Cathal Crowe, Fianna Fáil TD for Clare, said that the airline's treatment of its workers at Shannon was "grossly insulting", given the level of State support Aer Lingus has received through the Government's Covid wage subsidy schemes.
"I think when the taxpayer is contributing majorly to the airline, there's a certain onus on you, I think, to commit to airports, commit to your workforce and not wait until the final furlongs of Covid to suddenly pull the carpet from under them,'" Crowe added.
He accused Aer Lingus of using the pandemic "to address some industrial relations issues [it] wanted to address for many years".
"You've exploited an opportunity. You've taken the taxpayer for a ride in some ways I would say," he said.
Embleton said that even with the wage subsidy scheme, the airline is losing €1 million a day.
"We are taking business decisions that we need to take to protect the future Aer Lingus, to protect jobs for the many, and to restore connectivity," she added.
Embleton was also questioned about the closure of Aer Lingus regional partner Stobart Air, which appointed a liquidator earlier this month.
Some of the former Stobart routes are being operated by the IAG-owned airline on a temporary basis with Emerald Airlines due to take over the Stobart contract in 2023.
Embleton said Aer Lingus will operate the routes until the end of August.
However, she said, the regional routes are "best suited to smaller aircraft" so their "long term viability… is for an operator with regional aircraft."
"That's why we are in dialogue with Emerald. Those discussions are progressing well, but are not yet completed."
Antigen tests
The airline also told the committee that Ireland is "an outlier" for not using antigen testing as a risk mitigation tool for passengers and that it is "widely accepted" as a pre-departure testing standard across the EU, the US and the UK. 
"We do see PCR testing as expensive, as onerous and as a deterrent to travel," Embelton said.
#Open journalism No news is bad news Support The Journal

Your contributions will help us continue to deliver the stories that are important to you

Support us now
"We would welcome any dialogue on antigen testing, and the ability to get antigen testing used as the method for pre-departure testing."
The company also said that the government's easing of travel restrictions on 28 May was "too little, too late" because of the impact of the lack of antigen testing, restrictions for unvaccinated UK arrivals, and restrictions for travellers arriving from the US are having on passenger numbers. 
Aer Lingus will "continue to burn a significant amount of cash" over the summer, as flying schedules will be a "fraction" of what they would normally be, the company said.
There will not be a significant level of travel by air in and out of Ireland over the crucial summer months, and the airline will need to be "more cost-efficient" in order to rebuild, the company said in its opening statement. 
Airline executives told TDs and Senators that the narrative from the government that people should not book flights "has had a profound impact on bookings, and in turn, on Ireland's international connectivity".
Last month, Aer Lingus said it had lost €103 million in the first three months of 2021, on top of a loss of €361 million last year. 
The Cork base will be closed from September until late November this year. Around 60 ground staff and 138 cabin crew will be temporarily laid off during this time. 
 Additional reporting by Christine Bohan and Ian Curran