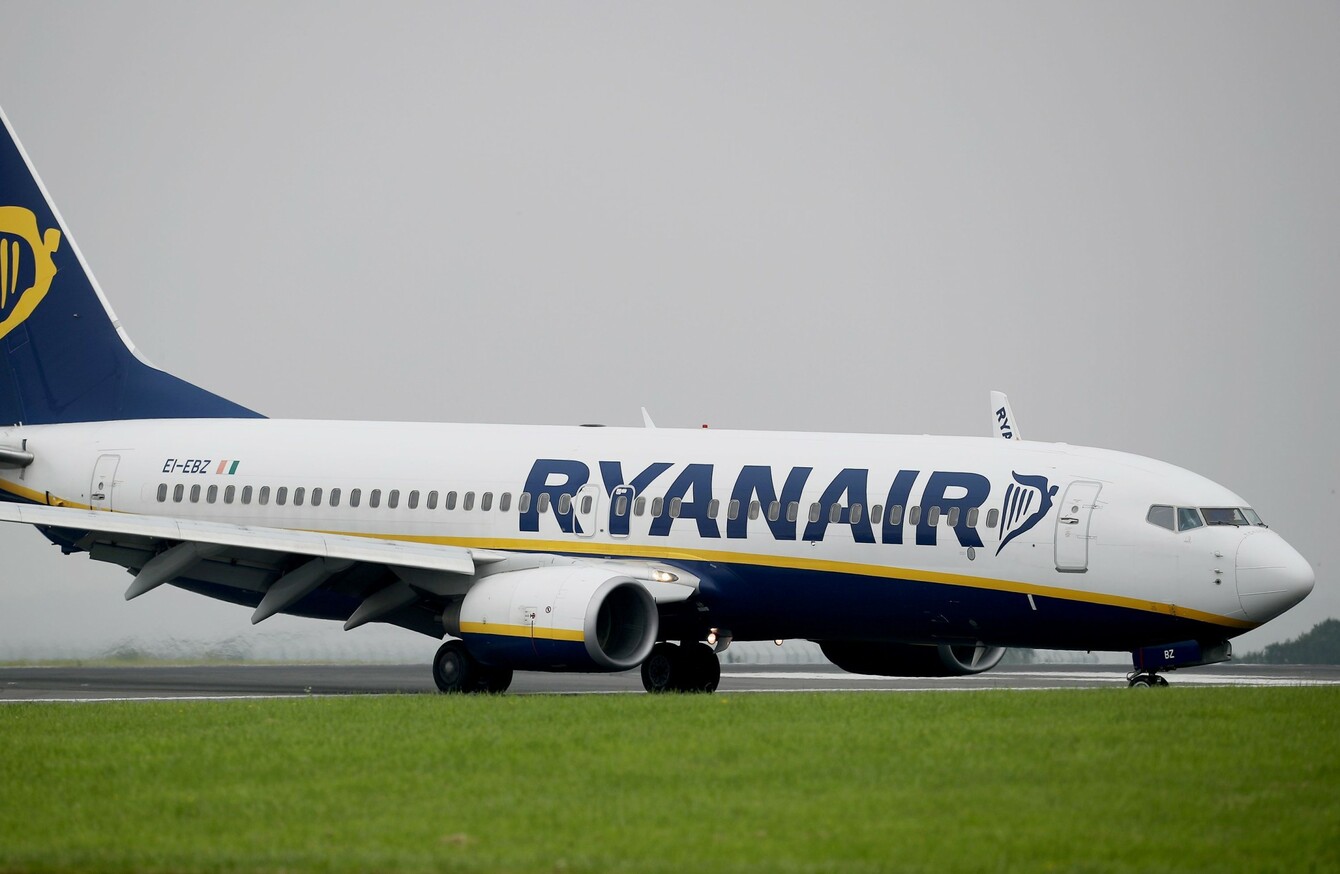 Image: Peter Byrne/PA Wire
Image: Peter Byrne/PA Wire
RYANAIR AND AER Lingus have been ordered to repay millions of euros in taxes to the government after losing an appeal over the now defunct air travel tax.
The European Court of Justice ruled today that a lower rate of tax applied to short-haul routes amounted to illegal state aid, which the two airlines have now been ordered to pay back.
The government introduced a travel tax in 2009. Flights to destinations located less than 300km from Dublin airport had to pay €2 per passenger, while flights further away had to pay €10 per passenger.
In March 2011, Ireland amended the rules on the air travel tax and created a single rate of €3 applicable to all departures, regardless of the distance travelled.
In July 2012 the European Commission found that the lower rate charged for short-haul flights between 2009 and 2011 amounted to state aid, as it favoured carriers who focused on shorter flights.
It ordered Ireland to recover the difference of €8 per passenger for each of the flights concerned.
Appeals
Aer Lingus and Ryanair, both of which were among the beneficiaries of the aid, brought a case against the Commission decision ordering the recovery of the tax.
The two airlines appealed to the EU's General Court, which annulled the decision. However, the EU Commission then appealed that decision to the European Court of Justice (ECJ), which issued a final ruling today.
The ECJ found that the airlines "were able to benefit from the reduced rate enjoyed a competitive advantage of €8 by comparison with airlines that paid the standard rate".
"Thus, restitution of that advantage required, just as the Commission indicated in its decision, Ireland to recover a sum of €8 per passenger for each of the flights concerned," it said.
It has been reported that Ryanair will likely have to repay the Irish government €12 million in taxes as a result of the judgement, while Aer Lingus will be liable to pay about €4 million.
A spokeswoman for Aer Lingus said that the company "is studying the judgement in detail to understand fully its implications".
"Aer Lingus consistently opposed the air travel tax, which damaged the Irish aviation sector and which has since been abolished altogether," she said.
"Aer Lingus also has separate proceedings pending in the Irish High Court against the Irish Government seeking substantial damages for losses flowing from the infringement of the EU rules on free movement of services arising from the air travel tax."
A Ryanair spokesman said that the company has been expecting the judgement "which now requires Ryanair to pay some €12m to the Irish Government on behalf of passengers who paid the lower €2 tax rate on shorter routes, despite the fact that we did not collect the €10 tax from these passengers".
He said that the ruling "now clears the way for Ryanair, and other airlines, to pursue our High Court action against the Irish Government to recover the €88 million of damages we suffered as a result of being forced to pay this tax."
This piece was updated to include statements from Aer Lingus and Ryanair
Written by Paul O'Donoghue and posted on Fora.ie