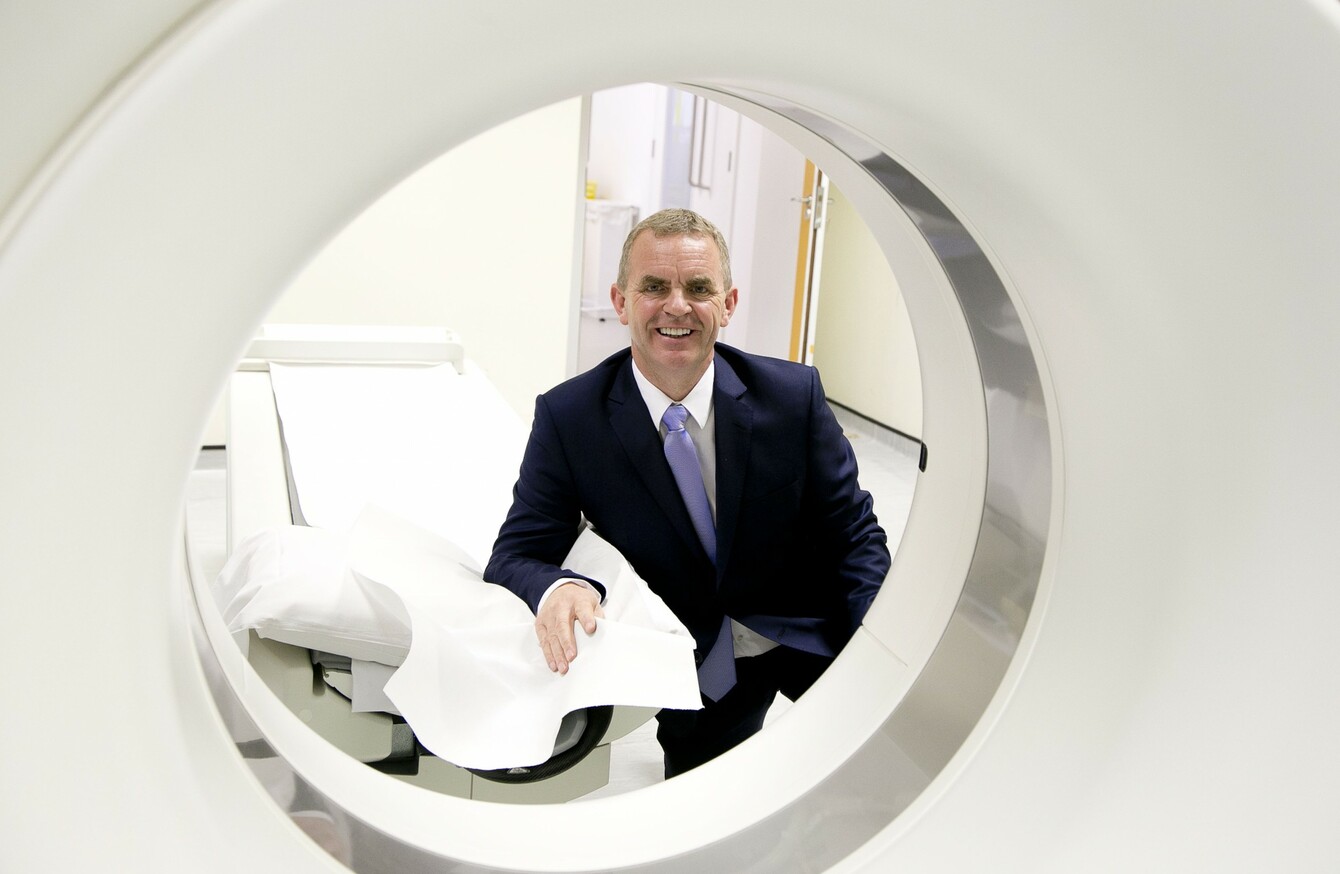 Affidea Ireland CEO Tom Finn
Image: Colm Mahady/Fennells
Affidea Ireland CEO Tom Finn
Image: Colm Mahady/Fennells
AS TOM FINN peered down on Los Angeles from his airplane window, the city burned beneath him.
The Carlow native was flying back to Ireland after working in emergency departments through the worst of the LA riots of 1992.
After four LAPD police officers who were filmed beating black man Rodney King were found not to have used excessive force, the city exploded into violence for days. Dozens of people were killed and hundreds more injured as racial tensions that had been simmering under the surface finally flared.
Finn was one of those who faced the unenviable task of trying to cope with managing an overflowing emergency department.
Working as a nurse and ER night manager in Inglewood, one of the roughest areas of the metropolis, he already had clearly seen the stark contrast between his new home and his old one shortly after he arrived as a 27-year-old in 1991.
"I had a colleague from Australia who went back two weeks after she came over because someone was shot in front of her on Sunset Boulevard," he tells Fora.
"On the first night that I was there, there were gunshots in the car park. Three of the nurses had handguns with them in ER – one of them was ex-military and the other two had worked in the police, so I suppose the emergency department attracts a certain type of person.
It wouldn't be unusual on any night to have three, six, 10 people who were victims of violent crime. We used to call it the 'homeboy express' – someone would get shot, and the homeboys would drop him off and just go out again. It was surreal but I didn't think about it that way at the time, you just did it.
Even with that said, the free-for-all that gripped the city after the King verdict was bad.
"Everyone had to work (during the riots), it was wild with so many people coming in, we had two armed security guards with German shepherds inside the hospital doors, not even outside," he says. "When I think back on it now there was a degree of craziness."
Nevertheless, Finn's experiences in the US helped to give him some steel and open his eyes. Now the CEO of the Irish arm of Affidea, one of the largest specialist healthcare companies in Europe, the Carlow native fell into nursing largely by accident.
"I was the worst Leaving Cert student ever, Jesus Christ… I grew up on a farm and school was not high on the agenda," he says.
I worked for six months selling sheep at the Leinster market and then six months selling hardware (before) my sister sent in an application for nursing. It wasn't points based at the time, and when I went for an interview I realised that it might not be too bad.
Despite being a career that he largely fell into, nursing hasn't gone too badly for him.
What do you do and how long have you done it for?
Finn, now 52, stayed in Los Angeles for about 12 years after he first moved there. While studying in college, he held several different positions including vice-president of an ambulance service before returning to Ireland in the middle of 2002, taking up a senior job with the public health service.
It was an absolute struggle personally and professionally, there were two different cultures and worlds of work. I found it hard adjust to the pace of the public service.
"In California, if the board decides to do something, you do it that afternoon. If you tried to do something here you would get 20 reasons why you couldn't do it instead of a solution. Nothing happened, you couldn't get things done."
However it was during this time with the health service that he crossed paths with a company called Euromedic. At the request of then-Minister for Health Mary Harney, Finn helped to tempt the company to Ireland in 2007. When the opportunity to take over as the CEO of Euromedic Ireland, then re-branded as Affidea, came along Finn jumped at it.
Affidea is a pan-European business, with about 157 clinics in 15 different countries. Its offering varies slightly depending on where it is located, and in Ireland the firm specialises in providing diagnostic services, providing technology to find out what is wrong with people.
The bulk of its offering includes scans such as MRIs, which are used to find abnormalities in the body such as tumours, X-rays and ultrasounds. Finn took over the position of Irish CEO in a transition period for the company as it was coping with an expensive rebranding and high losses.
What are your costs and how do you make money?
Affidea makes its money by charging patients for scans. The bulk come from those either covered by insurance or clients paying in cash.
As with most private healthcare firms, the reasons why many would use Affidea instead of going through the public system are shorter waiting times and the hope of getting access to better equipment or staff.
Finn says that the firm charges between €60 and €70 for X-rays, between €90 and €120 for ultrasounds and between €200 and €300 for MRIs, which he describes as the company's "big-ticket item".
Affidea claims the price of processes such as MRIs has dropped by about a third since it entered the Irish market.
Nevertheless, Finn warns that costs for patients are likely to increase in the near future as the company looks to reverse losses. The firm, which is on track to have revenues of about €20 million this year, wound up nearly €6 million in the red during 2013 and lost a further €4.4 million in 2014, just as Finn joined.
Although he says that the company has traded better in 2016, he adds: "Competition has driven down prices dramatically. Our prices are far lower here than in Northern Ireland."
He doesn't say by how much prices might rise in the future but says that customers will see an improved service with more modern equipment and better turnaround times.
"The costs of staffing for us are huge," he says. Slightly over half of the company's near 280 staff are permanent employees while the rest are 'locums', essentially contract workers, often hired to fill gaps when there are problems finding enough skilled staff.
What is your market?
Affidea's patients are split nearly 50:50 between those with insurance and those paying out of their own pocket.
Finn says that rather than targeting a particular type of patient, the firm instead looks to establish links with GPs.
Everyone who comes to our clinics needs a referral so we target the people who have the power to refer patients, GPs and physios," he says. "We have four relationship executives who meet with GPs and explain our services and listen to their concerns.
The company's eight standalone clinics are spread across the Republic, with outlets in locations including Dublin, Kilkenny and Cork. The company leases space rather than building or buying themselves, and Finn says that the firm is planning to further expand its footprint in the coming months.
"We will be opening a new centre in Tallaght before Christmas and we have sites at various stages of readiness in Waterford, Athlone, Limerick and Galway," he says.
Last year, the company performed around 125,000 scans and this year it is expected the figure will rise to 155,000.
What is the competition?
Almost all facets of the healthcare industry are fiercely competitive and diagnostics is no exception.
There are several companies operating in Ireland that provide a similar service to Affidea, with some of the similar-sized players including Alliance Medical and Global Diagnostics. Many of these companies are also looking to recoup losses built up over the years.
When it comes to the public service, Finn sees the state and his own firm as working in tandem with each other rather than being in competition.
Affida's largely private model in Ireland is slightly unusual as many of its outlets in Europe operate on a public-partnership basis. But even here, the company operates several clinics on the west coast of the country on behalf of the HSE.
What is your vision?
Finn says that he has a responsibility to make Affidea Ireland a "strong and viable company" due to the large number of illnesses the firm ends up diagnosing each year, and is now looking to plug the staffing gaps and shore up operations after losses.
"We want to become the diagnostic employer of choice for people who want to become part of the profession," he says.
On his own employment, Finn says that a move back to the public service at some point is possible, but unlikely.
I would go back, but only if I could control the outcomes and have the authority to make the changes I needed to. Otherwise absolutely not.
More probable is that Finn will stay put for the moment, although he adds that he might be tempted to move at some point as Affidea expands internationally.
"I am absolutely committed to Affidea. In my 22 months here I've taken two days off and I enjoy every day," he says.
"Affidea is expanding within Europe and the Middle East. If it was in the context of moving to America I might (take it), but at the moment I am enjoying rebuilding Affidea in Ireland."
It is giving me a real level of enthusiasm. It is probably one of the toughest jobs that I have ever done but also one of the most fulfilling.
This article is part of our weekly series examining the nuts and bolts of businesses. If you would like to see your company featured please email news@fora.ie.
Written by Paul O'Donoghue and posted on Fora.ie