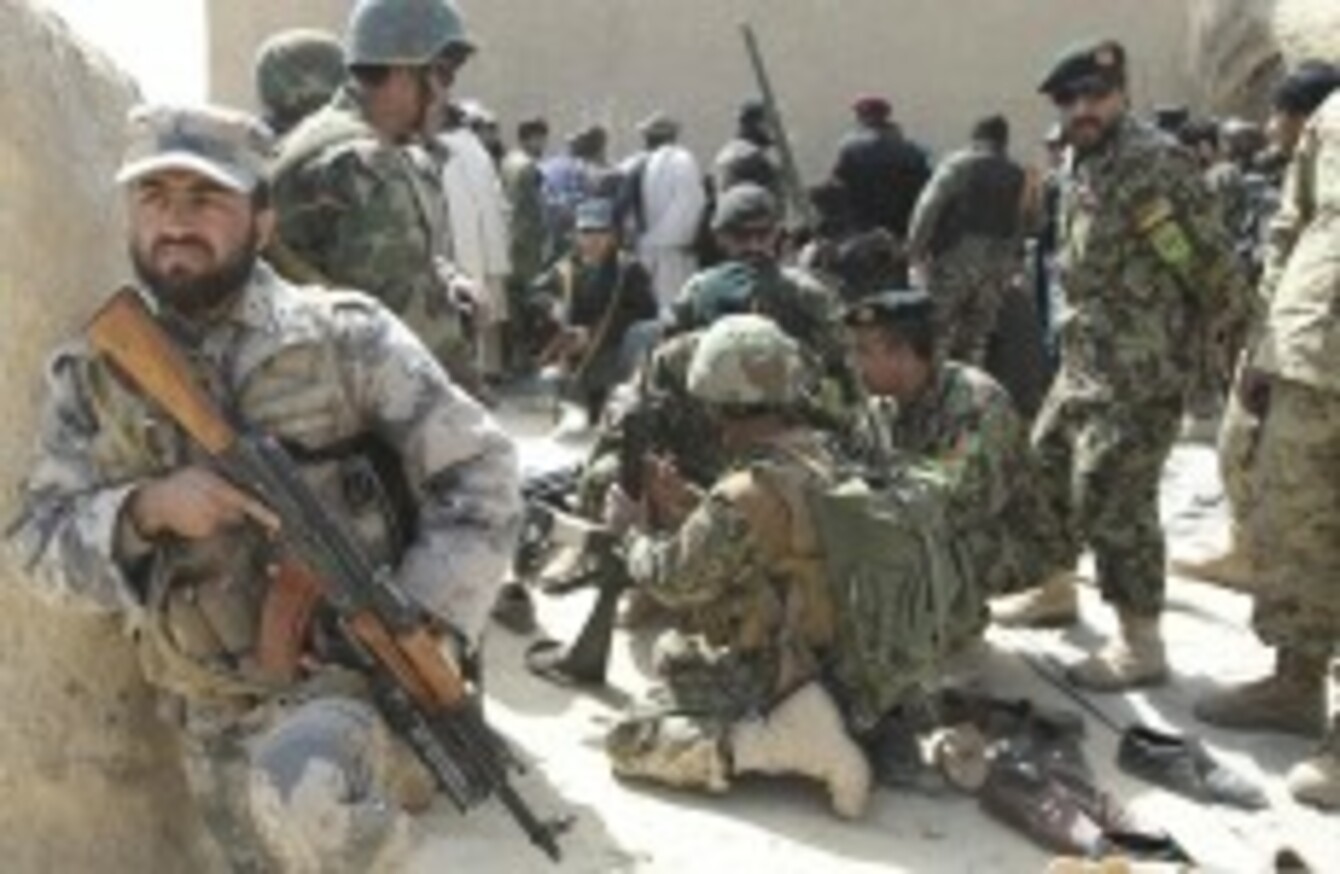 File photo - Afghan security forces
Image: Allauddin Khan/AP/Press Association Image
File photo - Afghan security forces
Image: Allauddin Khan/AP/Press Association Image
AFGHAN FORCES KILLED five insurgents who were planning to attack Kabul in an early morning gun battle today just outside of the capital, officials said.
Intelligence agents discovered that the insurgents were massing weapons at a compound east of the city and ambushed the men when they returned to the site around 1am to prepare for the attack, said intelligence agency spokesman Latifullah Mashal.
A gun battle broke out and some of the insurgents blew themselves up with explosives, while others grabbed guns and fought back against the intelligence agents. The gun battle lasted until a few hours after dawn, when the last insurgents were killed, Mashal said.
Mashal had previously said seven insurgents were killed but he corrected his account later to say that there were only five insurgents present. He said the first reports he received had been wrong.
The agents found three cars full of explosives and ammunition in the compound, along with scores rocket launchers and heavy machine guns, Mashal said. He said the agents believed the men were planning to attack three sections of Kabul — a neighborhood near the parliament building, and areas downtown that house embassies and businesses.
They found maps with specific locations marked, but Mashal declined to say what those were. They also found burqas — the face-covering robes worn by many Afghan women — which they assume the attackers were going to use to disguise themselves, he said.
No Afghan forces or civilians were killed in the fighting, Mashal said.
"This was a really big plan. Thank God we were able to stop it," he said.
Taliban spokesman Zabiullah Mujahid rejected the account, saying the Afghan forces had staged the fight as propaganda.
Separately, two NATO service members were killed in a bomb attack in the south today, the international military coalition said. NATO did not provide the nationality of the dead or any details on the bomb blast.
The latest deaths makes six international service members killed in the first two days of August, a particularly deadly start to a month in which fighting typically spikes in Afghanistan.