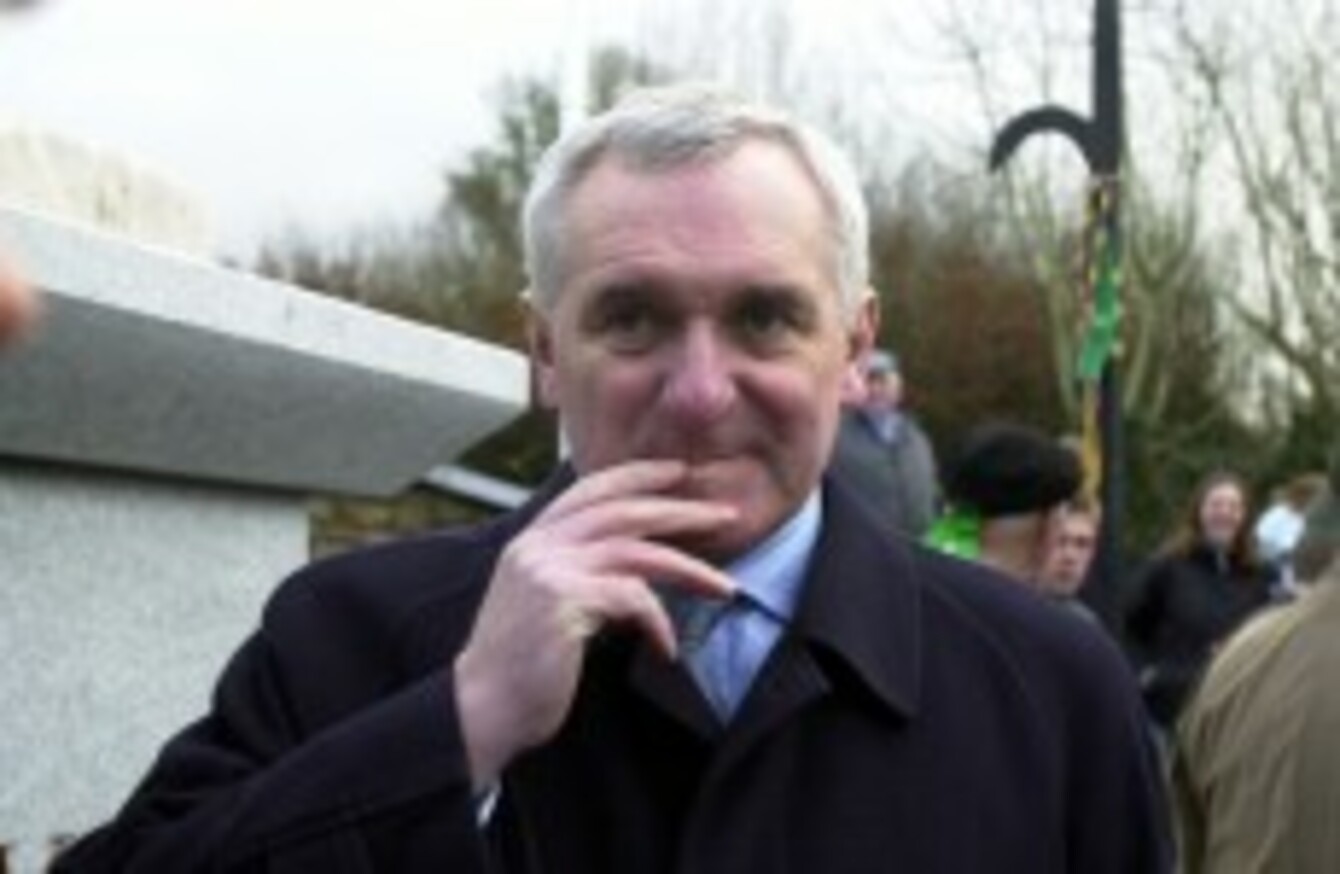 Image: Eamonn Farrell/Photocall Ireland
Image: Eamonn Farrell/Photocall Ireland
THE FINAL REPORT of the Mahon Tribunal has stopped short of making any findings of corruption against the former Taoiseach, Bertie Ahern – but said he has failed to truthfully account for lodgements of over £165,000 to accounts connnected with him.
The report is scathing in its treatment of the former Taoiseach and Fianna Fáil leader, rejecting much of the evidence he provided in connection to a substantial number of lodgements made in the 1990s.
While the Tribunal accepted Ahern's claim that he did not have a bank account for years between 1987 and 1993, and that he usually cashed any wage or expenses cheques given to him in that time, it rejected his evidence that he had built up around IR£54,000 in savings during that time.
The Tribunal said it could not account for the source of eight various lodgements, including:
A lodgement worth £24,838.49 in October 1994, made following a dinner in Manchester – Ahern said over two-thirds of this was made in a lodgement of Irish punts, but the Tribunal said it was solely in Sterling, at stg£25,000. This is tantamount to a rejection of his story that the sterling money was a "dig out" from some friends
A lodgement worth £28,772.90 in December 1994, which Ahern claimed was the equivalent of stg£30,000 and provided by Michael Wall, but which the Tribunal said was actually a lodgement of $45,000 in US dollars
Two lodgements made to accounts controlled by Ahern's then-partner, Celia Larkin; the Tribunal rejected his contention that the lodgements formed two parts of a stg£30,000 payment, and could not account for them
Sterling lodgements to the accounts of Ahern and his daughters, which Ahern said had comprised of sterling built up in the UK by occasional exchanges of his Irish wages
O'Callaghan and corrupt payments
Separately, based on evidence from broadcaster Eamon Dunphy, the Tribunal said it was satisfied that developer Owen O'Callaghan had inferred to Dunphy that Ahern had received payments to ensure certain tax statuses for two major shopping centre developments.
O'Callaghan's statements to Dunphy implied that Ahern was "taken care of" and given an inducement of some sort in return for a favour, and that O'Callaghan generally found it necessary to engage in corruption in order to develop property in Dublin.
The Tribunal said this corroborated evidence from another developer, Tom Gilmartin, that O'Callaghan had personally implied the use of corrupt payments, including to Ahern.
While the Tribunal accepted Gilmartin's evidence that O'Callaghan personally told him about two payments of IR£30,000 and IR£50,000, it acknowledged that this was not, in itself, proof that the payments were ever made.
The report states that in March 1994, then-finance minister Ahern advised O'Callaghan that tax designation status would not be conferred on either of the Blanchardstown or Liffey Valley shopping centre developments. The report does not state, however, when – if ever – any of the two payments for the IR£30,000 and IR£50,000
The St Luke's connection
The Tribunal also said it was satisfied that the so-called 'B/T Account' – set up by Ahern with an advisor Tim Collins – was used for purposes other than for the upkeep of his constituency office, and that the account was operated – at least until 1997 – for their personal benefit.
It said the withdrawal of IR£20,000 from this account in August 1994 was "unconnected with any intended repair or refurbishment of St Luke's", the purpose claimed by Ahern, and that it could not account for the source of lodgements worth around stg£20,000 to that account.
It also said that it believed Ahern and Collins were in a position to account for two separate payments of IR£19,000 and IR£10,000 in 1992 and 1995, but did not do so.