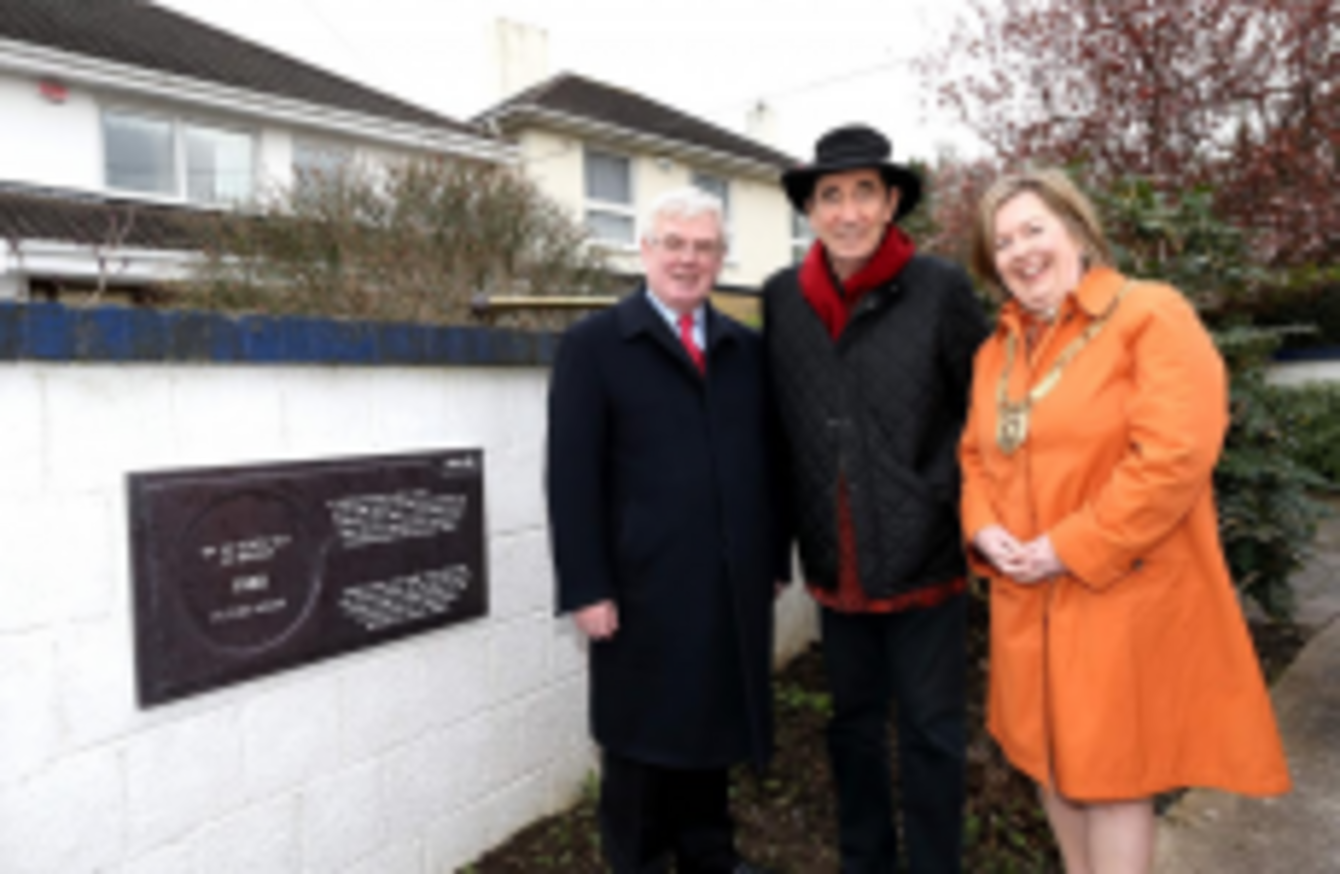 Albie Sachs with Tánaiste Eamon Gilmore and Dun Laoghaire-Rathdown Cathaoirleach Councillor Carrie Smyth outside the house in Foxrock, Dublin, where South Africa's Bill of Rights was written more than 20 years ago.
Image: Department of Foreign Affairs
Albie Sachs with Tánaiste Eamon Gilmore and Dun Laoghaire-Rathdown Cathaoirleach Councillor Carrie Smyth outside the house in Foxrock, Dublin, where South Africa's Bill of Rights was written more than 20 years ago.
Image: Department of Foreign Affairs
ALBIE SACHS – HUSBAND, father, South African, lawyer, Constitutional Court judge, author, freedom fighter, human rights activist and survivor.
Knowing where to begin the 79-year-old's biography is a puzzle. A defender of human rights from the age of 17, he was soon a target of his country's security police.
Following raids on his home, travel restrictions and periods of solitary confinement, Sachs eventually went into exile in 1966.
He spent years in England, studying and teaching law, and another 11 years in Mozambique. On 7 April 1988, while in Maputo, a bomb planted by South African security agents exploded in his car. He lost an arm and the sight in his left eye. Not only did he survive, he went on to prepare a new, democratic Constitution for South Africa.
(His book, published in 1990, is entitled The Soft Vengeance of  Freedom Fighter.)
The Bill of Rights within that Constitution was written in Ireland – in a house in Foxrock, county Dublin. 
On a recent return visit to Dublin for a PILA conference, Sachs sat down with TheJournal.ie to discuss Ireland's constitutional plans, same-sex marriage and the passing of his friend and colleague Nelson Mandela.
TJ: There were fears that when Nelson Mandela passed away, that South Africa would struggle. Was it a destabilising factor?
Sachs: I suppose South Africans were so used to the fact that Mandela had withdrawn from the scene. He was physically alive and we all wanted him to live forever but he had retired. He had stepped down voluntarily, and five years, later he announced he was retiring from his retirement.
He was so busy but then he said, "Don't call me. I'll call you."
At the 2010 World Cup, he was wheeled out into the stadium. He waved and had a wonderful smile. But he didn't speak. That was four years ago.
His death made no difference at all. In fact, there were celebrations all over the country.
People celebrated his life. It had a very powerful, unifying effect – a reminder of what we could do and the principles that he stood for. And the general dignity and courtesy of the manner in which he functioned. He had a warm embrace for everybody.
He was a unifying factor, even in death, as he had been in life. But it made not the slightest bit of different to the political debates in the country.
Everyone claims to be the true heir of Mandela. Which in some ways is quite good – there are common points of reference.
TJ: What is the South Africa today like? What would you like to see the youth of South Africa doing? Is there any apathy creeping in?
Sachs: I've never used that word – apathetic. For as long as I remember, I've been hearing people bemoaning the youth of today. I first heard that when I was a youth of that day – 50 years ago. I remember hearing it 40 years ago, 30 years ago…I remember it so vividly in 1988 at the time of the Free Mandela concert in London.
I had just come out of hospital and 70,000 young people at Wembley singing, 'Free Nelson Mandela'. That's the time people were talking about football hooliganism, apathetic youngsters but they were turned on and interested.
I don't find today any different.
There are lots of quite wonderful young people in South Africa from all backgrounds.
What I would like to see now is a new generation emerging that can restore a bit of the soul that has been lost.
We're getting change. It would be ridiculous to say nothing has changed. There have been huge changes. And a fair amount of material progress, but many, many people are very disenchanted and disappointed at what they see as selfish or self-advancing conduct by important people in society.
What is needed is fresh energies – not with the grandeur and epic quality of what was needed during the struggle against Apartheid – when you had to put yourself on the line, be willing to die if necessary.
I often say that the paradox of our generation is that we were fighting with all our passion to create a boring society where you don't put yourself on the line for the ordinary things of life.
The nature of the problems – and the ways of dealing with them – are of a different order now.  The new generation now have to come up with fresh analyses of how to carry the society forward. How to revive something of that emancipatory spirit and that sense of idealism and endeavour – not in an artificial way – that is somehow integrated into where we are at at the moment.
I can't do that – I can't even use an iPad and my little child can. I use that just as a symbol. People living in the new society we helped to create have to find ways of recapturing that spirit without copying or intending to emulate the methods and the visions that we had at the time.
TJ: The spotlight is on South Africa's courts at the moment because of the interest in the Oscar Pistorius murder trial – where one judge and her two assessors will decide the outcome. Would you like to see the re-introduction of juries?
Sachs: I'd say if a vote was taken in South Africa, 20 millon would say 'no jury'. One would have said let's have a jury – and that one would have been me.
We used to have jury trials in South Africa – white men only. When white women got the vote in the 1930s, they didn't get the right to jury service.
The argument against it was there were flagrant miscarriages of justice where white men juries acquitted white men of killing black workers.
My feeling for the new South Africa is that far from having the juries split along the racial lines, having juries of people drawn from different communities would strengthen non-racialism. Because people across the colour line would not want to see abusive State conduct – torture, violation of rights etc. And people across that line of colour would want to see guilty parties of any colour punished.
I think it could have been something quite affirmative but the general feeling was that it was too risky. Also, to complicate the issue, the courts were inundated with cases. They could barely cope. Having to impound jurors would slow down the processes.
[TJ: Is there an appetitite to bring juries back?]
Sachs: I'm the only person in favour of it. It's not an issue in South Africa. It has been absent for so long. Juries are very rare in Africa.
TJ: Ireland's recently convened Constitutional Convention recommends a strengthening of the protection of economic, social and cultural rights. What can we learn from South Africa's experience of including these rights in the Constitution?
Sachs: As far as the great majority of ANC were concerned, they could not see that the right to health and housing and education was any less important than the right to vote, the right to speak freely, the right to your language.
In our final text, socio-economic rights were included with a status equal to sovereign and political rights. It has been hugely successful from a Constitutional point of view. It took us a couple of years before we got into enforcing them as rights in the Constituional Convention.
[TJ: Can you give examples?]
Sachs: We've dealt with them in relation to housing – in which we declared that the failure of the government (that had a wonderful housing programme by international standards, directed at helping the poor) to include crisis and emergency shelter for victims of flood, fire, eviction was unreasonable and unconstitutional. We developed a whole legal doctrine based on requiring the government to take reasonable measures to progressively realise those rights with any available resources which has been, I think, at least looked at by all Common Law countries as a starting off point.
Then we've had cases dealing with access to antiretroviral medicines. Again, the court ruled that the government programme had limited the provision of the antiretroviral, Nevirapine, to women about to give birth – limited in two sites only in each of the nine provinces operated by the government.
The court said that was unreasonable.
The drug was being provided free. It was safe. And the doctors and the mothers were clamouring for it. The argument from the government then was that they needed two years to gain logistical experience was not sustainable given that hundreds of thousands of kids would be born in the meanwhile, carrying the virus who could have been saved from that.
It was a very sensitive case. The issue was being strenuously debated in the political sphere but people have pointed out that since then, that the South African government has rolled out the most comprehensive and effective antiretroviral programme in the world.
These are two examples of where the court intervened and, I would say, I don't think there is a single commentary that indicates that the court was wrong.
TJ: Is there a fear that there would be too much interference from the court on government policy?
Sachs: Even fairly conservative legal commentators have seen the way in which the South African court balanced out the need to give some bite – some teeth – to these fundamental rights on the one hand but not to become too intrusive in terms of the work that government does. I think they feel we got the balance right.
My own view is to express the hope that the Irish parliament – at the very least – takes the constitutionalising of social and economic rights very seriously, bearing in mind that it will always be contextual. It won't involve courts determining basic policy or intruding in decisions that are made beyond the kind of things that have been called upon to do.
TJ: Our two big Constitutional issues in Ireland right now deal with abortion and same-sex marriage. What can South Africa's case history teach us?
Sachs: In South Africa, the Constitution under the right to freedom – not under special rights relating to women – includes the right to make reproductive choices. There is another right in there to not be subjected to violence from public or private sources.
Many people say that this is a result of the strong representation of women in the ANC.
Members of the Constitutional Assembly – which was really the first parliament – 30 per cent of the ANC members had to be women. So it was a strong block that got both those clauses put into the Constitution.
There is a Determination of Pregnancy Act – it allows the mother to decide within the first three months. In the second three months, it has to be justifiable for special circumstances – which would include social circumstances and the health of the mother and child.
That hasn't been challenged. I would imagine the groupings that have challenged or tried to narrow down the scope of other abortion laws would feel that the text of the South African Constitution would make it not worth their while to bring that litigation.
[TJ: And what about same-sex marriage. That is a topic you have spoke on quite a lot?]
Sachs: I have discussed the Fourie case in South Africa, 2005, where our court unanimously agreed that to deny same-sex couples the right to celebrate their marriage…would be a violation of the equality cause. It would constitute unfair discrimination.
I spoke about that a lot in the US. Our Constitution expressly forbids unfair discrimination on the grounds of, amongst other things, sexual orientation. The argument in court was that it was not unfair to say that marriage only belongs to religious groups, that religious marriage preceded the State marriage historically and, therefore, it would not be unfair to restrict marriage to opposite sex couple only provided that same-sex couples could have their domestic partnerships protected.
That was the argument used by some of the counsel in the matter. To say: Recognise the relationship but don't call it marriage.
The case then turned a lot on the 'M' word.
The court held that marriage has such a significant meaning in our society. Even if there were no direct material, legal consequences that were different from a domestic partnership, it would look like some segregated out and inherently inferior form of relationship. And to deny same-sex couples the right to celebrate their marriages, to regard each other as married couples, would be a profound invasion of their dignity.
It would suggest their love for each other was any the less worthy of protection from the law. And, even worse, the suggestion that it would somehow contaminate marriage between straights was profoundly injurious to same-sex couples.
The issue was eventually sent to parliament and, by an overwhelming majority, a law was passed that allowed same-sex couples to choose a domestic partnership or say in the course of the celebration that 'I marry you'. The 'M' word was expressly included. The whole case turned on the 'M' word.
TJ: You're still a very busy man, despite decade of activism. Do you ever want to pack it up, retire and go mind yourself?
Sach: I don't know. That moment hasn't arrived yet. I don't even use the 'R' word for having let the court.
That's partly because of still being engaged and active – and partly, we were such a turned on generation in relation to our country, ideas, life, law and constitution making.
It has been quite marvelous to be part of that process.
In my case, we wrote that Constitution, we created the Court. We designed the building in which we operated. We had to give the first decisions. It was very powerful, intense and significant functioning.
To let go hasn't been easy. I go to the court and I'm thrilled to see how well it's doing but sad to see how well they're managing without me.