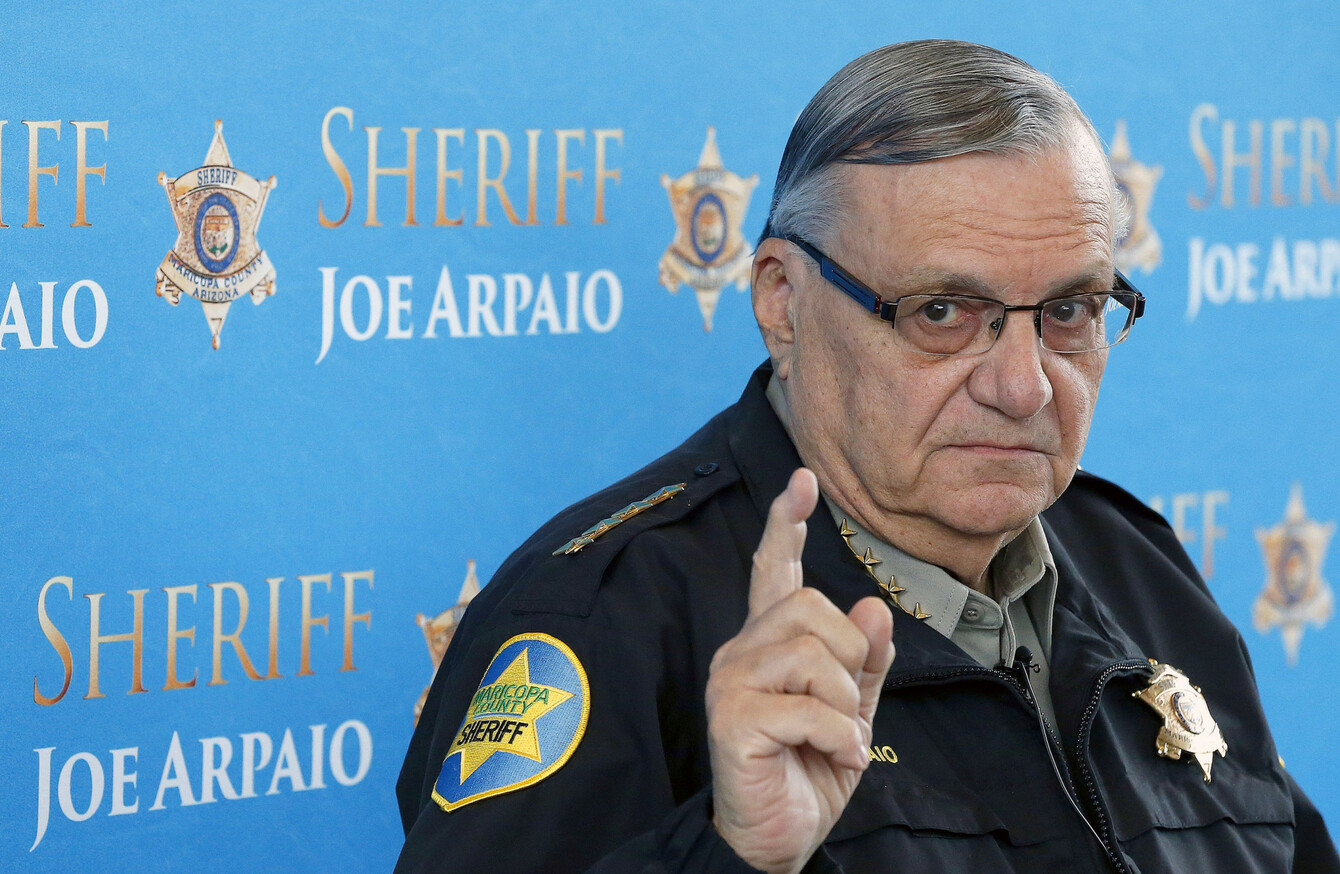 Joe Arpaio was found guilty of criminal contempt yesterday.
Image: Ross D. Franklin AP/PA Images
Joe Arpaio was found guilty of criminal contempt yesterday.
Image: Ross D. Franklin AP/PA Images
A US SHERIFF whose crackdown on illegal immigration propelled him to national status has been found guilty of a federal crime.
Joe Arpaio was charged with criminal contempt after he was accused of violating a 2011 court order to stop patrols that a judge later determined racially profiled Latinos.
The 85-year-old former sheriff of Maricopa County, Arizona, now faces up to six months in prison.
A string of TV interviews and news releases that Arpaio used over the years came back to haunt him during the trial, as the judge cited comments the lawman made about keeping up the patrols, even though he knew he was not allowed.
"Not only did [the] defendant abdicate responsibility, he announced to the world and to his subordinates that he was going to continue business as usual no matter who said otherwise," US District Judge Susan Bolton wrote.
The sheriff had acknowledged prolonging his patrols for nearly a year and a half but insisted it was not intentional. He also blamed one of his former lawyers in the racial profiling case for not properly explaining the importance of the court order.
Bolton rejected all Arpaio's key arguments, saying the lawyer had clearly informed him of the order and that a top aide also read part of it aloud to him during a staff meeting.
While immigration offences are usually dealt with at a federal level, Arpaio chose to make it a local issue, making hundreds of arrests in traffic patrols that sought out immigrants and business raids in which officers targeted immigrants who used fraudulent IDs to get jobs.
Yesterday's verdict marked the final rebuke for a veteran lawman, and politician, who once drew strong support for his crackdowns on immigration but was booted out of his role as sheriff last year.
In recent years, he had used headline-grabbing tactics such as jailing inmates in tents during scorching summer heat and making them wear pink underwear.
His lawyers have said he will appeal the judge's ruling. Even if the appeal is unsuccessful, it is unlikely Arpaio will face any actual jail time due to his age.
With reporting from Sean Murray