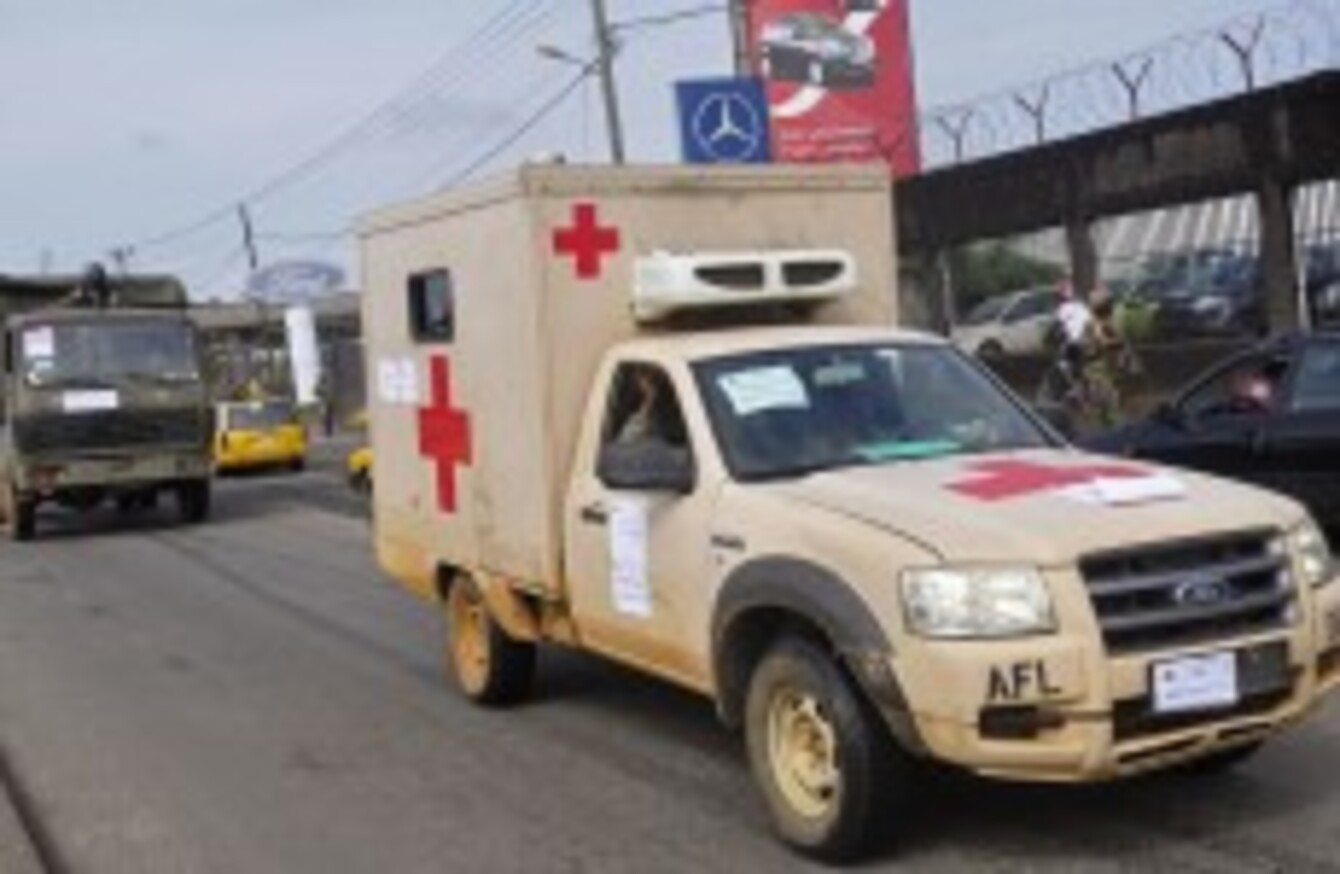 Liberian soldiers in a medical truck as they patrol streets in Monrovia today to prevent panic over the Ebola epidemic.
Image: AP/Press Association Images
Liberian soldiers in a medical truck as they patrol streets in Monrovia today to prevent panic over the Ebola epidemic.
Image: AP/Press Association Images
TWO AMERICAN CITIZENS who are infected by the deadly Ebola virus in West Africa are to be evacuated back to the US for care, the State Department said today.
"The safety and security of US citizens is our paramount concern," said the department's deputy spokesperson Marie Harf.
Harf said that the patients will be taken to medical facilities with "appropriate isolation and treatment capabilities". Their evacuation is expected within the coming days and will be carried out by the State Department and the Centers for Disease Control and Prevention (CDC).
"CDC protocols and equipment are used for these kinds of medical evacuations so that they are carried out safely, thereby protecting the patient and the American public, as has been done with similar medical evacuations in the past," Harf said in today's statement.
Samaritan's Purse, a US charity, has said that two of its staff members, doctor Kent Brantly and another American missionary worker, Nancy Writebol, were stricken with the virus in Liberia.
Both are in "serious" condition, aid groups said Friday. SIM USA, the Christian group for which Writebol worked, said she was in "serious but stable" condition.
"We are so heartened that Nancy is in stable condition and that plans are underway to bring her back to the US," said Bruce Johnson, president of SIM USA.
Emory University Hospital, in southern Georgia, has also said that it is preparing to receive "a patient with Ebola virus infection to its special facility containment unit within the next several days."
'Isolation zone'
Guinea, Liberia and Sierra Leone announced Friday an isolation zone sealing off the epicentre of the world's worst-ever Ebola outbreak, where the three countries meet.
"These areas will be isolated by police and military. The people in these areas being isolated will be provided with material support," said Hadja Saran Darab, the secretary-general of the Mano River Union bloc, which groups the West African nations.
The CDC yesterday issued a warning to avoid non-essential travel to Guinea, Liberia and Sierra Leone due to the worsening Ebola outbreak in West Africa.
The organisation's director, Dr Tom Frieden, said the CDC would be sending additional experts to the affected region to assist efforts to stem the outbreak:
This is the biggest and most complex Ebola outbreak in history. Far too many lives have been lost already. It will take many months, and it won't be easy, but Ebola can be stopped. We know what needs to be done. CDC is surging our response, sending 50 additional disease control experts to the region in the next 30 days.
Ireland's Department of Foreign Affairs has also issued a travel warning for Guinea, Liberia and Sierra Leone, and anyone travelling from those countries should be vigilant for any signs of Ebola's symptoms developing.
There is no vaccine for the highly contagious virus, which causes fever, vomiting, diarrhea and bleeding. It has killed around 60% of those infect since the current outbreak broke out in March.
The World Health Organization earlier warned that the epidemic was spiralling out of control and spreading faster than efforts to control it.
- Additional reporting by the AFP