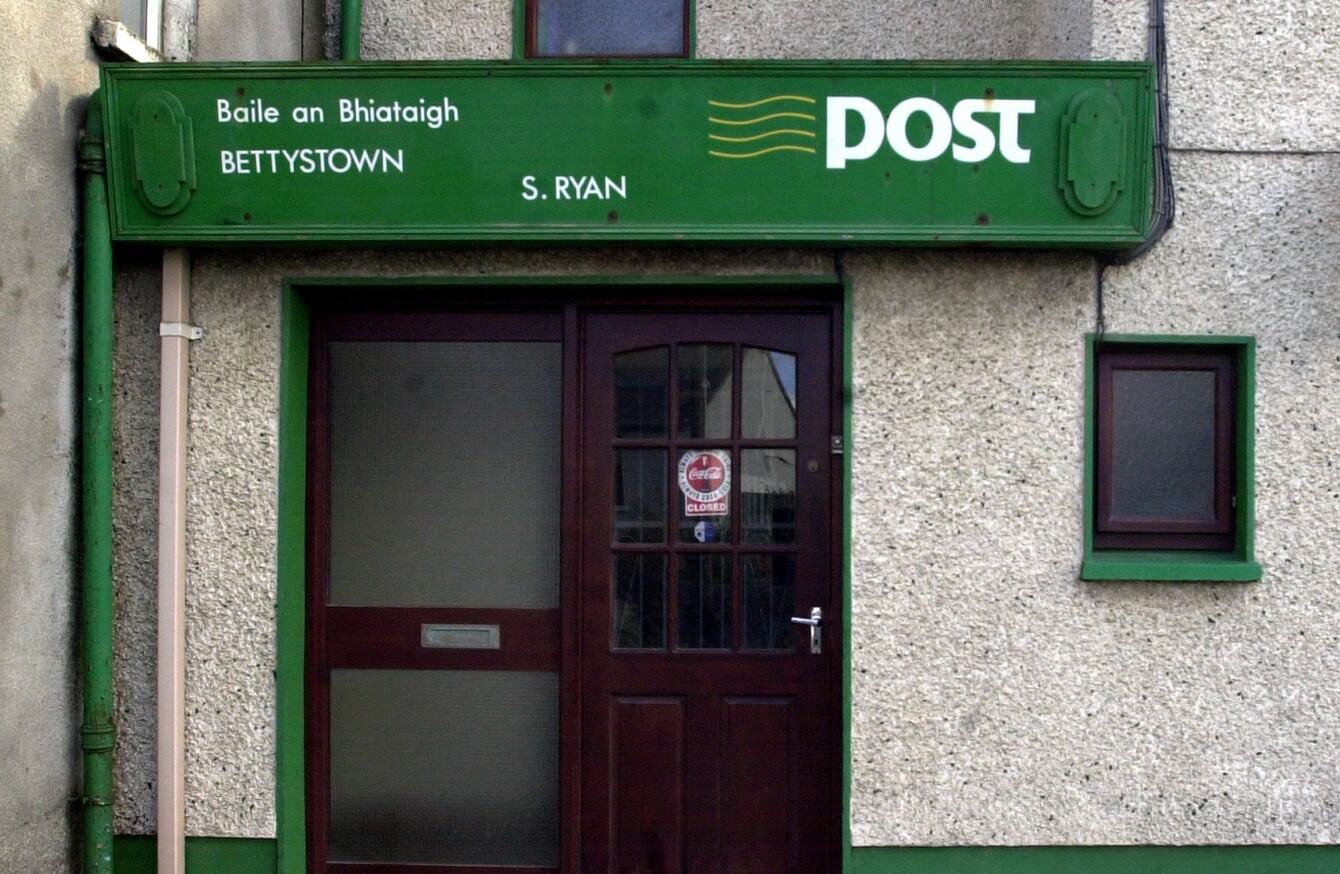 BANKING, INSURANCE, MOTOR tax, health check-ups – those are just some of the services An Post has been told to consider diversifying into to save hundreds of under-performing branches.
The need for An Post to broaden its operations – highlighted by a recent working group spearheaded by businessman Bobby Kerr - has come as the demand for its core service of delivering mail has declined with the shift to emails and electronic billing.
Since mail volumes hit their peak in 2007, deliveries have dropped 40%. Between 2007 and 2010, 198 post office branches nationwide closed down, with a further 24 net closures between 2011 and 2014.
The organisation's own incoming chairman, Dermot Divilly, has admitted its mail business is fast becoming unsustainable.
Nevertheless, An Post hasn't given up on returning its deliveries business to strength, looking to reinvent with new services.
"We're not sitting here doing nothing. We are making every attempt to diversify," Liam O'Sullivan, An Post's director of mails operations, told Fora.
"What we're contending with is a worldwide postal-industry decline; it's not just happening here.
"There is a massive challenge here … it is already happening to us. It isn't competition in the form of another company delivering letters, it is the digital revolution that is our main competitor."
Profitability
In order to claim a larger share of the deliveries business, An Post is aggressively moving into areas such as freight shipment, as well as providing proxy address services for consumers to edge out newer players like Parcel Motel.
O'Sullivan said the goal was for each new offering to be profit-making in its own right.
"Moving into freight is a bold step for us because it's something we haven't done before, but with the decline we've had in our mails business, it's a logical step.
"We did a good bit of market research on this among SMEs, and those small businesses told us that their exports are growing and they're expecting them to grow even further in 2017.
"We want to help SMEs export to the UK and Europe and export more, but we're also hoping to encourage existing SMEs that don't export at all to do so by removing the barriers for them."
Getting an edge
In order to make a dent in the market with its new products, An Post plans to compete aggressively with existing players on both price and overall service.
O'Sullivan said its freight product, Post Logistics, would tempt SMEs away from existing freight carriers as it offered smaller firms a one-stop solution.
"The whole thing is online. Up to midnight, you can make a booking and we will collect it from you the next day and transport it the rest of the way to our freight partners DB Schenker, who will take it on the rest of the journey."
He added that unlike competitors, An Post doesn't charge by weight, instead pricing shipments based on a flat per-pallet fee. Insurance can also be bought as an add-on during bookings.
Eating Parcel Motel's lunch
Two new mail products see An Post trying to take business from Parcel Motel, which first launched in Ireland in 2012. Its services include any-time parcel pickups via secure central delivery points, which can only be opened using a passcode sent via text.
The company also offers a proxy address service for deliveries from online stores that don't deliver to Ireland. Parcel Motel instead receives parcels to its UK warehouse, from which they are forwarded on to the Republic.
An Post's DeliveryBox is the equivalent of a Parcel Motel box that can be installed at your home. The weather-resistant box, which only the owner and a postman can access, costs €70.
Some 20,000 DeliveryBoxes have been sold by An Post since the launch of the product, which is also aimed at making it easier for customers to return goods bought online.
"Roughly 40% of online shopping is returned," O'Sullivan said. "If you have a DeliveryBox, you can actually put your resealed package back in the box and next time we're delivering we will collect your mail from the box for free."
Another product launched this year by An Post that goes head to head with Parcel Motel is AddressPal, which also allows Irish customers to buy from online retailers that only deliver to the UK.
Changing face of An Post
O'Sullivan, who joined An Post more than 30 years ago and rose through the ranks until he took over the mails division in 2009, said he has already seen "dramatic change" at the semi-state during his career.
He added that he was under no illusions that An Post's new offerings were big enough to turn the organisation around.
"A successful freight business or strong success in parcels and packets is not going to outweigh the level of the revenue loss in the core letter business, because the sheer scale of the losses there are extraordinary," he said.
Nevertheless, An Post has more delivery offerings in the pipeline – although O'Sullivan was tight-lipped about exactly what would be coming in 2017.
"We've seen competitors come into our business area over the last 30 years, so now it's nice to go into other people's business areas too.
"I don't like to tip off the competition to what we're going to do next, because Parcel Motel didn't exactly ring us up and tell us, 'We're thinking of doing this.' We're commercial, so we have to watch out for ourselves."
Written by Killian Woods and posted on Fora.ie