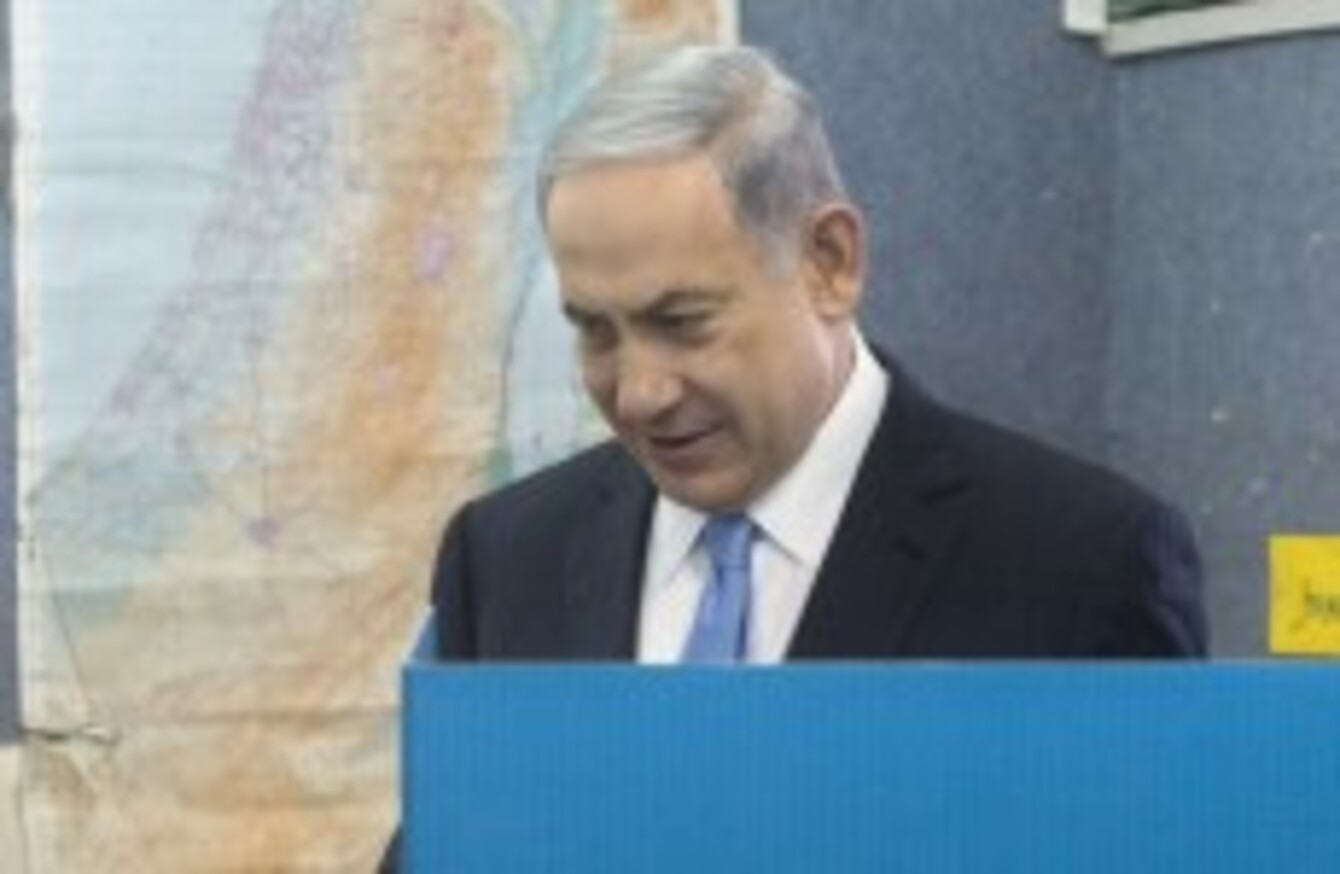 Image: Sebastian Scheiner/AP/Press Association Images
Image: Sebastian Scheiner/AP/Press Association Images
ISRAELI PRIME MINISTER Benjamin Netanyahu, who won majority support today from newly-elected MPs to form the country's next government, has apologised for saying Arabs were voting in "droves" in comments that drew US condemnation.
The leader of the rightwing Likud party is expected to be tasked this week with forming a new coalition government.
"I know that my statements last week offended some Israeli citizens and members of the Arab Israeli community. That was never my intention. I apologise for that," he said during a meeting with Arab Israelis broadcast on television.
Netanyahu made a last-minute call to his supporters to vote last Tuesday in an attempt to counter a high turnout among Arabs.
"The rule of the rightwing is in danger. Arab voters posted are going to the polls in droves!" he said in a video on Facebook.
Go to the polling stations! Vote Likud!
Ayman Odeh, deputy leader of the Joint List which groups Israel's main Arab parties and won 13 seats, rejected the apology.
"His excuses are not acceptable because not only does Benjamin Netanyahu plan to bring in racist legislation but his words challenged the very right of Arab Israelis to vote for the Knesset," Israel's parliament, he said on television.
US President Barack Obama, commenting on Netanyahu's surprise election victory, said:
That kind of rhetoric was contrary to what is the best of Israel's traditions.
His chief of staff, Denis McDonough, took Netanyahu to task over another pre-election pledge, to block the creation of a Palestinian state.
"We cannot simply pretend that those comments were never made, or that they don't raise questions about the prime minister's commitment to achieving peace through direct negotiations," he said.
- Troubled US ties - 
Likud's victory has paved the way for the likely emergence of a new rightwing-religious government that may complicate efforts to resurrect the US-sponsored peace process with the Palestinians and pose further challenges for Israel's troubled ties with Washington.
Netanyahu is expected to be formally handed the task of building a coalition government on Wednesday after securing the backing of a solid majority of MPs in the 120-seat Knesset.
There will then follow weeks of hard-fought coalition horsetrading as Netanyahu's potential partners battle for portfolios and prestige.
Backing for Netanyahu to stay in the post came during two days of talks between President Reuven Rivlin and representatives of the 10 parties elected to parliament who told him whom they would recommend as prime minister.
Six factions, comprising 67 MPs, threw their support behind Netanyahu, presidential spokesman Jason Pearlman told AFP as Rivlin wrapped up talks with the hardline anti-Arab Yisrael Beitenu.
Both Netanyahu and Isaac Herzog, leader of the centre-left Zionist Union – which came a distant second with 24 seats – have ruled out joining forces in a unity government.
Besides Likud, which won 30 seats, his new government is expected to include the far-right Jewish Home (eight), ultra-Orthodox parties and the newly formed centre-right Kulanu party of Likud defector Moshe Kahlon (10).