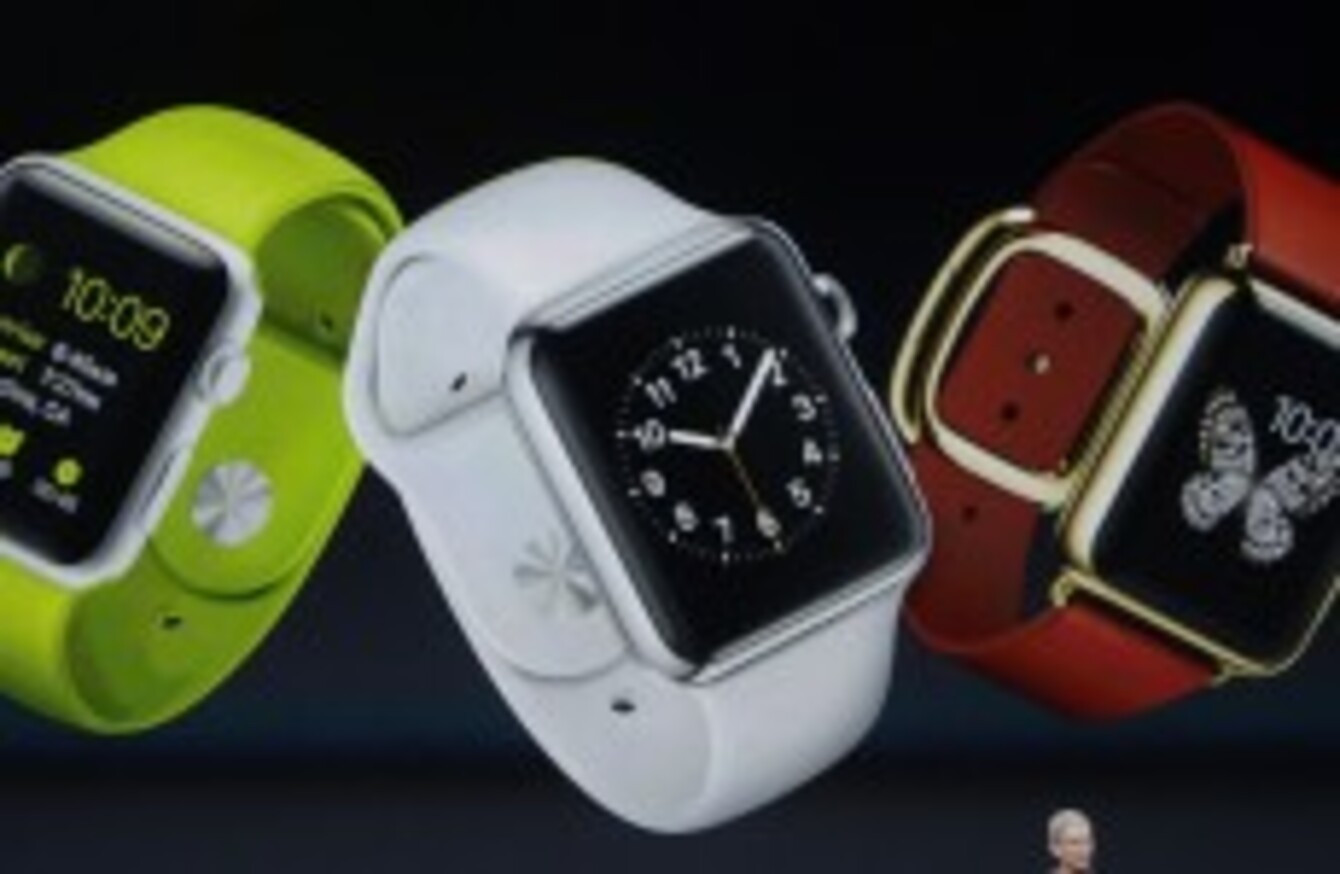 Image: AP Photo/Marcio Jose Sanchez
Image: AP Photo/Marcio Jose Sanchez
IN LESS THAN an hour, Apple will be announcing the final details surrounding its long-awaited product, the Apple Watch.
Tim Cook will be talking about the smartwatch (and other things as well like an iOS update) at 5pm Irish time and we will likely know about its price and its availability.
Here's what we already know about it, and what questions need to be answered about it this evening.
What we know
It's going to be (very) expensive
The price tag of from $349 (likely €349 here as Apple doesn't adjust its prices for other products too much) that Cook revealed back in September would likely be for the cheapest model, the Apple Watch Sport, which uses rubber straps.
Rumours that the price of the luxury version, Apple Watch Edition, will go up as far as $8,000 have been mentioned as it will include scratch-resistant 18ct gold, but even if the price is this high, they will be produced in limited quantities.
Gestures will be consistent but versatile
The most important difference between Apple Watch and other product is Force Touch. Basically an alternative button press, the watch will be able to distinguish between a tap and your finger pressing on the screen (force touch).
Also, gestures across all apps will be consistent. Vertical swipes will scroll, horizontal swipes switches between pages and the digital crown will scroll through pages.
Also, there will be no keyboard. Instead, all of your interactions with it will be through preselected answers, voice replies, or drawing a response through digital touch.
It will be available in two sizes
To cater for all users, the watch will come in 28mm and 42mm sizes. There are no changes made to the specs, but it means that the device won't look like massive on your wrist provided you choose the right size.
It's going to prioritise fitness and health
Alongside the traditional heart-rate monitor, gyroscope and accelerometer, the device has a Tapic Engine which produces haptic feedback (read: it touches you or vibrates).
That's mainly for notifications, but it can also be used for messaging heartbeats to someone, or it could tie into fitness routines more.
Imagine being tapped to remind you to get up from your desk to move about or going for a run and having taps to tell you when to speed up or slow down. That will likely tie into activity, but there may be more uses for this feature coming up tonight.
What needs to be answered
Exactly how long does a single charge last?
During the September event, Cook mentioned how the watch will be charged but didn't go into how long the charge will last. Now fast forward six months later and the rumours are this will last five hours of heavy use or a day with mixed use. The best guess is a day's use which is mostly on par with other similar devices, but this ties into another question.
#Open journalism No news is bad news Support The Journal

Your contributions will help us continue to deliver the stories that are important to you

Support us now
Are there any features that have been removed?
Apple promised a number of features that would be included with the watch, but since battery life is always a concern, it's possible that certain features would have been removed to help improve battery life. What features exactly isn't clear but it would be expected that they are health-related since that had the most included
How many apps will be available from launch?
If the iPhone's success has taught us anything, it's that the strength of an OS really depends on the quality of apps it has at its disposal. Apple really needs this more than anything else as the type of experiences it can offer will either separate it from its competitors or lump them into the same category.
The dream scenario would be apps that offer more than just notifications and take full advantage of the interface (drawing alone has a number of applications while maps will use vibrations to help direct you), but expect this to be touched upon during the announcement.
What's its primary purpose (and who is its audience)?
This isn't really something that any smartwatch has answered competently yet and it's unclear whether Apple will properly answer it tonight.
The initial answer is it will track your activity and complement your lifestyle, but that isn't exactly a great reason to splash so much cash on it. You could get a fitness tracker for much cheaper and even then, their use is debatable.
If it's just an easier way to access your iPhone notifications, any other watch can do that. There are numerous other competitors in the market so what makes it different than the rest?
The entire purpose of wearable tech should be you are able to forget about it until you actually need it and unless Apple has a new purpose up its sleeve, it could be a hard sell.
Apple's event will be live streamed here, but if you don't have an iOS or OSX device, you can keep up with the updates via @thejournaltech.