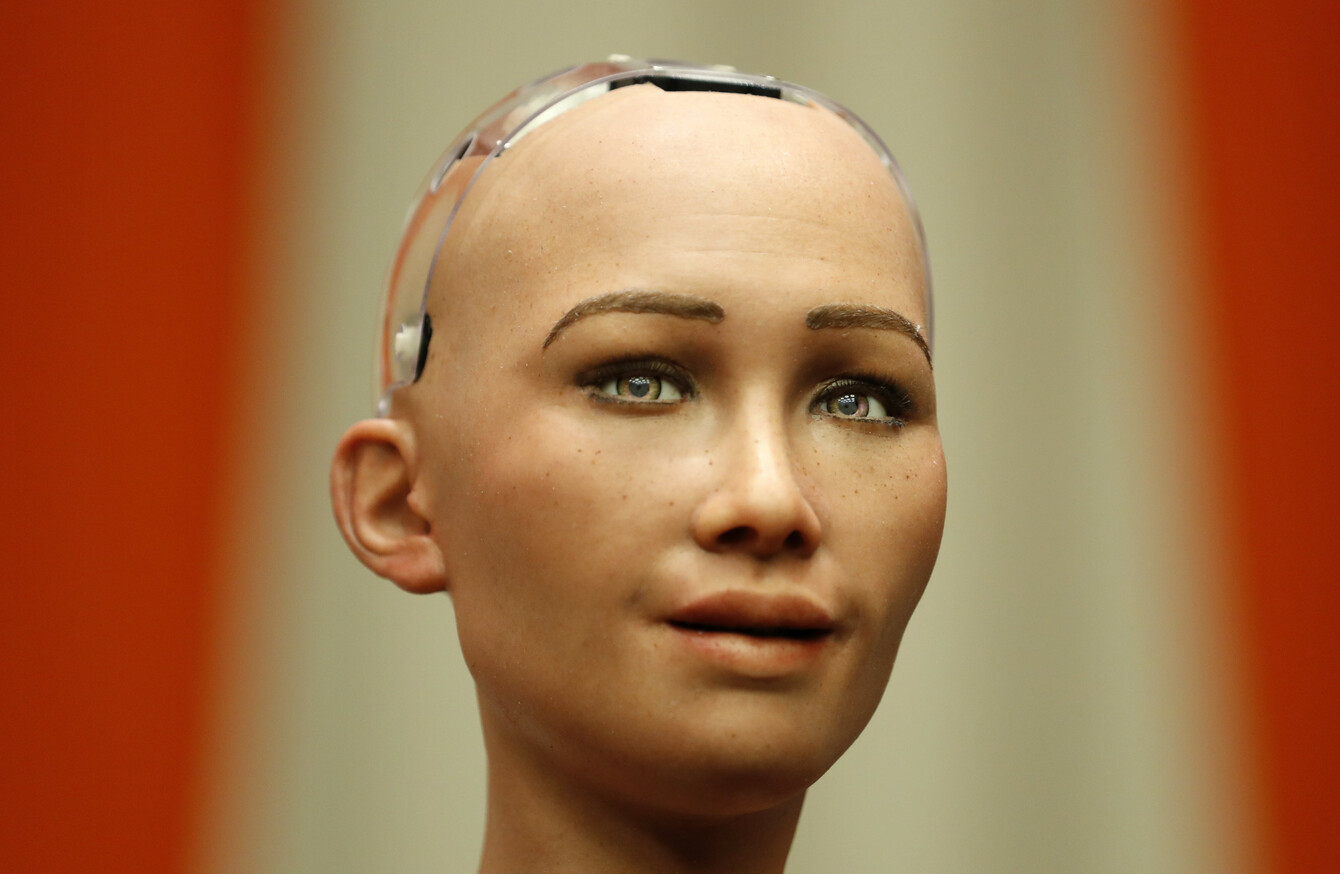 Sophia, a life-like humanoid robot made in the nUS.
Image: Xinhua News Agency/PA Images
Sophia, a life-like humanoid robot made in the nUS.
Image: Xinhua News Agency/PA Images
TWO YEARS AGO, a Google-owned artificial intelligence (AI) algorithm beat the world's foremost prodigy in the ancient Chinese board game of Go.
AlphaGo's success against world champion Lee Seedol shocked the global Go community, as well as those in the computer world, who believed that AI was not yet at the level required to defeat the world's best human.
The game's complexity means there are millions more outcomes than chess and it was thought that an algorithm could not possess the ability to 'think' for itself and outwit an opponent.
The DeepMind-created programme proved its' doubters wrong and repeated the feat a year later against another prodigious challenger.
The series of matches proved that AI capabilities were beyond what were previously perceived and gave a jolt to an industry that was already in rapid development.
In Ireland, attempts are being made to ensure that the country is at the forefront of such advancement.
For an economy that prides itself on being the European hub of so many global tech firms, it's vital that it's not left behind when it comes to AI.
One of the most important ways to ensure this doesn't happen is to have the requisite skills in this country and a new Masters in Artificial Intelligence in the University of Limerick hopes to achieve just that.
The masters programme was launched earlier this week with UL's Dr. Ann Ledwith telling a room of industry players that she expects 60 students to be in place by this time next year.
The programme will teach modules such as Machine Learning and Data Mining and will be part-time, with a large proportion conducted online.
The subjects were developed with the help of 36 companies already working in the area of AI.
The industry is also funding one-third of the cost through training network Technology Ireland ICT Skillnet and its director Paul Sweetman says AI is something Ireland simply must be on board with.
"AI as a concept has been around for a long time, but what we're talking about here is developing real skills in an area where there is going to be huge demand and it's a case that there's a global skills deficit."
The sector is growing exponentially and globally by 2035 there'll be $3.7 trillion of savings that will be brought about by artificial intelligence. Now in order to achieve that there is going to have to be the skills to work on the systems, the protocols, the software, the design, the algorithms that develop those systems.
In effect it means that while AI is designed to replace some of the everyday decision-making carried out by people, skilled individuals are still required to develop these systems.
But job losses due to AI is a concern.
Paul Healy, CEO of Skillnets says that a 2015 study by the OECD found that 30% of jobs in Ireland could be at "significant risk" due to automation.
But this, Healy says, is only a concern if people aren't reskilled to adapt to the changing economy.
It's a rapidly evolving field, so therefore the skill implications and skills demands are very, very significant. And as an AI practitioner, you really need to be a lifelong learner.
Part of the reason the development of AI has accelerated so rapidly is because computer-power has caught up with concepts that have been discussed previously.
It means people will begin to see major changes in how they interact with technology over the next few years.
"It's going to be profound," Healy says.
And I know that's a very strong word, but there have been false dawns in artificial intelligence before, why? Because it was held back by processing capability, but we have overcome those technical challenges.
"So there isn't a household or employer that won't be impacted to some extent by artificial intelligence, even over the short-term, three to four years."
This is he says will be across many applications from medicine to law to manufacturing.
"In high-end manufacturing and many of the routine, minutiae-based operations that humans are doing now will be replaced."
From a business point-of-view, Healy says it's about demonstrating that Ireland has the creative ecosystem in place for AI development so that FDI investment follows.
What will this mean?
The development of self-driving cars is already progressing quickly and is one area of AI where people are beginning to see tangible examples.
Only this week, it was revealed that the British government is to start developing ethical rules in preparation for AI technologies carrying out expert tasks like diagnosing patients and handing down prison sentences.
The medical arena alone is one area where AI could prove to be literally live-saving and Sweetman explains how it could be used to speed up treatment amid a shortage of doctors and consultants.
"It can be extended to robotic surgery and they're talking about that now and they're doing clinical trials, not on humans, but on the way to that."
In cancer treatment the AI program essentially reads all the peer-reviewed journals that are out there, all the information that is on cancer drugs and they can then assess individual patients' needs and map out what their cancer treatment should be, and in some case the AI being used to augment the doctors and physicians ability.
That final point is one that's pressed home by those at the forefront of AI development.
The idea that while AI may be designed to replace human decision-making , it's strength is in how it interacts with humans to make the right decision. A case of two minds being better than one, or in this case, one mind and one computer programme.
To return to the board game analogy, Sweetman says it's about "running with the machines".
"We hear of the Deep Blue example where Garry Kasparov was beaten by the chess programme that was developed, but what people didn't talk about that afterwards were there were loads of other simulations run where they put an average chess player working with the machine against the machine, and in every case the machine and the human working together beat the machine every time."