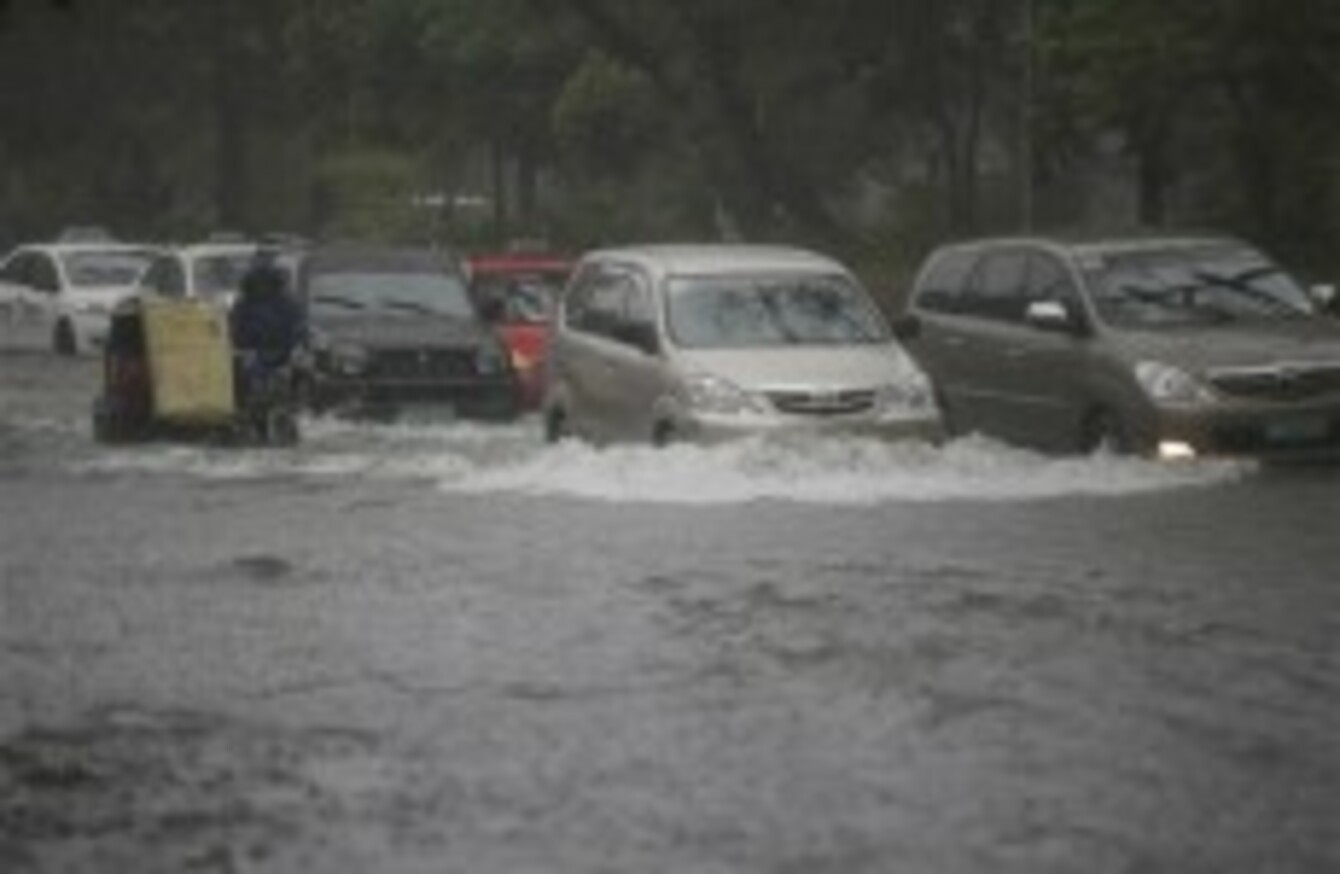 Vehicles cross a flooded street in Manila, Philippines.
Image: AP/Press Association Images
Vehicles cross a flooded street in Manila, Philippines.
Image: AP/Press Association Images
THE YEAR'S MOST powerful typhoon slammed into southern China today, forcing hundreds of flight cancellations, shutting down shipping and putting a nuclear power plant on alert after pummeling parts of the Philippines and Taiwan with heavy rains and fierce winds.
Typhoon Usagi veered away from Hong Kong at the last minute and made landfall northeast of the former British colony. Forecasters had warned earlier that it posed a "severe threat" to the southern Chinese city.
Usagi
Usagi — Japanese for rabbit — was classified as a severe typhoon, packing sustained winds of 109 miles per hour.
The storm was downgraded from a super typhoon on Saturday.
In the Philippines, Usagi left at least two people dead and two others missing, while in Taiwan nine people were hurt by falling trees on Kinmen island off China's coast.
The typhoon landed near the city of Shanwei in the Chinese province of Guangdong, about 87 miles northeast of Hong Kong, the Hong Kong Observatory said.
Ferry services between Hong Kong and nearby Macau and outlying islands were suspended as the observatory raised the number 8 storm warning signal, the third highest on a five-point scale. It warned that a storm surge and heavy rains could cause flooding in low-lying areas.
Temporary shelters
Police in Shanwei ordered more than 8,000 fishing boats to return to port and more than 1,200 residents were taken to temporary shelters, China's official Xinhua news agency reported.
The typhoon wreaked havoc on airport schedules in Hong Kong, nearby Macau and mainland China, upsetting travel plans for many passengers who were returning home at the end of the three-day mid-autumn festival long weekend.
Hong Kong International Airport said 370 arriving and departing flights were cancelled and another 64 delayed.
Authorities in Guangdong initiated an emergency response plan for the Daya Bay nuclear power station northeast of Hong Kong as Usagi approached, ordering four of six reactors to operate at a reduced load.
In Taiwan, more than 3,300 people were evacuated from flood-prone areas and mountainous regions.
The typhoon set off landslides, flooded parts of six Philippine provinces and affected nearly 20,000 people, but disaster-response officials did not immediately report additional casualties.