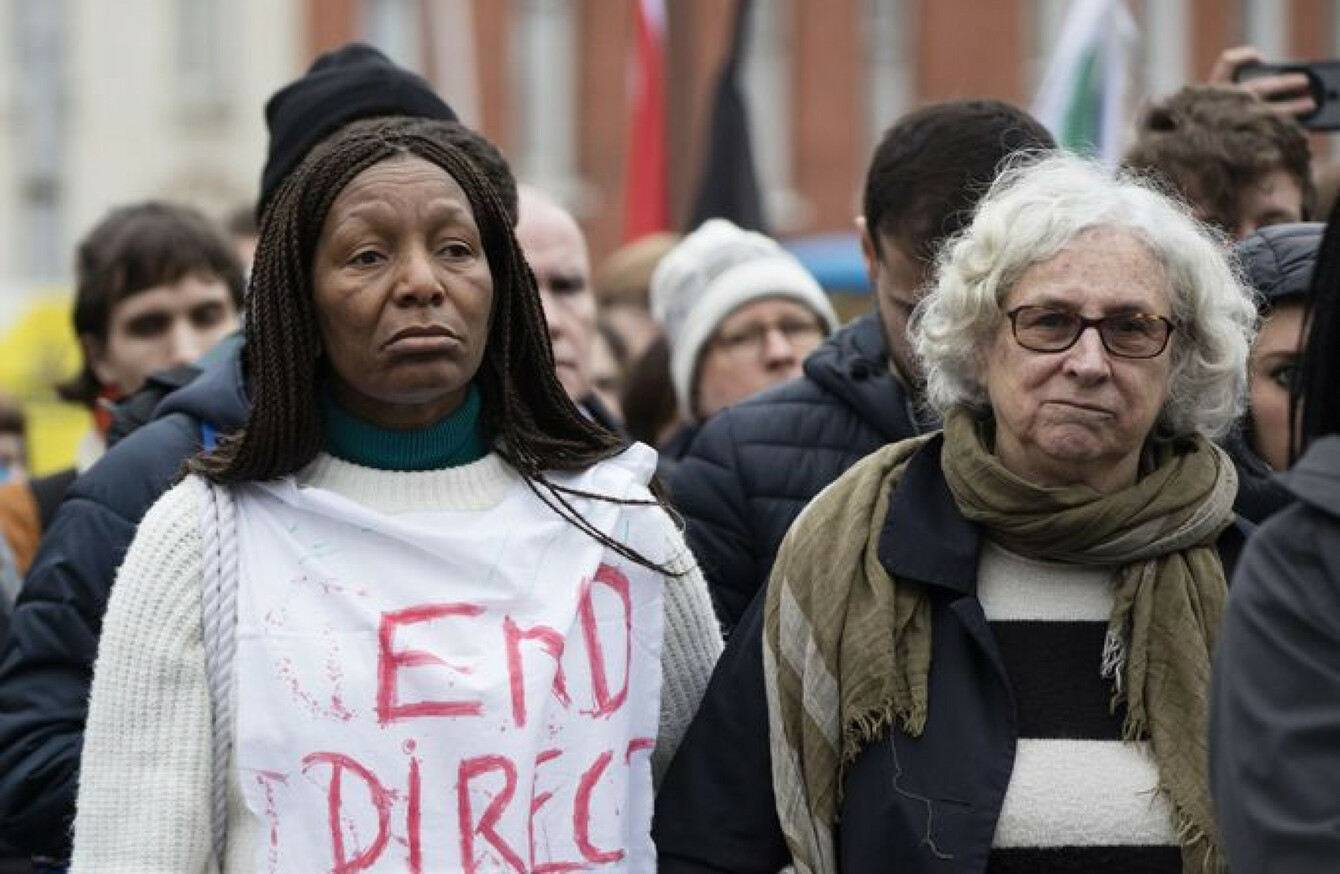 Protesters called for an end to Direct Provision at a demonstration last weekend
Image: Eamonn Farrell/RollingNews.ie
Protesters called for an end to Direct Provision at a demonstration last weekend
Image: Eamonn Farrell/RollingNews.ie
THE GOVERNMENT IS examining whether asylum seekers should only be allowed to apply for jobs in certain areas of the workforce that are in need of employees.
The Cabinet has agreed to lift the ban that prevents people living in Direct Provision centres from working, in line with a European directive. In May, the Supreme Court said the ban on asylum seekers working was unconstitutional.
Speaking to reporters today, a government spokesman said the new proposals mean asylum seekers who have been here for more than nine months will be able to work. He said unemployment in Ireland is "relatively low", adding there is a difficulty in recruiting workers in a number of sectors such as health.
The spokesman denied that restricting the areas in which asylum seekers could work was discriminatory. The Department of Justice will carry out a review in the coming months into whether this is the best way forward.
The spokesman said about half of the 5,000 asylum seeker applicants currently waiting to be processed would be eligible to enter the workforce based on the nine-month rule.
He said, regardless of their work status, "As long as they are seeking asylum they will remain in Direct Provision." People in the centres are provided with meals and given a weekly allowance of just €21.60. The system was set up as a six-month measure 17 years ago.
The spokesman added that the government was not worried about further legal challenges if asylum seekers were restricted to working in certain sectors.
In May, the seven-judge Supreme Court panel adjourned its order for six months to allow time for lawmakers to decide how to proceed. The case in question was brought by a native of Burma who arrived in Ireland in 2008.
Opportunity to integrate
The Immigrant Council of Ireland welcomed the move to lift the ban, but said it believes asylum seekers should be granted the right to work at six months – which is the time limit within which they are supposed to receive a decision on their application.
CEO Brian Killoran said: "The introduction of a right to work, so long denied, is a momentous occasion for asylum seekers in Ireland and is an opportunity to improve the quality of life for thousands of people.
It will give men and women who are seeking refuge in Ireland the opportunity to practice their skills and contribute further to our society.
Killoran said the Council, along with many other migrant rights organisation, "advocate for few, if any, restrictions to the type of work asylum seekers can engage in and we plan to work closely to ensure many sectors are available to asylum seekers, so that their diverse skills can be utilised for the benefit of our whole society".
"There will already be sufficient challenges for them trying to find work – qualifications being recognised, gaps in CVs, references … Plus not everyone will necessarily be in a position to work.
Also key is the fact we are at almost full employment rates so the jobs available are often the ones which aren't being filled. There are going to be practical challenges – for example the location of Direct Provision centres, which will also affect the type of jobs asylum seekers can seek.
"The reason this is so important is because the impact of a work ban goes much further than simply being denied the right to get a job. Those seeking international protection in Ireland have already been through so much. Denying people the right to work affects people's self-esteem, mental health, their children, limits them to a life lived in poverty and affects their opportunity to integrate into Irish society," Killoran stated.