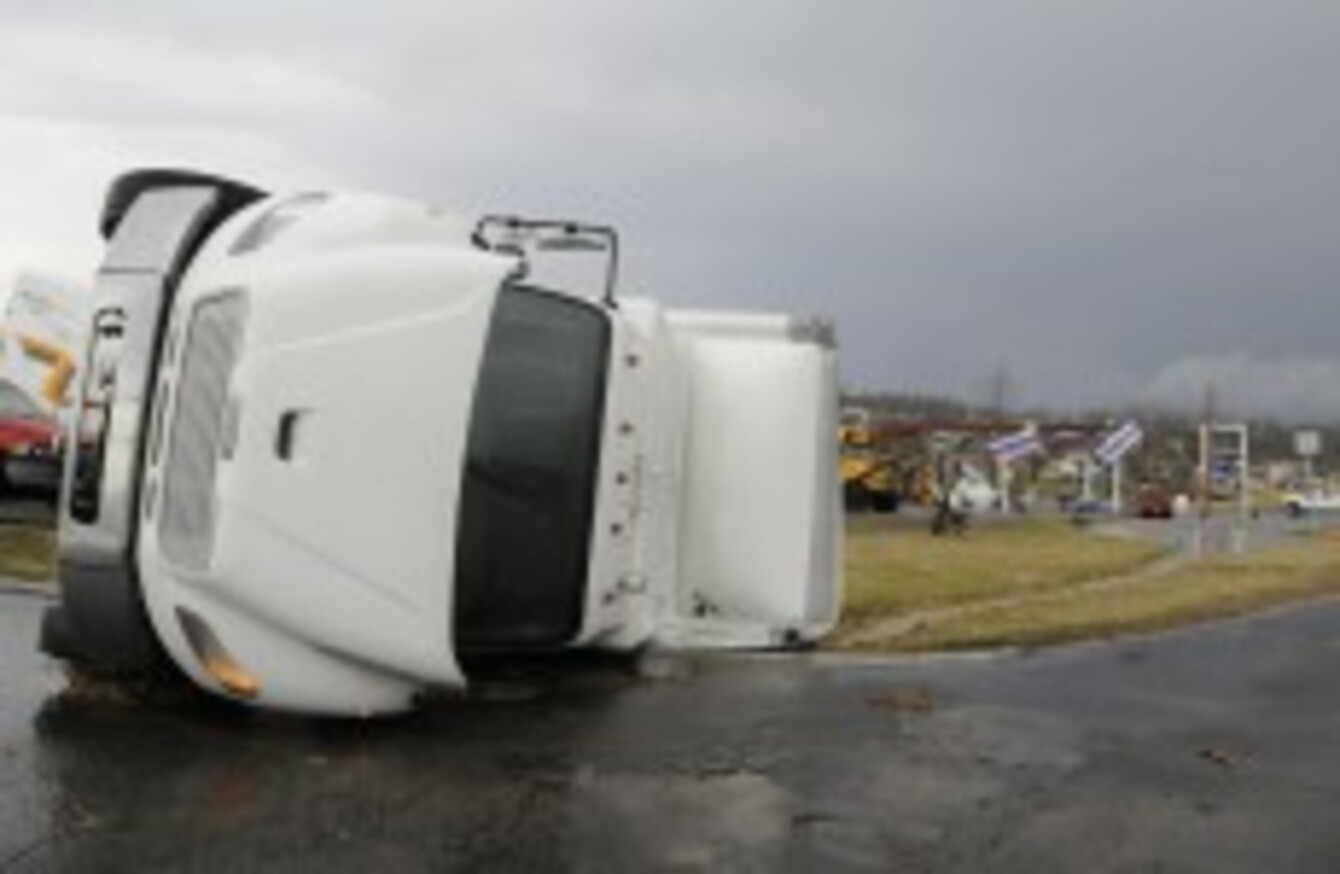 A truck lies on its side in front of the remains of a gas station in Henryville
Image: AP Photo/Timothy D. Easley
A truck lies on its side in front of the remains of a gas station in Henryville
Image: AP Photo/Timothy D. Easley
AT LEAST 28 people have been killed in the US after powerful storms wrecked homes and tossed vehicles into buildings in three states.
Entire blocks of homes were turned into piles of debris in some areas of Indiana, causing destruction so severe it was difficult to tell what was once there.
As night fell, dazed residents shuffled through the town of Henryville, some looking for relatives, while rescue workers searched the rubble for survivors. Without power, the only light in town came from cars that crawled down the streets.
A fire station was flattened. Roofs were ripped off schools. A prison fence was knocked down and scores of homes and businesses were destroyed. The deaths included14 in Indiana and 12 in Kentucky, and dozens of others were hurt in the second deadly tornado outbreak this week.
It wasn't immediately clear how many people were missing.
"We knew this was coming. We were watching the weather like everyone else," said Clark County, Indiana, Sheriff Danny Rodden. "This was the worst case scenario. There's no way you can prepare for something like this."
In Henryville, power lines were down and cars were flipped over. People walked down the street with shopping carts full of water and food, handing it out to whoever was in need.
Terry Brishaber said his uncle's mobile home was gone.
"I don't see any remnants. I don't know where it's at," he said. This video shows some of the damage around Henryville:

YouTube/doppletonne
Aerial footage from a TV news helicopter flying over Henryville showed numerous wrecked houses, some with their roofs torn off and many surrounded by debris. The video shot by WLKY in Louisville, Ky., also showed a mangled school bus protruding from the side of a one-story building and dozens of overturned semis strewn around the smashed remains of a truck stop.
"I'm a storm chaser," said Susie Renner, of Henryville, "and I have never been this frightened before."
Andy Bell was guarding a demolished garage until his friend could get to the business to retrieve some valuable tools Friday night. He looked around at the devastation, pointing to empty lots between a Catholic church and a Marathon station about a block away.
"There were houses from the Catholic church on the corner all the way to the Marathon station. And now it's just a pile of rubble, all the way up," he said. "It's just a great …"
His voice trailed off, before he finished: "Wood sticks all the way up."
An apparent tornado also damaged a state maximum security prison about 10 miles from Huntsville, Alabama but none of the facility's approximately 2,100 inmates escaped.
- Additional reporting by Michael Freeman