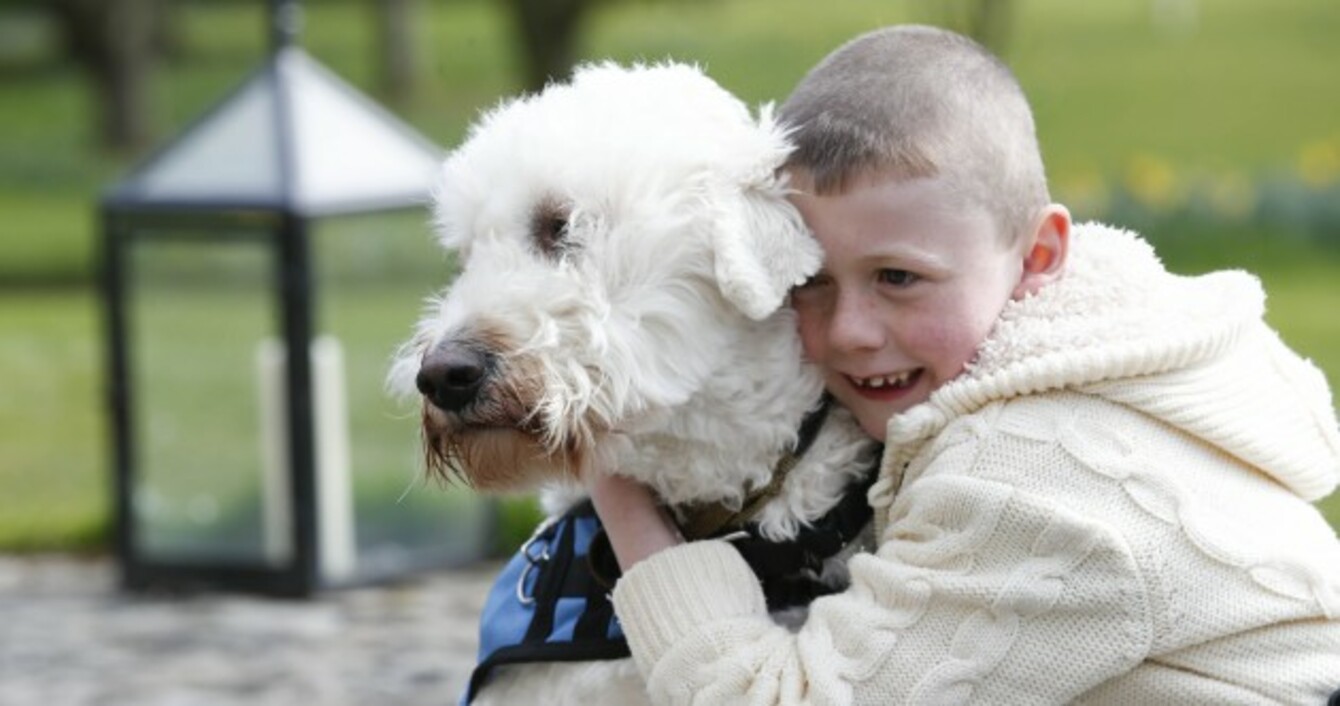 Shane and Zeta
Image: Conor McCabe
Shane and Zeta
Image: Conor McCabe
MORE THAN 100 children are currently on the waiting list for an assistance dog. They will remain there for up to three years.
Some 261 children already have these canine companions, with Irish Guide Dogs matching 30-40 dogs each year.
It costs €38,000 to train one puppy to become a working guide or assistance dog.
To mark World Autism Awareness Day, which takes place today, Irish Guide Dogs is calling on people to support its Assistance Dog Programme (ADP), which is currently closed to new applications due to lack of financial support and resources.
Last year, the organisation was forced to close its ADP waiting list – for a second time – for children with autism spectrum disorder, due to a massive over-demand for its service.
Zeta joined the Murray family from Walkinstown in Dublin two years ago. Cathy said Zeta has "brought our family back to life" since becoming an assistance dog for her son Shane (8).
"Since Zeta has joined our family in 2013 we have been able to have a normal life and do things that other families take for granted. Autism is really hard to deal with, but having Zeta means we can take part in family days like communions and even going to the shops together without any difficulty."
Shane had his communion in 2014 and sat in the church with the rest of his class, with Zeta at his feet. I was so proud to see him so well and happy.
Watch Shane tell us what he makes of Zeta:
Source: Irish Guide Dogs/YouTube
What are Assistance Dogs?
Assistance dogs are trained specifically to work with children with autism. The primary function of an assistance dog is to help a child by acting as a safety aid and promoting calmness.
These constant companions can have a dramatic impact on the behaviour and quality of life of children. Outings to public places become less stressful, families enjoy greater freedom and mobility, and children who have previously been very 'shut in' often begin to open up to the world around them.
Some of the changes children experience include:
Talking to people for the first time
Joining activities for the first time
Being able to learn new things
Greater sense of responsibility
More confidence and independence
Funding
The Irish Guide Dogs' ADP has been independently evaluated by the BMJ, which found the dogs had hugely beneficial impacts on both child and family.
Padraig Mallon, Irish Guide Dogs CEO, said it is "unfortunate" the organisation cannot support more families with the programme right now.
We are working hard to match dogs with the families on our current waiting list and to train as many people as possible. We look forward to working with the families who are currently on the list.
Irish Guide Dogs was the first organisation to bring the assistance dog programme to Europe, in 2005.
Currently it does not have the financial or human resources to grow the programme to meet the over-demand for the service and re-open the list. The charity receives 80% of its income from fundraising initiatives and voluntary donations. State funding amounts to 20% – with statutory funding for the ADP having been cut significantly in the past few years.
To donate €4 to Irish Guide Dogs text WOOF to 50300 (100% of text goes to Irish Guide Dogs across most network operators. Some operators apply VAT which means that a minimum of €3.25 will go to the charity).
For more information on the group's work, visit its website.
Research
Meanwhile, 93% of respondents to a national survey believe a registry and biobank for autism in Ireland is needed.
A biobank is a type of biorepository that stores biological samples for use in research.
The consultation process engaged with all stakeholders affected by or involved with autism or other related neurodevelopmental disorders including families, health professionals, service providers and researchers.
The Autism and Neurodevelopmental Disorders Research Group at Trinity College Dublin partnered with the Irish Centre for Autism and Neurodevelopmental Research (ICAN) at NUI Galway and the US-based Autism Speaks for the initiative.
Louise Gallagher, Professor of Child and Adolescent Psychiatry at TCD, said:
It is clear from the responses of those who took part in the national survey and the regional town hall meetings that there is a huge and positive appetite for the establishment of a registry and biobank for autism in Ireland. Parents said it was the first time they had ever been asked what would make their child's life better.
Gallagher stated that Ireland has the opportunity "to propel world-class research and its application for the public good with an innovative unique registry and biobank for a major public health challenge".