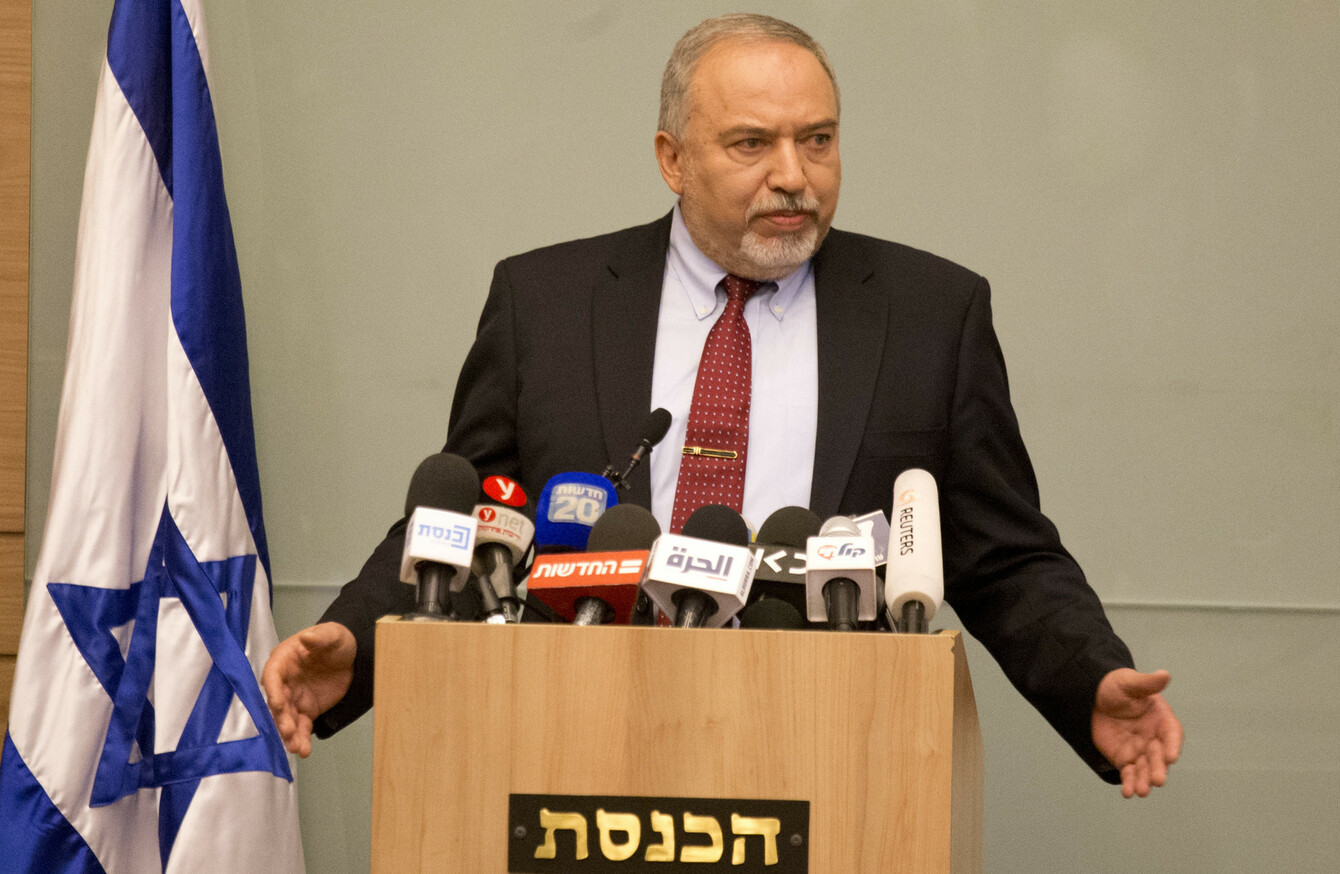 Israeli Defense Minister Avigdor Lieberman delivers a statement at the Knesset
Image: PA Images
Israeli Defense Minister Avigdor Lieberman delivers a statement at the Knesset
Image: PA Images
ISRAEL'S DEFENCE MINISTER Avigdor Lieberman announced his resignation earlier today, following a ceasefire from recent hostilities with Palestinian militants in Gaza.
His resignation came after prime minister Benjamin Netanyahu defended the ceasefire, which ended the worst escalation between Israel and Palestinian militants in Gaza since  a 50-day conflict in 2014.
However, the move has thrown the ruling Likud government into turmoil, opening up the chance of early elections.
But why did he resign in the first place, and what does it mean for the future of Netanyahu's government?
What happened during the latest spate of violence?
On Sunday, a new offensive between Israel and Palestinian militants began when around 460 rockets and mortar rounds were fired at Israel, the most ever in such a brief time period according to the country's army.
The violence saw seven Gazans killed in 24 hours as Israeli strikes targeted militants and flattened buildings, sending fireballs and plumes of smoke into the sky. 
An anti-tank missile hit a bus near the Gaza border that Hamas says was being used by Israel's army. An Israeli soldier was severely wounded.
In all, some 27 Israelis were wounded, three of them severely.
So why did Lieberman resign?
After a ceasefire was announced yesterday, Lieberman denounced the move as "surrendering to terror".
Lieberman has long called for action against the Palestinian movement Hamas, which runs the Gaza Strip, and recently made clear that he disagrees with Netanyahu's strategy.
A security hardliner, he leads the right-wing Yisrael Beitenu party, which holds five seats in the Knesset, Israel's 120-seat parliament.
His resignation followed criticism of a decision by Netanyahu's to allow Qatar to transfer millions of dollars in aid to Gaza for salaries and fuel to ease an electricity shortage.
Political considerations have also likely played a role in his decision.
By resigning, Lieberman takes five seats from Netanyahu's parliamentary coalition, leaving the prime minister with a slim one-seat majority (61 out of 120 seats).
There has long been speculation that elections will be called before November 2019, when they are due.
It may be that he sees now as an opportune time to quit and seize momentum for his small party, which holds fewer seats in parliament than Netanyahu's Likud and his rivals from the far-right Jewish Home.
What does it mean for Netanyahu?
One of the main reasons Netanyahu negotiated got Lieberman to join his coalition in 2016 was to give himself some breathing space in parliament.
The government formed after 2015 elections was already seen as the most right-wing in Israel's history, long before Lieberman joined.
In theory, it could survive until the end of its four-year term, but it remains at the mercy of the various parties' interests and those of Netanyahu himself.
But no Israeli government has served a full term in 30 years.
#Open journalism No news is bad news Support The Journal

Your contributions will help us continue to deliver the stories that are important to you

Support us now
Likud says early elections will not be necessary and that Netanyahu is now seeking to stabilise the coalition.
But Jewish Home, the party of Education Minister Naftali Bennett, was threatening to withdraw if he is not given the now-vacant defence portfolio.
Netanyahu would likely be reluctant to grant such a position to Bennett, one of his main rivals on the right.
Would an election be good for Netanyahu? 
Netanyahu, who has been prime minister for 12 years, could surpass Israel's founding father David Ben-Gurion's if he manages to last until next year.
Polls suggest that he and his Likud would be favourites should polls be called, but it's unclear if the recent Gaza escalation will affect that.
There has been speculation for months that Netanyahu may opt for early elections, particularly with the police having recommended charges against him in two corruption probes.
The attorney general is expected to decide whether to bring charges in the months ahead, and the thinking is that he would be better placed to combat them with a fresh electoral endorsement.
However, if he was to call an election, he would want to do so at the most advantageous time, and now may not be ideal if he is facing criticism over the Gaza ceasefire.
With additional reporting from AFP.