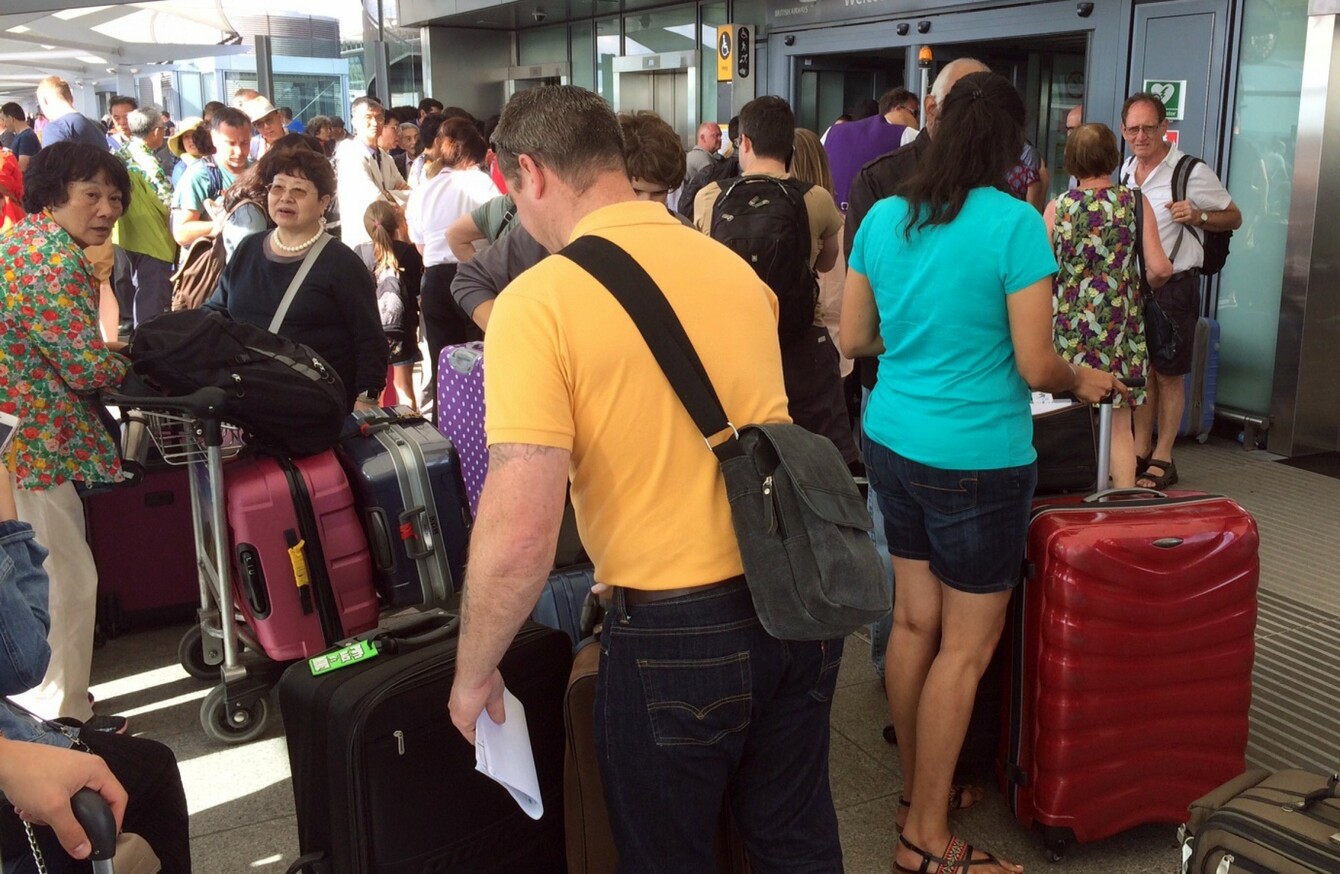 Passengers faced long delays in Heathrow Terminal 5, in particular, yesterday.
Image: Jo Kearney AP/PA Images
Passengers faced long delays in Heathrow Terminal 5, in particular, yesterday.
Image: Jo Kearney AP/PA Images
BRITISH AIRWAYS SAYS it hopes to resume most flights out of London's major airports today after a computer systems failure caused chaos for thousands of passengers on a busy holiday weekend.
It warned of some "knock-on disruption" to schedules as aircraft and crews are out of position around the world.
"At this stage we are aiming to operate a near-normal schedule of flights from Gatwick and the majority of our Heathrow services," it said in a statement.
It advised passengers not to come to the two airports unless they have confirmed bookings.
BA cancelled all its flights out of Heathrow and Gatwick on Saturday after the IT failure, which shut down all of the carrier's check-in and operational systems and affected call centres and its website.
However it did not appear to be a cyber-attack, according to a video statement by chairman and chief executive Alex Cruz.
Britain is still recovering from a ransomware attack that crippled crucial infrastructure earlier this month.
"We believe the root cause was a power supply issue," said Cruz, adding that IT teams were working "tirelessly" to fix the problems.
Full refunds will be given to customers who decide they no longer wish to travel, Cruz said.
The outage came on a busy weekend in Britain, where Monday is a public holiday and many schoolchildren are beginning their mid-term break.
An AFP photographer at Heathrow's Terminal 5 on Saturday said many travellers were waiting outside the departure area with their luggage in "chaotic" scenes.
They were not being allowed inside the terminal for health and safety reasons, prompting some of them to leave in taxis.
"None of your staff know what the heck is going on. Nor do your passengers. Can we have some info please? Chaos here," tweeted Chris Ship, Royal Editor for ITV News, to BA.
The carrier said it was "extremely sorry" for causing inconvenience over the holiday period.
The airline has suffered other IT glitches recently, leading to severe delays for passengers in July and September last year.