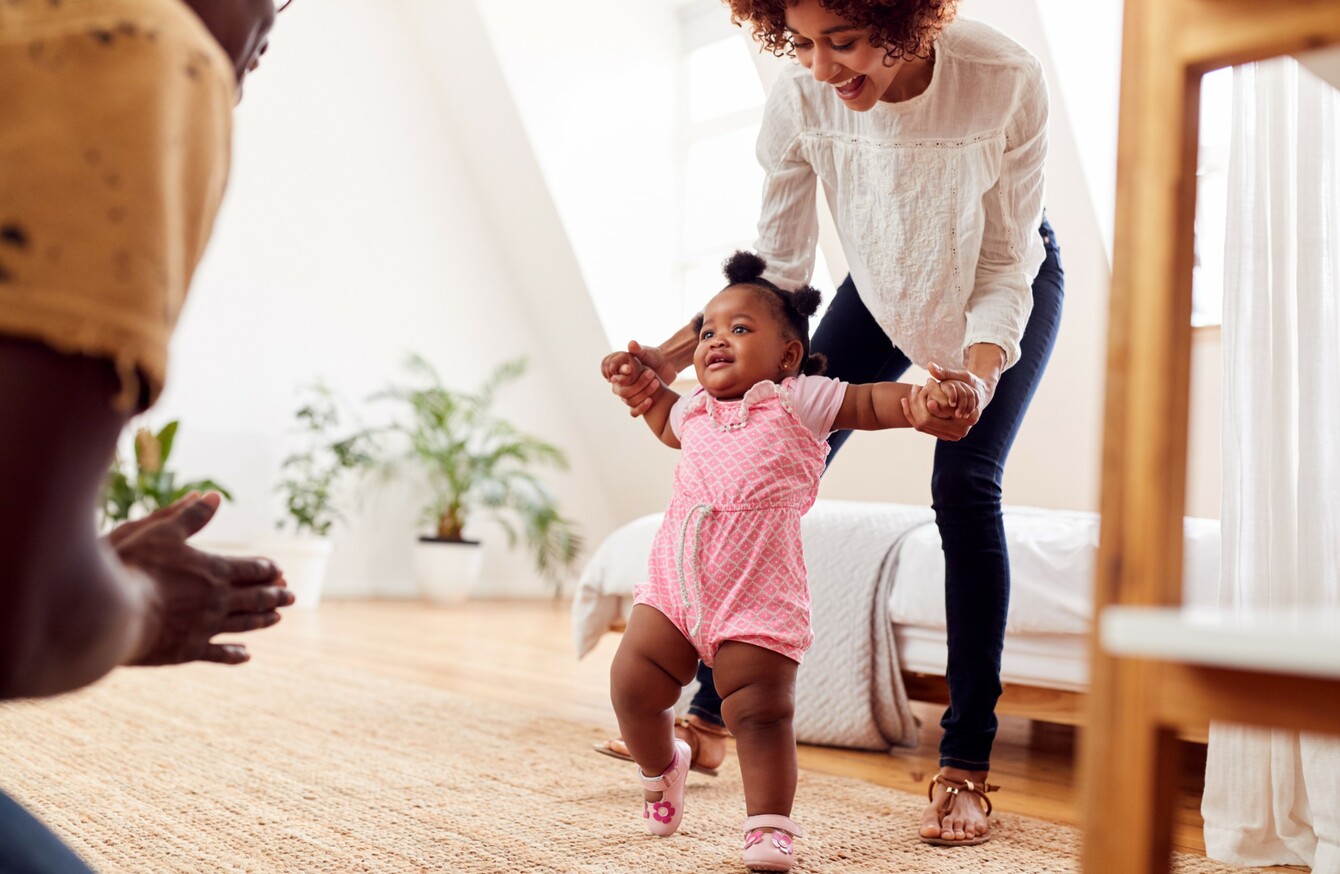 Image: Shutterstock/Monkey Business Images
Image: Shutterstock/Monkey Business Images
OH, "MILESTONES". ALL kids develop at different stages, we're told. But as a new parent, one look at the HSE's official list of developmental guidelines is guaranteed to put you on edge.
Should he have started rolling over by now? Why isn't she giggling yet? 
The HSE breaks down a baby's developmental landmarks by the following time periods: 0-6 months, 7-12 months, 2-3 years and then, finally, 3-5 years. Each month is then broken down to sub-categories, pinpointing baby's gross motor skills, like rolling over, and fine motor skills, like their eyes following someone across a room.
Other categories include communication and hearing skills (blowing raspberries, for example), social and emotional skills (here comes spontaneous smiling), and – finally – problem-solving, learning and understanding (like reaching for an object). Of course, that's not even scratching the surface.
By my calculations, there are approximately 46 "milestones" in the first six months alone, all of which you can see here.
But don't fret. I've come through the other side, but I can assure you that you'll likely pay less and less attention to the official milestones as your child develops before your eyes. For example, we assumed our firstborn was textbook as she hit what we considered to be the major landmarks. Her sister, however, was a very different story. 
Here is how my own (very different) children fared against the HSE's milestone list, as well as the one important lesson I learned along the way. 
1. That first smile
HSE guidelines say "social smiling" happens before two months. Both of my kids smiled for the first time at around six weeks, which was a real turning point for us. At last, we got some feedback apart from bawling! Joking aside, seeing their little beams for the first time was magical, especially as it had been something I'd been looking out for with both babies.
2. Cooing and giggling
The baby books all said we could expect this before three months, and my firstborn was right on time, cooing incessantly from eight weeks. Her sister, on the other hand, didn't have time to coo – she was still carrying on a habit she'd started at two-weeks-old – screaming constantly. Her colic eased somewhat a few weeks later, when she hit three months.
3. Head control
Most babies fuss when faced with tummy time, especially in those early weeks. It's recommended that you start straight away, for one to two minutes at a time a few times a day, before building up to 15-30 minutes throughout the day. Lara had mastered tummy time by the required three month mark (as in, she could prop herself up on her forearms). As for Eva, I don't recall doing tummy time at all, but it must have happened as she has no problem holding her head up.
4. Sleeping through the night
It seems the general time for babies to start "sleeping through" (which actually just means sleeping from their last night feed, usually at around 11pm, until around 7am) is four months. Why four months? That's generally when solids are introduced into a baby's diet, so they're not as likely to wake during the night. Also, between them rocking the tummy time and rolling from their stomach onto their backs, they're more tired from their exertions. As for my two? Lara was sleeping through from four months, whereas Eva has rarely slept an entire night. She recently turned three. Yes, we are very tired. 
5. Rolling back over
While we've mentioned rolling from front to back at four months, babies rolling from their back onto their front is another major milestone, which Lara started displaying within the recommended five months. Rolling from their front to their back almost seems like gravity taking over, rolling from their back to their front takes a lot more control and exertion. I can remember Eva doing neither – apart from that one time she nearly rolled herself off a bed.
6. Standing with help
By eight months, it's considered the norm for babies to pull themselves to an upright standing position, usually using furniture for balance. There Lara was at eight months, hoisting herself upright against the couch, her little legs wobbling. As has become customary, I have no recollection of Eva pulling herself up with the aid of anything – apart from my legs when I was attempting to cook something.
7. Crawling around
The usual time for infants to start crawling is around the nine month mark. Sure enough, baby number one was charging around on all fours at nine months. Baby number two had no intention to move independently, however, waiting until she was nearly one.
8. First words
Cooing progresses to babbling, with many babies saying "mama" at 10 months. Lara mumbled "Mama" when I walked into a room around that time, while Eva has always favoured screaming over talking. Something she's only recently grown out of. 
9. Standing unaided
At 11 months, babies are known to stand up without clinging to something sturdy. Lara followed suit, while Eva continued to do things on her own terms. In fact, she still demands someone holds her hand, especially when walking into a room.
10. Here comes real walking
No word of a lie, on the eve of her first birthday, my firstborn started walking. The memory is crystal clear: the sun shining in on her like a spotlight as she took her first steps in a friend's house. Eva also took her first steps in someone else's house – but she was 18 months old, and it was more of a tumble forward into my arms, taking a few steps in the process.
Two kids, two different speeds
As you can see, there's quite the disparity between my two children. When Eva was a newborn, her older sister, Lara, was three-and-a-half. When Lara wasn't requesting costume changes every 15 minutes, she was asking questions every 15 seconds. All while Eva was screaming. Eva wanted holding and feeding constantly. She didn't sleep. The world imploded if you dared put her on her tummy. So, admittedly, I switched off.
Friends and relatives thought we should be more concerned 
It started with questions like, "Oh, is she not crawling yet?" Then, "How old is she and she's not walking?!" As for: "She's not talking, she needs speech therapy," that became a familiar refrain from our nearest and dearest. Perhaps part of me didn't want to acknowledge it. But, in retrospect, I think knew she was fine. She was just a late bloomer. She always had been. Or maybe I just didn't notice this time around because I was in survival mode.
To be clear, I'm not here to make light of or poo poo important milestones – they exist for a reason. Here's an example of just one basic infographic highlighting some red flags when it comes to developmental delays. And if you do encounter those warning signs, early intervention can help tremendously. 
The key for us as parents though, is to remember is that "MOST infants will achieve these milestones at this time." Not every child will. Some are like Eva the Diva, merely late bloomers who will catch up by themselves. Some, meanwhile, may need help along the way.
As ever, the bottom line is – go with your gut. If you have any doubts, or feelings of unease regarding your child's development, either contact your GP or district nurse regarding an assessment.