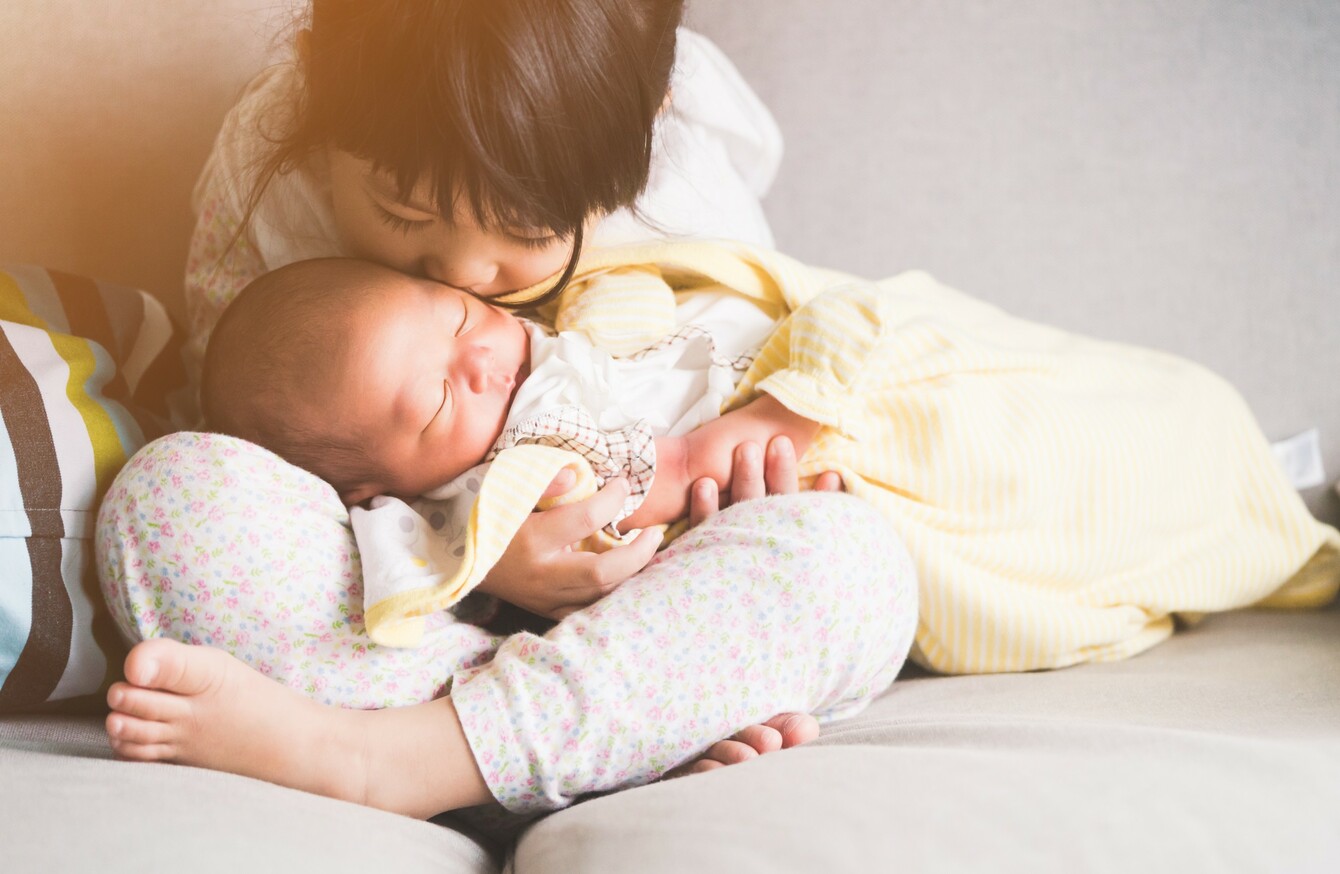 Image: Shutterstock/MIA Studio
Image: Shutterstock/MIA Studio
WHEN I GAVE birth to my second child last year, there were so many surprises.
Some were good, like seeing the love between him and his brother or the fact that getting out and about was so much easier the second time around. Some, however, were not so good – it turns out that the 'sleep when baby sleeps' mantra only works when you have one kid…
If you are expecting your second child or are considering adding to your family, you might be wondering what going from one child to two is really like. 
I asked 14 parents for the wisdom they've learned about the joys (and woes) of going from one child to two.
A small age gap between kids can be exhausting 
You just can't get anything done other than the basics. It's like a bomb going off all over again with both in nappies, unable to talk, staggered bedtimes… it was like having four kids.
- Lynn
It was like juggling monkeys for the first year. My anxiety levels went through the roof. I remember having to lug the car seat containing the baby up the stairs just to go to the loo because I couldn't leave him alone with the toddler in case he tried to kill him.
- Melanie
But with a larger gap there are challenges, too 
There's a six year gap between our first and second children, so I feel like our oldest never gets enough of my attention because the second demands so much more.
- Sinead
Things that once seemed simple with one become a logistical nightmare with two
Argh! Trying to do the school run while breastfeeding – the number of times we sat in the car outside the school when the baby was cluster-feeding!
- Lisa
And baby number two might be nothing like the first
I can't believe how different their personalities are. It took me quite a while to get my head around how something that worked with the first one doesn't work with the second.
- Lisa
There's a grieving phase for your old life
I think when you welcome your first baby, there can be such a grieving phase for your old carefree life. By the second, your life is already in chaos and you've gotten so used to the searing anxieties and requirements for selflessness that you can embrace the family expansion!
- Sophie
But you'd be surprised how ready you are
When you have your first, you think you'll never leave the house again, and when you do, it takes a lot of preparation and planning. Then when number two comes along, you don't even think about it! You're out the door dragging the baby around with you while you pick and drop off the older one at various play dates and classes.
- Hazel
 You might try a more hands-off approach
We were on the beach about a year ago when our older child was six and the second was two. My husband and I suddenly realised we'd both carefully covered our eldest in suncream but neither of us had thought to do our second-born!
- Dorothy
And your older child might surprise you
I was surprised how easy the jump from one to two was. Based on my friends' experiences, I was expecting jealousy from my daughter, who had been used to having me all to herself. When our second arrived, she was delighted to have a little brother and was never bothered by the long breastfeeding sessions or that I always held him while he napped during the day.
- Lisa
Or they might push your buttons
The biggest shock is how challenging the bigger kid has become! She was completely manageable to this point, easy even, but when the second came along my firstborn suddenly found her trump card. She very quickly realised that simple actions, like raising her voice just as baby is drifting off to sleep, would swiftly and easily get her what she wanted. It's not a regular occurrence, but it's frustrating!
- Deborah
You might feel your family is complete
I have a boy and a girl and only ever imagined myself with two kids. Sometimes I feel guilty that I don't want to have any more – I know my daughter would really love a sister – but I don't see it happening.
- Carol
You'll realise the power of sibling love
The best thing about having another child is how much our second-born's big sister adores her. I couldn't have fathomed how deep that would run so quickly.
- Chris
I really wasn't ready for my second when I found out he was on his way; I wanted a career and the timing was bad. But I remember taking him out for a walk in the pram when he was about three months old and my older child was on the buggy board, and I realised I'd given my eldest the best present in the world. Siblings are the best thing you can do for a child.
- Nancy
And your own love for them really does grow
I didn't realise there was room in my heart for another baby. I was really worried I would love one more than the other or have a favourite, but that's just not the case. Your heart just gets bigger for the second.
- Caroline
The nicest surprise was just how instantly you adore your second baby just as much as your first, despite thinking you could never love anything as much. It turns out that double the madness means double the love.
- Melanie