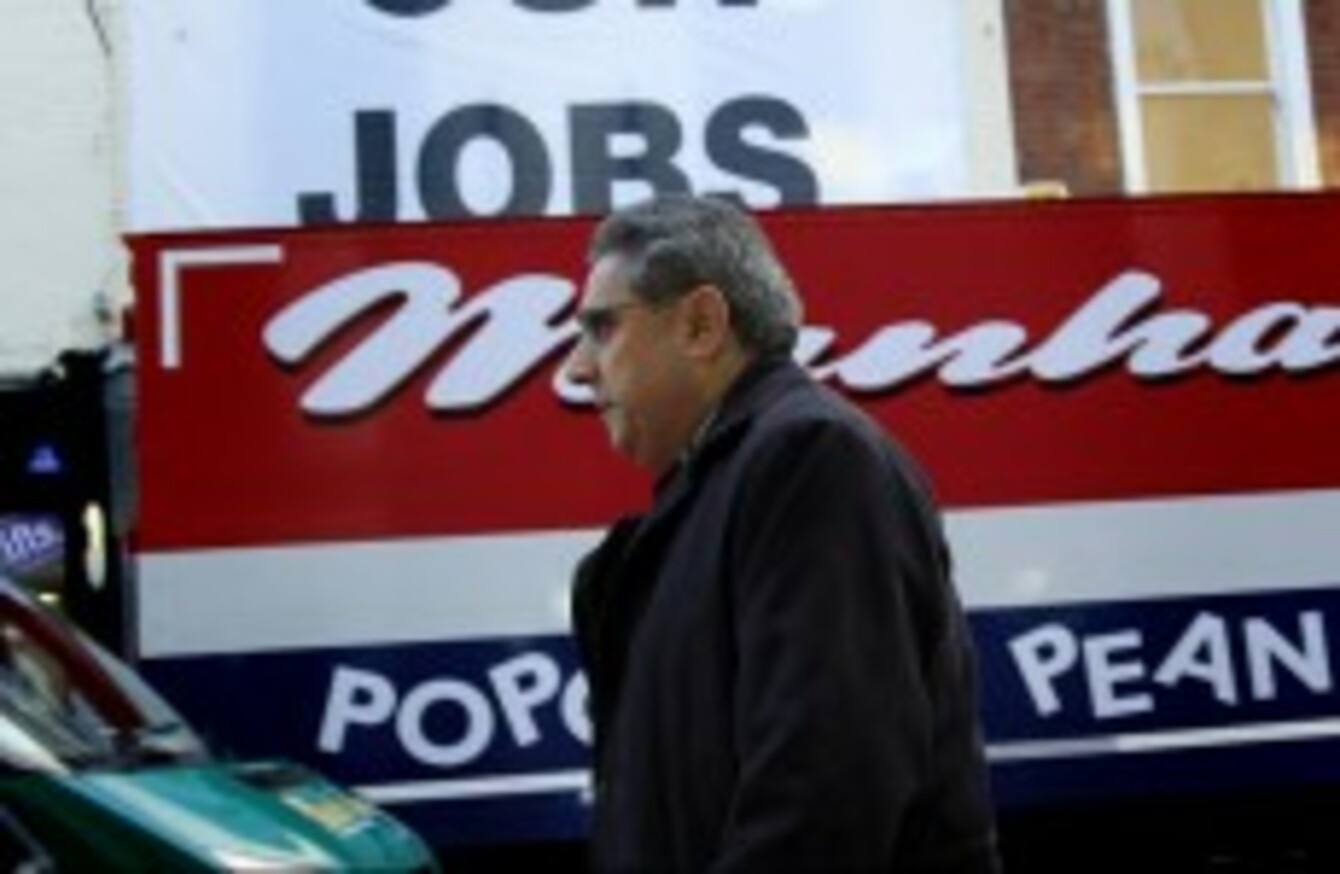 Ajai Chopra from the IMF passes a placard on his way to the Central Bank on Thursday.
Image: Peter Morrison/AP
Ajai Chopra from the IMF passes a placard on his way to the Central Bank on Thursday.
Image: Peter Morrison/AP
TALKS BETWEEN the Irish government and representatives from international funding sources will likely result in a banking bailout to the value of €50bn, an insider has said.
The New York Times quotes an official "with knowledge of the talks" in saying the financial support Ireland will receive from the European Central Bank and International Monetary Fund would "amount to least €50 billion".
The overall size of the financial aid package being offered, it said, would depend on whether the government also chose to take the opportunity to create a contingency fund from which it could also draw funds as needed.
Such a fund would mean Ireland could dodge having to revisit the world's bond markets, which continue to charge the government interest rates above 8% for ten-year bonds – though it could also mean instantly adding a further €50bn to Ireland's debt murden.
Such an option was taken up by Greece when it finalised its own bailout in April, when it took a €110bn package. The IMF has declined, however, to comment on the volume of the cash that could be made available.
Klaus Regling, the head of the European Financial Stability Facility, said the discussions would probably take about two weeks to conclude, irrespective of the amount that could ultimately be handed over.
Green Party leader John Gormley, meanwhile, has described the arrival of the IMF and ECB officials to Dublin as a positive development, as it offered the chance of economic restructure in a way he felt was overdue. Brian Cowen yesterday said that the talks were "going well".
Greece's finance minister George Papaconstantinou, however, has poured cold water on the idea that a conclusion of bailout talks could result in newfound stability to the Eurozone.
"Even if Ireland is helped, it can not prevent the debt crisis from continuing," the minister said, maintaining that the markets were not convinced "that the solutions are there".
Only the introduction of a permanent bailout facility, he said, could end the anxiety over the Eurozone countries – a process which would likely involve having to amend the Lisbon Treaty.