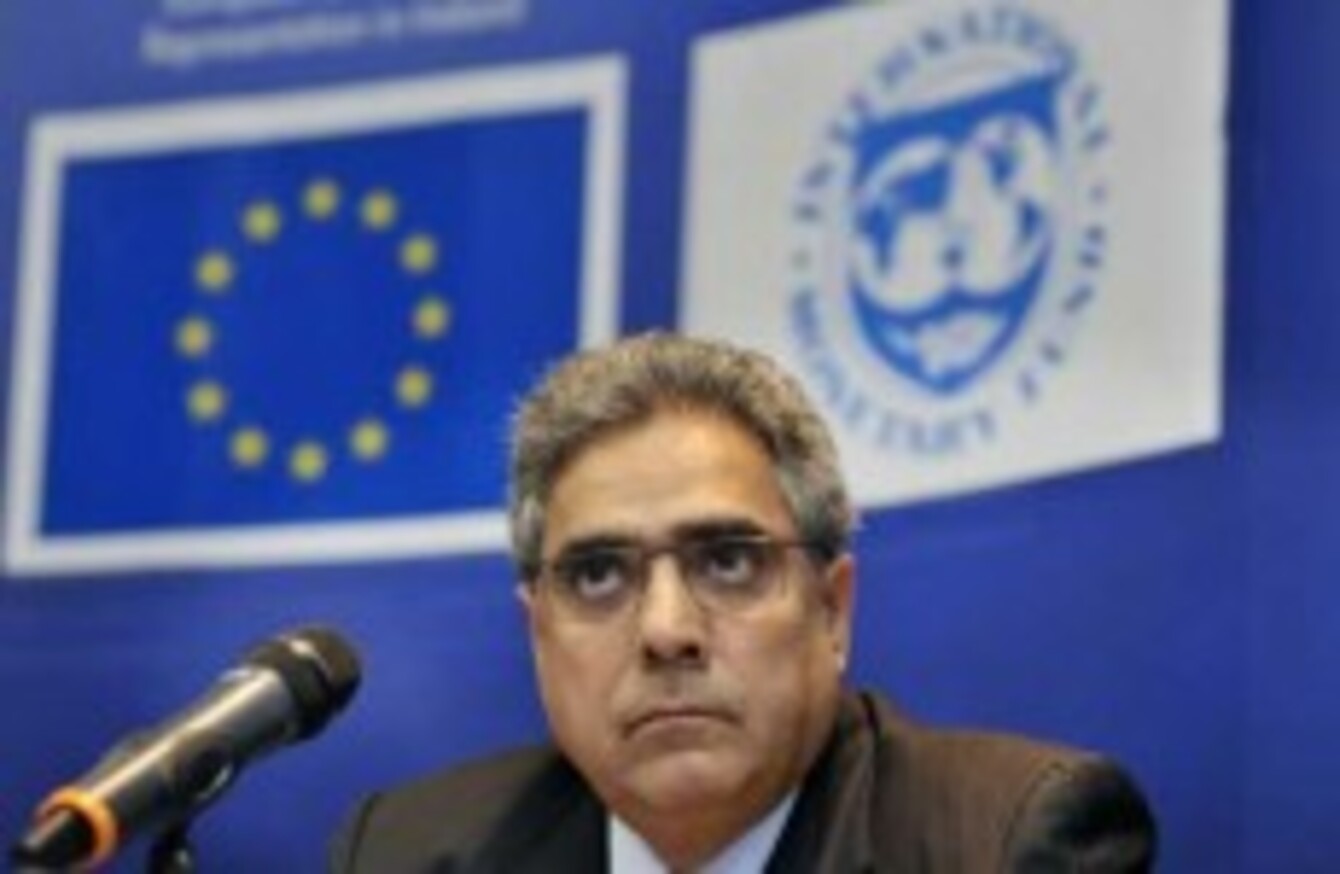 Here to stay?
Image: Photocall Ireland
Here to stay?
Image: Photocall Ireland
IT HAS BEEN dismissed by the Government as a ludicrous suggestion but there is no doubt in the mind of economist David McWilliams that a second bailout is on the cards for Ireland.
Hell, he's so sure that he thinks a third bailout is not an off-the-wall prediction either.
Ireland's current €67.5 billion rescue package is only due to last until mid-2013. But what happens when the funds runs out? Will we regain our economic sovereignty?
"No," says McWilliams. "We will remain wards of the International Monetary Fund."
In an early morning tweet on Sunday, the economist and author said that the country will not be funded by the bond markets any time in the near future because of Friday's eurozone ratings rout by Standard & Poor's.
On this, the so-called most depressing day of the year, TheJournal.ie spoke with a flu-stricken McWilliams about his less-than-optimistic view on the future of Ireland's economy.
"The ratings agencies confirm a trend and their downgrades affect the decisions of massive investment funds which have stipulations allowing them to only put money into triple-A-rated countries," McWilliams told TheJournal.ie.
Ireland's situation will only degenerate further as less money comes in and, against that background, there is zero chance of a return to the markets."
We pay an average of 3.7 per cent interest on the current bailout loans, compared to the more than 5 per cent charged at the markets so for the moment it seems like a good deal.
"There is a flight of capital into Germany from Ireland and other peripheral countries," explained McWilliams. "Its bond yields are falling while Ireland's and others' are static – or rising. That exacerbates everything, including countries' competitiveness and growth."
Denial as a strategy
Uncertainty over whether Ireland, or Europe, can grow its economy over the next year remains and investor jitters have kept bond yields for eurozone countries high – except for Germany's.
McWilliams advised that at such a time the most prudent approach is to negotiate a second bailout immediately.
You don't wait until your car runs out of petrol before you pull into a filling station…

Denial is not a strategy and that is exactly what the current government is doing."
Earlier today, various Cabinet ministers insisted that Ireland's economy can emerge from the current bailout.
Backtracking on comments made over the weekend Social Protection Minister Joan Bruton said that "nobody is talking about a second bailout". Minister for the Environment echoed her statements, telling Morning Ireland that the government did not "intend to go down the road of a second bailout".
Last week, Taoiseach Enda Kenny and Finance Minister Michael Noonan said the mere suggestion of needing more IMF funding was "ludicrous".
The ministers were responding to unsolicited advice given by Citigroup chief economist Willem Buiter last Monday. The Dutchman said that Ireland should lock down a backup funding source in case the first €67.5 billion deal runs out before markets are ready (and bond yields fall).
Other economists and analysts  have gone against Buiter and McWilliams, siding with the cabinet members. Writing in today's Irish Times, Dan O'Brien said seeking more emergency funding would be the wrong option.
He called Buiter's view on a pre-emptive bailout as "both curious and profoundly mistaken".
Austerity alone doesn't work
Asked what a second bailout would mean for Irish people, McWilliams offered an even more pessimistic view of the situation.
"We are looking ahead to more of the same – rising unemployment, emigration and a consistent and constant reduction in spending," he said.
"The big worry is whether the IMF would actually have the funds to offer us more money," he claims, before calling on the Government to stop "doing the same thing over and over again".
"S&P's said that austerity alone cannot reduce the European problem. The idea that people believe this policy is working is ludicrous – it is simply not working," he added.
There is a choice though. The government can go to the IMF and negotiate with them and not the EU. Greece did it – if you stand up to the EU they reveal they are not serious players but politicians with eyes on their own futures. Eventually, they will do a deal."
However, serious negotiation is required:
"Why not send in Michael O'Leary – someone who negotiates for a living. Tell him it's his patriotic duty," he laughs.