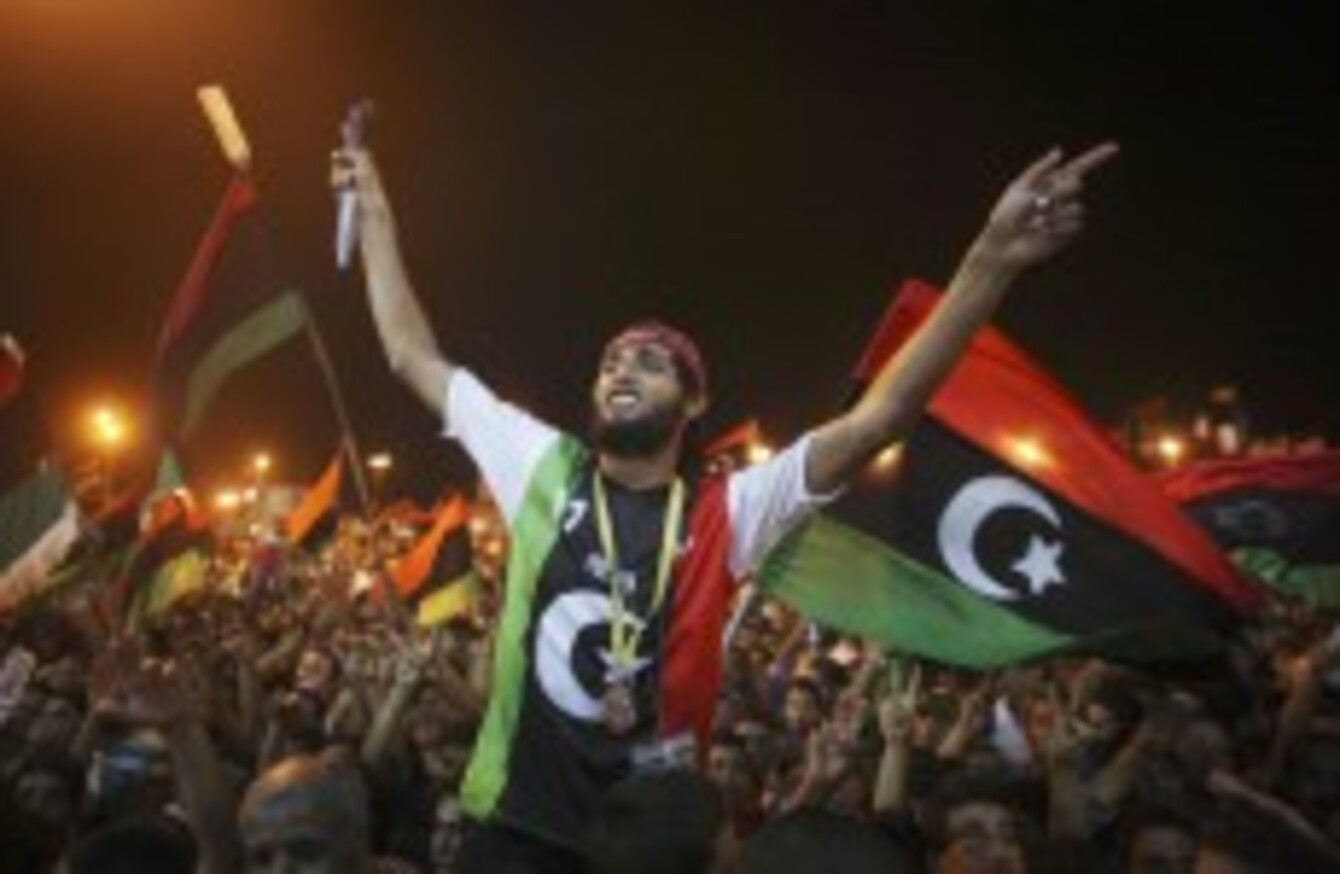 There were wild celebrations on the streets of rebel-held Benghazi last night.
Image: Alexandre Meneghini/AP/Press Association Images
There were wild celebrations on the streets of rebel-held Benghazi last night.
Image: Alexandre Meneghini/AP/Press Association Images
REBEL FIGHTERS ARE now in control of large parts of Tripoli as the battle for the last remaining strongholds of Libyan leader Colonel Muammar Gaddafi resumes this morning.
Overnight, opposition forces who have fought for control of Libya for the last six months moved into central Tripoli with people emerging on the streets of the capital to ecstatically welcome their arrival, BBC News reports.
Portraits of Gaddafi, which have stood for decades, were being torn down in Tripoli amid the expectation that his 41-year rule of the North African country is now at an end following the uprising which has been backed by NATO aerial support for a number of months.
Colonel Gaddafi's two sons are reported to be in custody with the prosecutor at the International Criminal Court, Luis Moreno-Ocampo confirming reports of the arrest of Saif al Islam Gaddafi.
Al Jazeera had been speaking to one of Gaddafi's other sons Mohammad who said the rebels had surrounded his home before the line went dead. Later it was reported that he too was in custody.
Speaking from the journalists hotel in Tripoli, BBC correspondent Matthew Price told Radio 4′s Today programme that the city's main square, known as Green Square, has been renamed Martyr Square by the rebels.
At the hotel, he said many of the government minders and state television staff had now left with their families.
He also reported that government spokesman Moussa Ibrahim, the very public face of the Gaddafi regime, had left the hotel some time in the early hours of this morning.
Ibrahim had earlier told a press conference that 1,300 people had been killed and 5,000 injured since early afternoon in the capital because of the actions of NATO which has providing the rebels with aerial support for months now.
This figure could not be independently verified.
In the last hour, fighting for Gaddafi's compound Bab al-Azizia, one of his last remaining strongholds, has resumed with heavy gunfire being heard from the area.
Reuters reports that rebels believe they control between three-quarters and 80 per cent of Tripoli with the rest still in Gaddafi hands.
The whereabouts of Gaddafi himself remain unknown. Two audio messages were broadcast on television last night but it was not clear when or where they were recorded.
Speculation that he had fled to Algeria and even that he had been killed spread overnight but that appears not to be the case.
Al Arabiya reports one journalist as saying that he is being treated in the Tajura-Cardiac hospital, east of Tripoli whilst a diplomat has told AFP that Gaddafi remains at his residence in the capital.
So close to ousting the Libyan leader, the focus now for Libya's National Transitional Council will be to deal with tribal rivalries, an east-west divide, a rebel leadership lacking coherence, a shattered economy and the absence of a "civil society" in a post Gaddafi Libya, CNN reports.