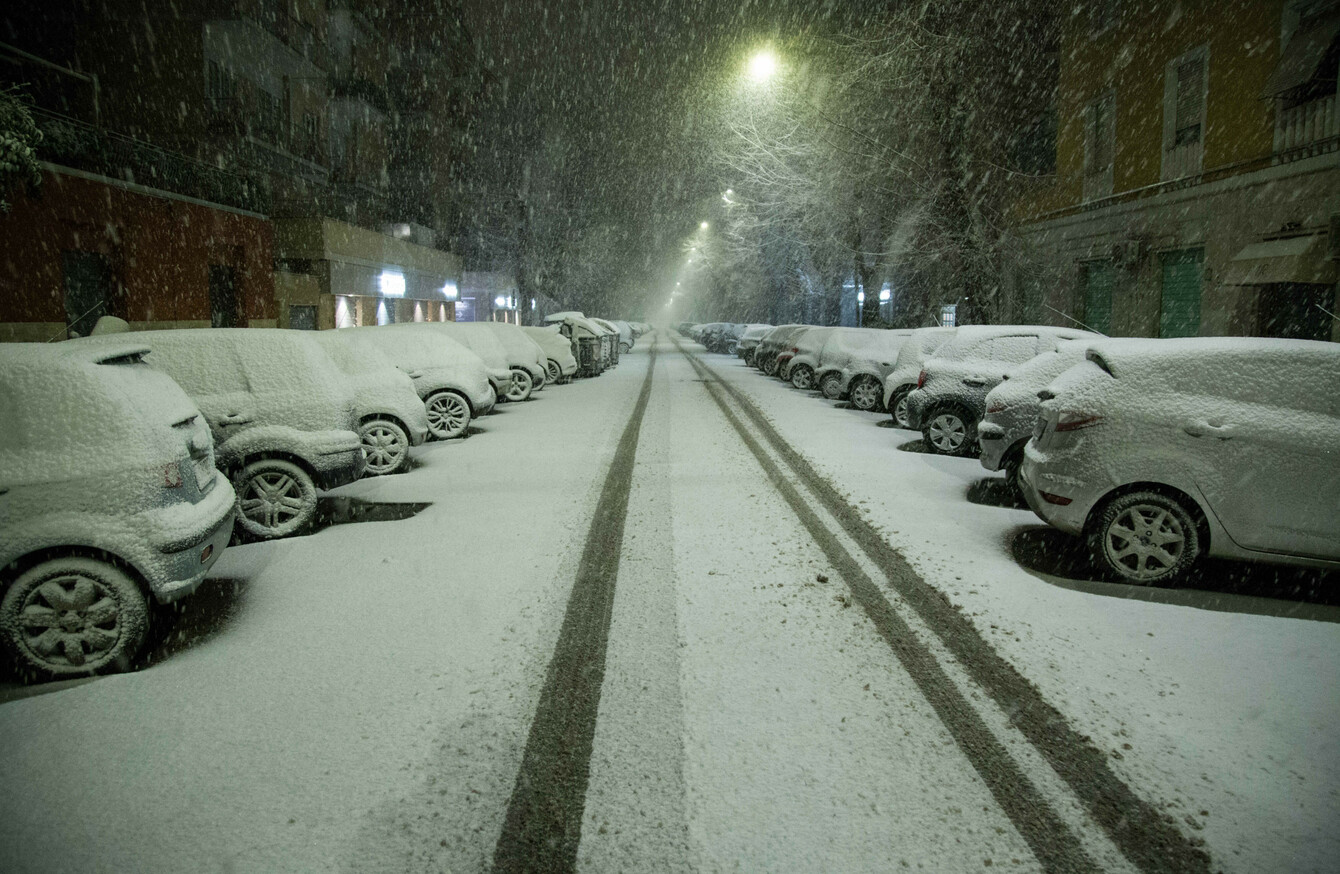 Rome has already been badly hit by the Beast.
Image: Matteo Nardone/PA Images
Rome has already been badly hit by the Beast.
Image: Matteo Nardone/PA Images
IRELAND IS ABOUT to get hit by the "Beast from the East", which has been bringing freezing temperatures all over Europe over the past few days.
As you may have guessed, this so-called beast is coming to us from the east, bringing ice, snow and frost as it passes westwards through the continent.
This weather event has been brought about by a polar vortex. This is an area of low pressure in the upper parts of Earth's atmosphere that normally resides at the poles. It frequently has centres in Canada and over north-east Siberia.
As the Weather Channel explains: "When the polar vortex is strongest, you're less likely to see cold air plunge deep into North America or Europe.
The easiest way to conceptualise this is in terms of a wall. A stronger polar vortex effectively helps to wall off cold Arctic air from the mid-latitudes.
"When the polar vortex is weakened a piece of the polar vortex can surge farther south, bringing Arctic cold into portions of North America and Europe."
In this case, not only has the vortex weakened, but it has broken in two. Originating in Siberia, the vortex has swept across from Russia to eastern Europe due to prevailing winds, and then to western Europe, with Ireland its last stop.
As the vortex brings "Arctic cold" to Europe, meteorologists have said that parts of the continent will be actually be colder than the North Pole this week.
The World Meteorological Organization described the cold spell as "unusual but not exceptional".
With Ireland bracing for "near blizzard conditions", parts of the continent are already reeling from the freezing weather.
In Austria, for example, temperatures dropped below -20 last night and felt even colder.
"It will feel like -30," Stefan Kiesenhofer of the Austrian meteorological service ZAMG told the Oesterreich newspaper.
A cold snap like this "comes every seven to 10 years," he said.
Schools are closed across Italy, meanwhile, with Rome seeing its first snowfall since February 2012.
Russia itself was not spared, with its meteorological service warning of "abnormally cold" temperatures until Wednesday and temperatures in the Moscow region falling to minus -24, and -35 in the centre of the country.
The worst days this week in western Europe, including Ireland, are set to Wednesday and Thursday.
Met Éireann has urged people to heed its advice, with the possibility of the first nationwide red weather warning since Storm Ophelia being issued as the week goes on.
With reporting from AFP