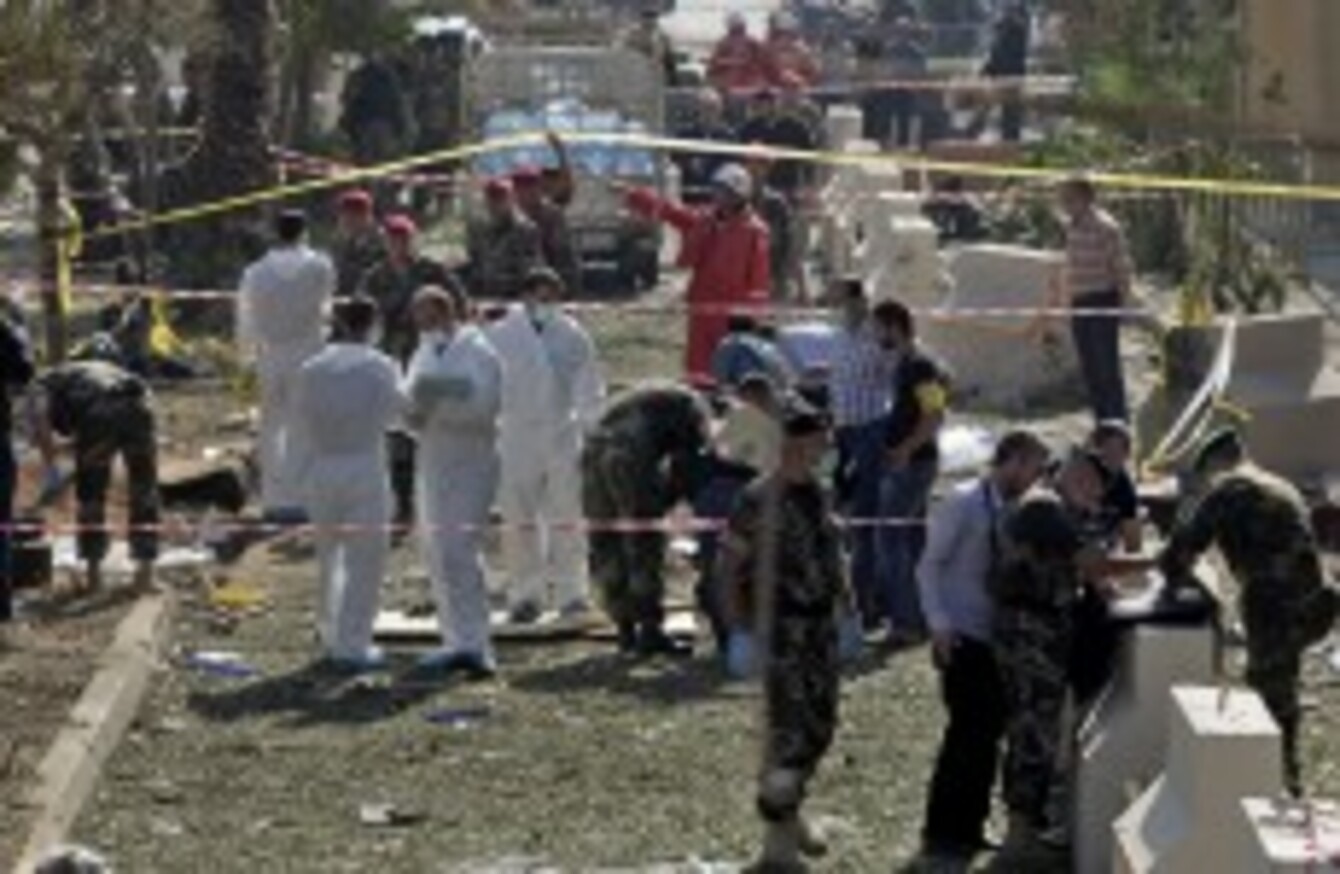 Lebanese army investigators inspect the scene.
Image: AP Photo/Bilal Hussei
Lebanese army investigators inspect the scene.
Image: AP Photo/Bilal Hussei
AT LEAST 22 people have died in a double suicide bombing outside the Iranian embassy in Beirut.
The army said the attack, for which an Al-Qaeda-linked group has claimed responsibility, consisted of separate explosions from a motorcyclist and a four-wheel-drive vehicle.
Iranian ambassador Ghazanfar Rokn-Abadi said all staff inside the embassy at the time escaped unharmed.
However, officials in Tehran said the cultural adviser, Ibrahim al-Ansari, was in critical condition and a medic later said he had died of his injuries.
The mid-morning attack, which the health ministry said also wounded 146 people, was the first time the Iranian embassy had been targeted. The blasts ripped the facades off surrounding buildings.
Rising tensions
The attack followed two other bombings in Hezbollah bastions in Beirut this year, amid rising tensions over the conflict in Syria.
Iran is one of Syria's closest allies, and is the key sponsor of Hezbollah, a powerful Shiite movement that has dispatched thousands of fighters to bolster the regime in its efforts to crush the 32-month uprising.
The blasts were claimed by the Abdullah Azzam Brigades, a jihadist group linked to Al-Qaeda that has previously fired rockets at Israel from Lebanese territory, in a post on Twitter.
Syrian state television said the "government firmly condemns the terrorist attack carried out near the Iranian embassy in Beirut".
'Odour of petrodollars'
It said an "odour of petrodollars comes from all the terrorist acts against Syria, Lebanon and Iraq", an apparent reference to Saudi Arabia and Qatar, which back the rebels in Syria.
Iranian foreign ministry spokeswoman Marzieh Afkham accused Israel and its "mercenaries" of responsibility. Israel immediately denied involvement.
Britain and France issued swift statements of condemnation, and UN chief Ban Ki-moon urged restraint.