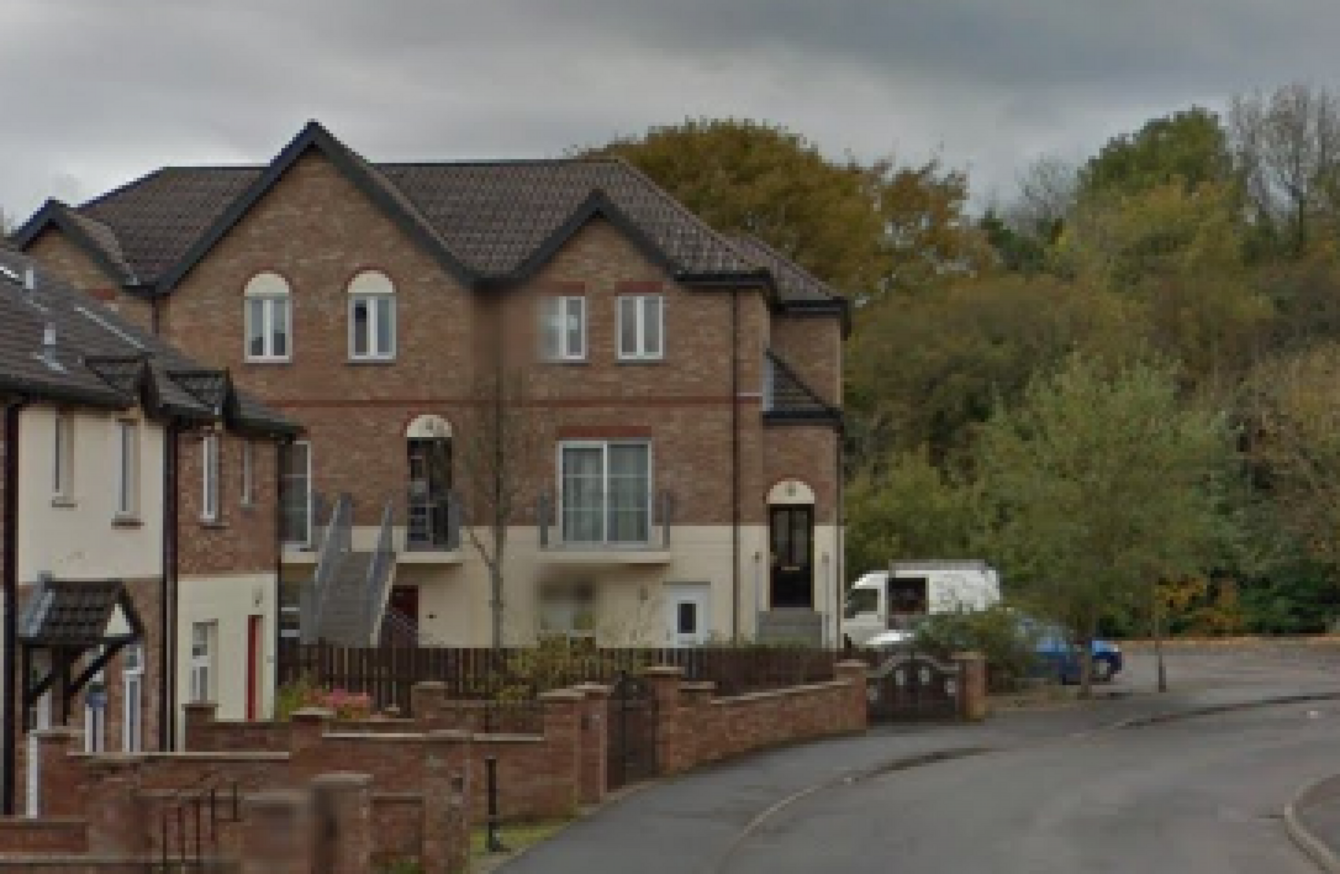 Larkspur Rise in Belfast where the deceased woman lived.
Image: Google Maps
Larkspur Rise in Belfast where the deceased woman lived.
Image: Google Maps
A 24-YEAR-OLD man who prevented the burial of his neighbour whose body lay undiscovered in her west Belfast home for over two years was handed a two-year sentence today.
Robert Sharkey appeared at Belfast Crown Court, sitting in Downpatrick, on charges linked to his neighbour Marie Conlon (68), whose remains were discovered in an extreme state of decomposition in the bedroom of her Larkspur Rise home in October 2017.
Knowing his neighbour was dead and stealing both cash and her bank card, Sharkey – who had lived in the flat above Conlon for around five years – used the card fraudulently online for a period of two years.
As well as paying Conlon's Council rates bill in a bid to avoid detection, Sharkey ordered the same nine-inch pepperoni and anchovy pizza and two tins of juice for delivery from Domino's Pizza every day between 4pm and 6pm for two years – earning him the nickname 'the fish guy' from staff at the eatery.
Handing Sharkey a two-year sentence, which will be divided into 12 months in custody following by 12 months on licence upon his release, Judge Piers Grant told Sharkey: "You denied the deceased and her family the opportunity to have a decent burial and I have no doubt that all right-thinking people will be outraged by what you did.
You were aware that this decent lady had died, and all would expect that the first reaction would be to contact her family or report her death to those in a position to contact her family.
"You did not do that but saw it as an opportunity for you to benefit by stealing a significant amount of money from the deceased."
Branding Sharkey's offending as "premeditated to a significant degree and planned", Judge Grant told him: "You had many opportunities to stop what you were doing and disclose her death to the authorities."
Every time, on a daily basis, that you ordered pizzas or other items using her credit card, you must have been aware of and considered her circumstances, and the fact that she was lying in an ever-worsening state of decomposition in the flat next door to where you lived.
Sharkey – who now has an address in Gray's Hill in Bangor – spoke to confirm his name, date of birth and address. Throughout the rest of the hearing, he largely kept his head bowed.
Defrauded
It emerged in today's hearing that a cheque for £2,000 from Sharkey was handed to the court and will be paid to Conlon's estate.
In total, Sharkey defrauded in excess of £11,700 from her estate over a period from October 2015 until October 2017.
Due to the sell-by date on food found in Conlon's home, and the last time her bank card was used legally, police believe the pensioner passed away in January 2015.
The court heard first Sharkey kicked Conlon's door in around October 2015 after noticing her post was piling up, and found her dead in bed. At this point, Sharkey stole £50 from her handbag.
The authorities were not alerted about her death, and he returned to her flat when he needed lightbulbs, which he stole along with batteries, a cup and a screwdriver.
Sharkey also went through her post, found her new bank card, and began to use it fraudulently.
His offending began to emerge on Friday 6 October last year, when Conlon's remains were discovered by police following concerns for her safety raised by her family. Her relatives told police she was an extremely private person who kept to herself and made little attempt to maintain contact with them.
Police were admitted to the apartment complex by Sharkey, who told them Marie was out and wouldn't be back until that evening. When asked by officers when he had last seen his neighbour, Sharkey said not for a few weeks, but he had heard someone coming and going below him.
This, Judge Grant told Sharkey, was a "clear and deliberate strategy … to mislead the police and divert their attention from your unlawful activities."
Checks were then made into Ms Conlon's bank account, which showed a lawful withdrawal had been made on her bank card on 6 January, 2015. Her weekly pension was still being paid into her account, which was otherwise dormant until October 2015 when purchases were made on her card to Domino's Pizza.
The total amount of the daily deliveries from Domino's came to £5,988.29 over a two-year period. Other payments made from her account over the same period included purchases totalling £3,452.68 to Sainsbury's, as well payments of £1,030 to O2 and £285 to Power NI.
#Open journalism No news is bad news Support The Journal

Your contributions will help us continue to deliver the stories that are important to you

Support us now
Pizza boxes
When he was arrested on 10 October, 2017, Sharkey's apartment was filled with empty Domino's pizza boxes. During police interview, he admitted using Conlon's bank details, and also confessed he was careful to pay her rates bill in a bid to evade detection.
When asked about finding Conlon's body, he said:
I was worried about ringing the police, but it was also a time when I was struggling with money. I had no money at all and she had her handbag in her bed beside her, and her purse was open and there was money in it and I took it. I left the apartment and closed the door and pretended that nothing had happened.
During today's sentencing, Judge Grant said he had read a report from Sharkey's employer in his capacity as a personal assistant, and had also considered a psychiatric report which cited "long-standing" alcohol abuse, a poor family history and behavioural difficulties.
Judge Grant told Sharkey: "You express remorse and it is clear that you fully understand the wickedness of the offences that you have committed."
Handing Sharkey a two-year sentence, Judge Grant said: "You displayed a callous disregard and lack of respect for a vulnerable, decent woman. What you did affronts the sensibilities of all right-thinking people.
Whether people be religious or not, everyone has immense sympathy for the death of any individual and their families, and everyone recognises the importance, in terms of assuaging the grief of such families in the deceased person being treated with respect and afforded a decent burial.
Judge Grant also noted the "considerable hurt and upset" caused to Conlon's family by her neighbour's actions.
Sharkey was jailed for 11 offences, including preventing the lawful burial of a corpse, theft and fraud by false representation.