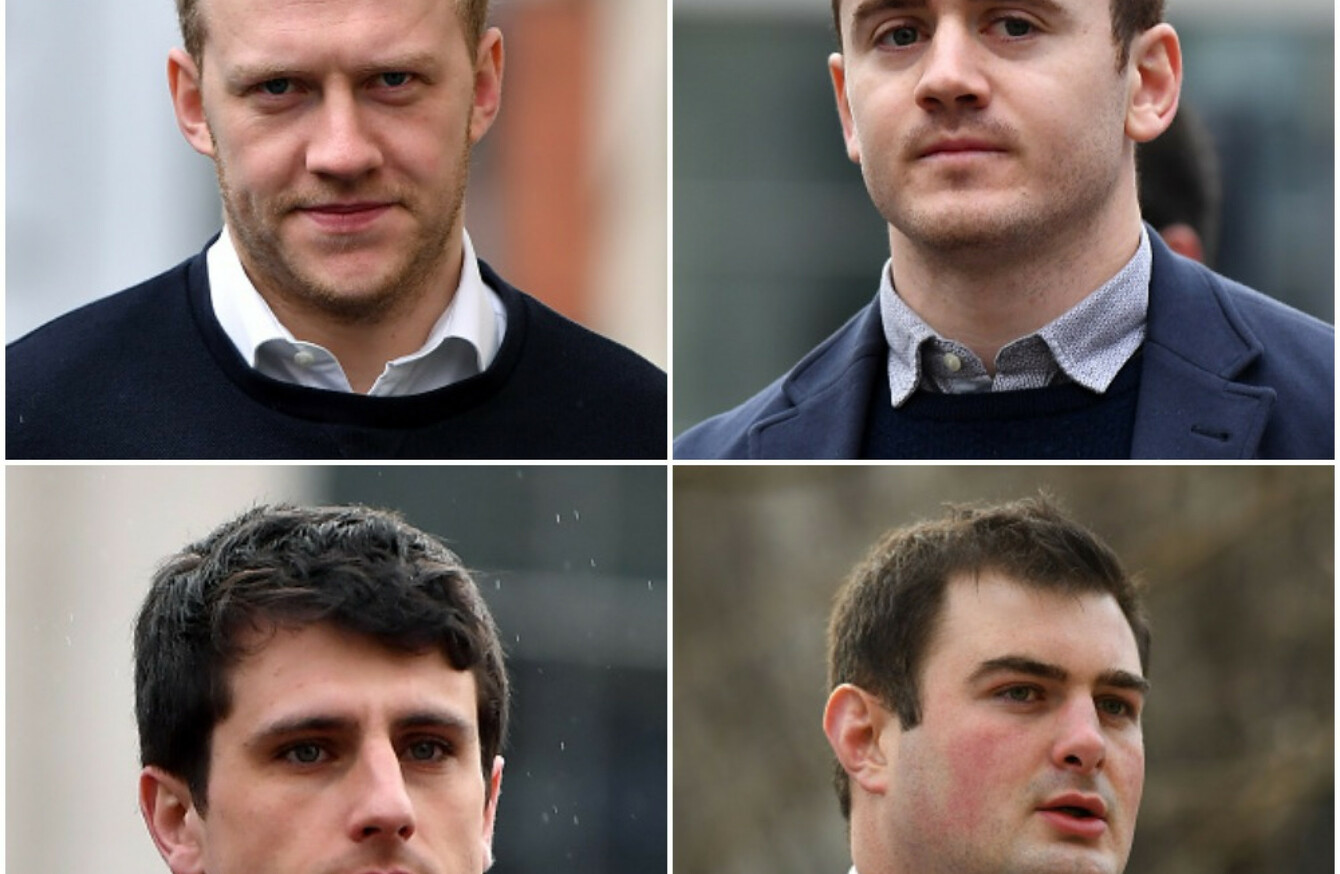 Top L-R: Stuart Olding, Paddy Jackson. Bottom L-R: Blane McIlroy, Rory Harrison
Image: Getty Images
Top L-R: Stuart Olding, Paddy Jackson. Bottom L-R: Blane McIlroy, Rory Harrison
Image: Getty Images
A JURY HAS found all four men in the Belfast rugby rape trial not guilty on all charges.
Ireland and Ulster rugby duo Paddy Jackson and Stuart Olding have been found not guilty of raping a 19-year-old student in June 2016.
It took the Belfast Crown Court jury of eight men and three women three hours and 40 minutes following the marathon nine-week trial to unanimously acquit the pair of the charges against them.
Both 26-year-old Jackson from Oakleigh Park in Belfast, and 24-year-old Olding, from Ardenlee Street, had denied raping the now 21-year-old woman, who can't be named for legal reasons, during a party in Jackson's home on 28 June 2016.
Also today, Blane McIlroy (26), from Royal Lodge Road, was acquitted on the charge of exposure, and Rory Harrison (25) from Manse Road, also Belfast, was acquitted of charges of perverting the course of public justice, and withholding information.
Speaking to the media outside Laganside Court Complex, Paddy Jackson said: "I would just like to thank the Judge and the jury for giving me a fair trial; my parents for being here every day, as well as my brother and sisters."
After thanking his legal team, Jackson added: "Out of respect for my employers, I have nothing further to comment."
Olding also thanked his legal team and family for their support. In a statement read by his solicitor Paul Dougan, Olding apologised to the woman at the centre of the case.
He said: "I want to acknowledge that the complainant came to court and gave evidence about her perception of those events.
I am sorry for the hurt that was caused to the complainant. It was never my intention to hurt anyone on that night.