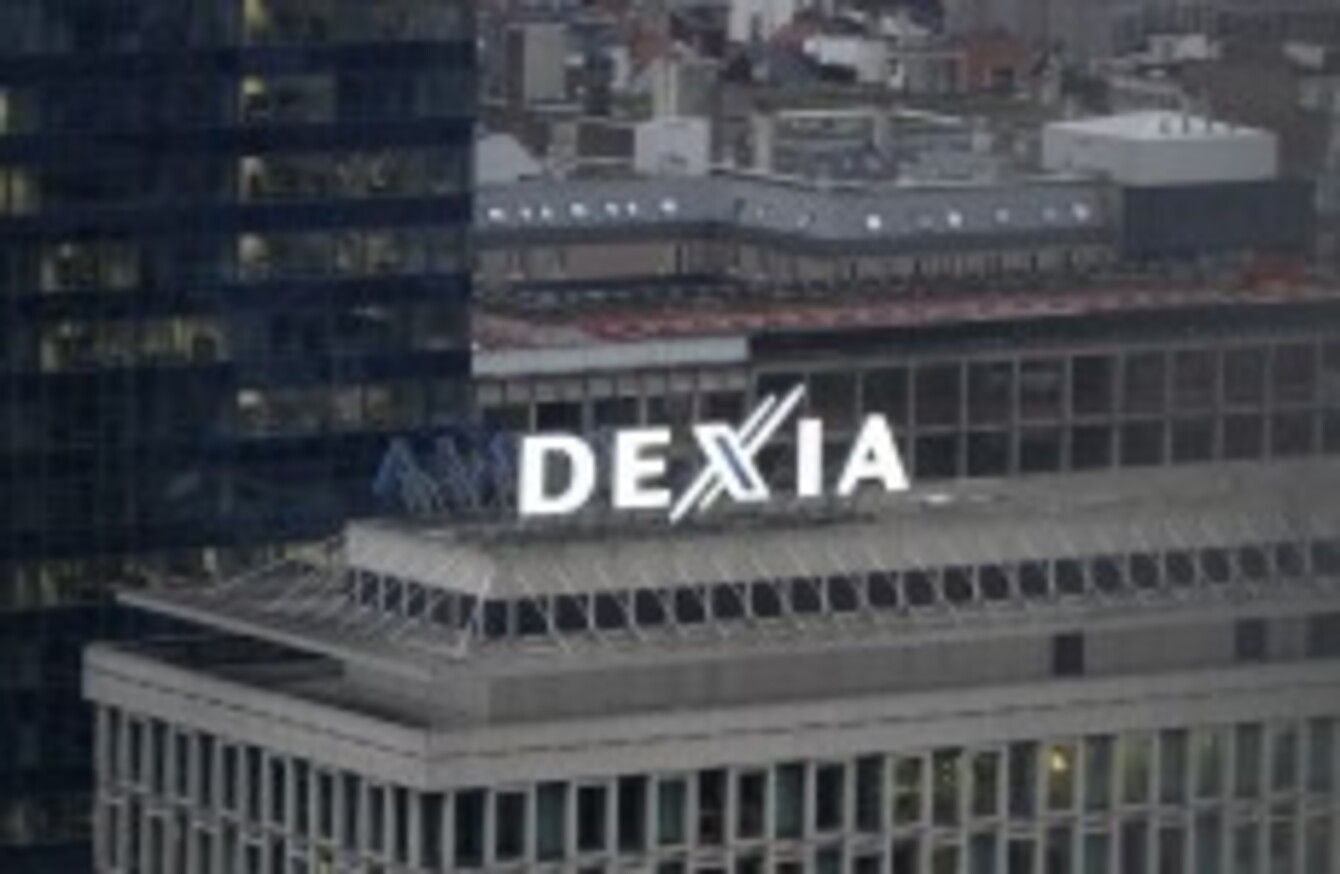 The Dexia logo is seen on the top of a building from the Dexia bank headquarters in Brussels
Image: AP Photo/Virginia Mayo
The Dexia logo is seen on the top of a building from the Dexia bank headquarters in Brussels
Image: AP Photo/Virginia Mayo
BELGIUM IS TO take control of the Franco-Belgian bank Dexia, it has been confirmed.
The Belgian state will buy the national subsidiary of Dexia for €4 billion and provide tens of billions of euro in new guarantees as part of a wider bailout of the lender, the first banking victim of a new squeeze in European credit markets.
The part-nationalisation of Franco-Belgian Dexia was triggered by other banks' increasing reluctance to lend to it.
This was due to its exposure to highly indebted eurozone states like Greece and Italy and to struggling municipalities in the United States.
Belgium's caretaker prime minister Yves Leterme said the nationalisation was necessary to insulate the Belgian retail bank from the risks of the wider group, Dexia SA.
He said support from the state ensures that all of Dexia's clients "can be sure and certain that their money is in full security."
On top of the nationalisation, the governments of Belgium, France and Luxembourg together will provide an additional €90 billion in funding guarantees for the bank for up to 10 years.
Belgium will provide 60.5 per cent of these guarantees, 36.5 per cent will come from France and the remaining 3 per cent from Luxembourg.
At the same time, Dexia's board is in negotiations with French banks Caisse des Depots et Consignations and La Banque Postale to find a solution to the financing of French local authorities, in which Dexia plays an important role.
The announcement followed marathon negotiations between the three governments and the bank's management.
Officials were worried that a collapse of the bank would exacerbate an already tight funding environment for banks in Europe, as analysts warn of a credit crunch similar to the one that followed the collapse of Lehman Brothers.
To avert such a scenario, European leaders are now pushing banks to shore up their capital cushions.
German Chancellor Angela Merkel and French President Nicolas Sarkozy said yesterday that they were working on a coordinated plan to recapitalise European banks that would be completed by the end of the month.
Greece, meanwhile, said today that it had to rescue local lender Proton Bank.
The Belgian and French governments were concerned that a bailout would threaten their credit rating and drive up interest rates on their bonds.
On Friday, Moody's Investors Service placed Belgium's Aa1 rating on review for a possible downgrade, due in part to the expected expense of guaranteeing that Dexia's depositors will lose no money.
Belgian finance minister Didier Reynders said that the bailout would lift the country's debt from around 97 per cent of economic output to about 98 per cent.
The French government, too, was under acute pressure to save Dexia as the bank is one of the country's largest lenders to towns and cities.
France and Belgium already became part owners of the bank during a €6.4 billion bailout in 2008.
Last week Dexia announced it was in negotiations with a group of international investors interested in buying its Luxembourg subsidiary.
At a news conference today, the bank's management blamed the renewed problems on the risks that were piled up before they took over in 2008.
"We realized very quickly that we found ourselves in front of a very difficult mission," said Chairman Jean-Luc Dehaene.
Efforts to strip down Dexia's balance sheet and shift funding from short-term to long-term were taken quickly, but management did not have enough time to get the lender back on track before it was slapped hard by the government debt crisis, Dehaene added.
The chairman insisted that Dexia faces a crisis of liquidity, not solvency — meaning it is not bankrupt, but just doesn't have the ready cash it needs in the short-term.
That is why the bank managed to pass pan-European stress tests just this summer, Dehaene said.
Dexia's stock remained suspended Monday morning following steep losses early last week.