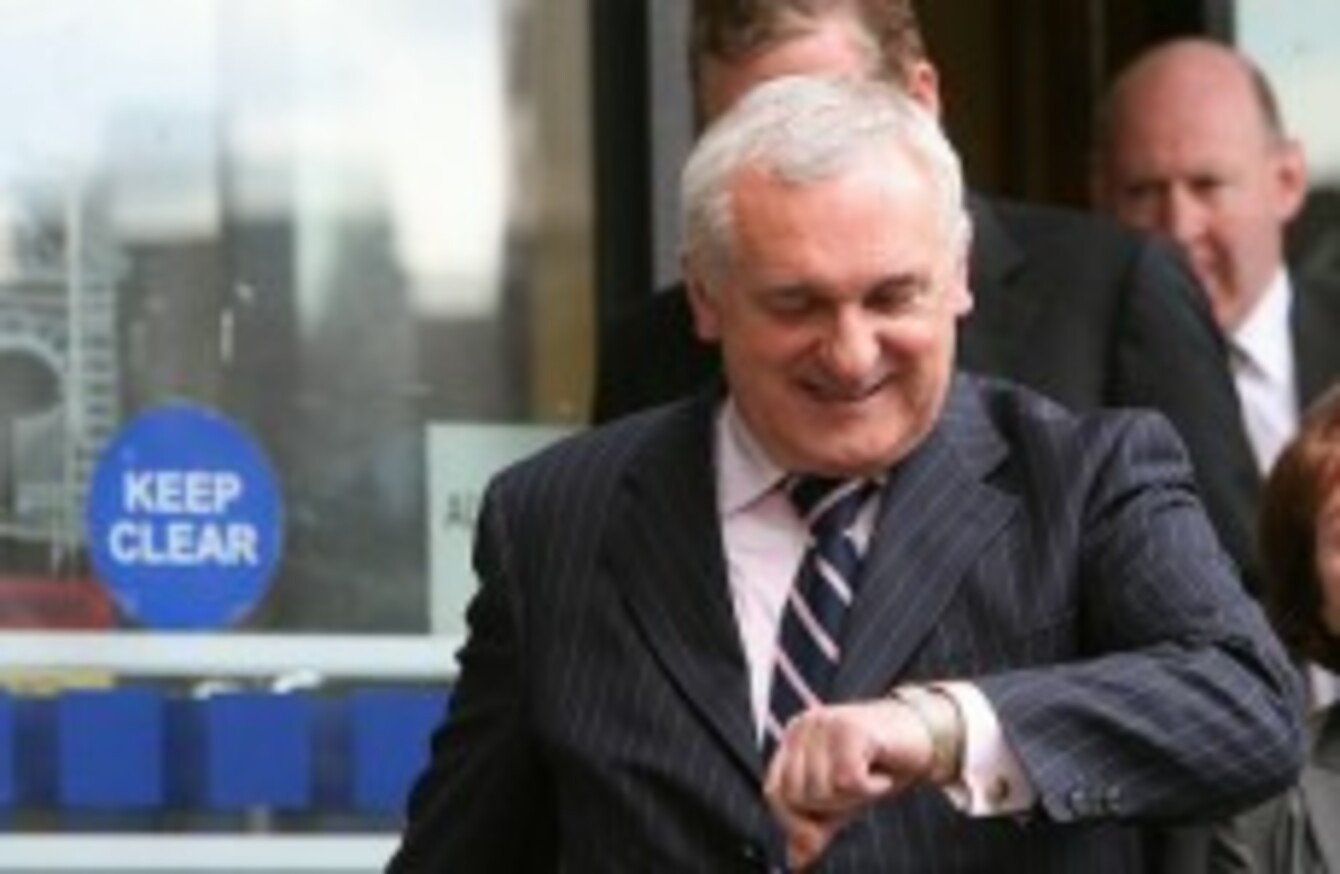 Bertie Ahern tonight called time on his political career, after 34 years as a TD.
Image: Julien Behal/PA Archive
Bertie Ahern tonight called time on his political career, after 34 years as a TD.
Image: Julien Behal/PA Archive
FORMER TAOISEACH Bertie Ahern has announced he will be stepping down from politics at the next general election, ending a 34-year career as a TD which saw him be elected Taoiseach three times.
Ahern made his announcement this evening at a meeting of his local branch of Fianna Fáil, the O'Donovan Rossa Cumann, indicating that he would not be putting his name forward to stand on the Fianna Fáil ticket in his Dublin Central constituency.
Ahern said his decision to retire was in line with his earlier decision that he would step down from politics at the age of 60 – and that his announcement came just a week before the fortieth anniversary of his decision to become a member of the cumann.
"With an election due in the spring and my next birthday in September being my sixtieth, I want to confirm tonight that I will not be a candidate at the next General Election," Ahern told the meeting.
"It has been an incredible journey and an extraordinary privilege to represent the people of Drumcondra and Dublin Central for over thirty years."
Ahern referenced the peace process in Northern Ireland as being an achievement in which he drew particular pride, and asserted that Ireland was "fighting back" and would be able to restore its fiscal situation to its previous heights.
His successor as leader of Fianna Fáil and Taoiseach, Brian Cowen, has led tributes to Ahern, describing him as "without question the consummate politician of our generation in this country.
"He is a person of rare ability and extraordinary talent [...] I will always admire him greatly for his leadership skills, his massive commitment and his brilliant political instincts, but also for his courtesy and kindness to colleagues."
34-year career
Ahern was first elected to what was then the Dublin Finglas constituency in 1977, as the running mate to Jim Tunney, before topping the poll in the new Dublin Central constituency in 1981 and continuing to top polls until his final election in 2007.
He had served as an acting Chief Whip under the cabinet of Charles Haughey, before being given that job on an official basis in 1982, as well as being appointed a junior minister at the Department of Defence.
In the meantime he retained a seat on Dublin Corporation, and was elected the city's Lord Mayor in 1986.
When Fianna Fáil were returned to government in 1987 he was appointed Minister for Labour, being moved to the Finance portfolio in 1991. He briefly served as Tánaiste in the dying days of the Fianna Fáil-Labour coalition in 1994, before the coalition collapsed and Albert Reynolds resigned as party leader.
Ahern was elected unopposed to the role and led Fianna Fáil to three general election victories – in 1997, 2002 and 2007 – becoming the first politician since Éamon de Valera to be elected Taoiseach on three consecutive occasions.
He had stepped down as head of government in May 2008, however, after coming under pressure from the Mahon Tribunal for signing blank cheques for Haughey when he was the Fianna Fáil party treasurer, and when it emerged that he had accepted significant cash "dig-outs" in the aftermath of his separation from his wife Miriam.
During that time, Ahern claimed, he did not keep a bank account – despite having been Minister for Finance at the time.