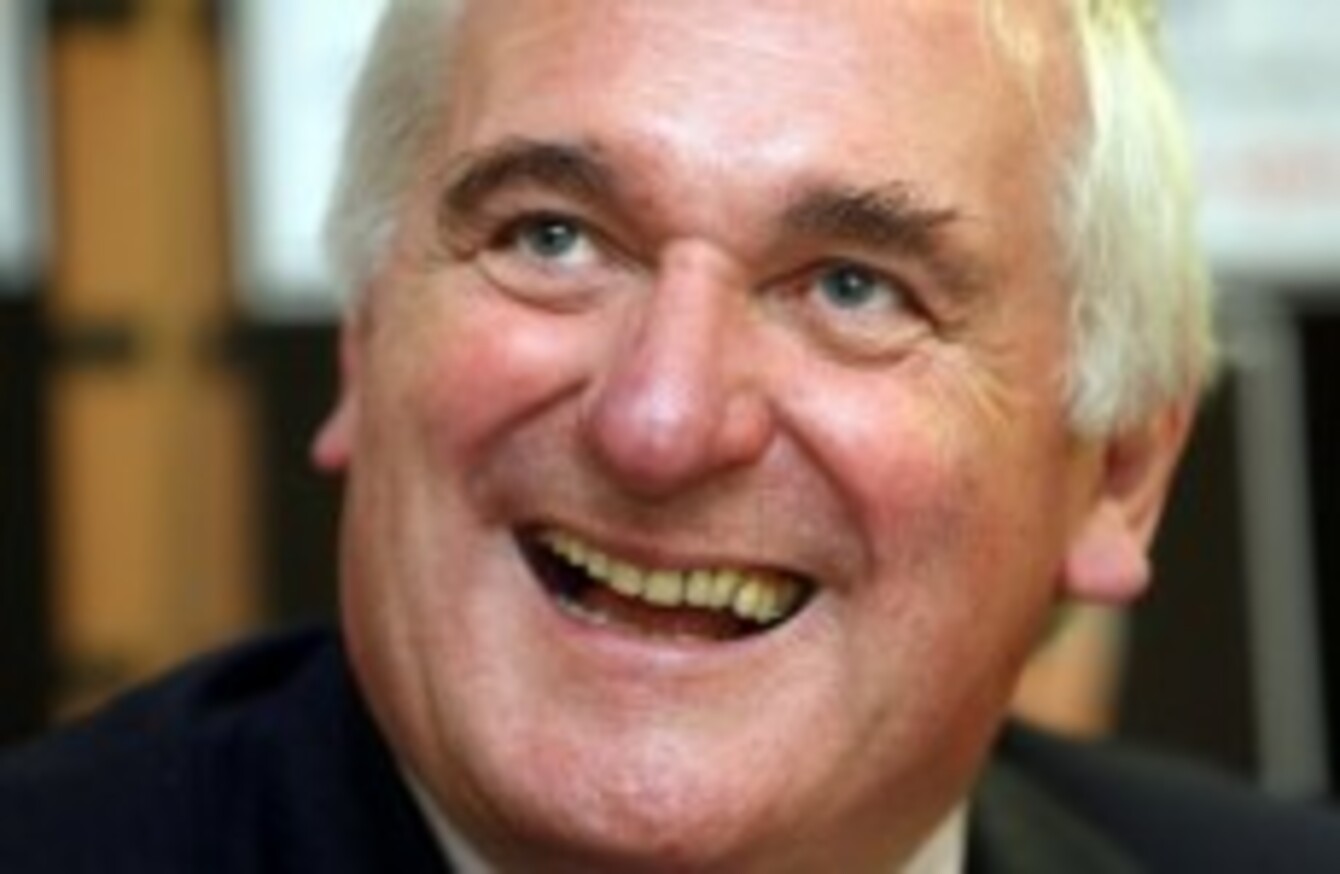 Image: Paul Faith/PA Wire
Image: Paul Faith/PA Wire
AS FORMER TAOISEACH Bertie Ahern's resignation from Fianna Fáil was being accepted by the party yesterday, Bertie Ahern was out of the country at a speaking engagement in Nigeria.
He delivered the keynote speech at a conference in south-western Nigeria called 'Ogun State: Open for Business'.
Ahern is an exclusive speaker with the Washington Speakers Bureau and reportedly commands fees of over €30,000 per speaking engagement. The fee charged depends on location, and the WSB's site notes that Ahern will travel from Ireland for his engagements.
Although other exclusive speakers with the WSB carry customer testimonials, none have been posted to Ahern's page. His speeches include "Prime Minister as CEO" and "Leadership in Changing Times: What it Takes to Succeed".
We've been taking a look through the organisation's list of exclusive speakers – you might recognise some of them:
Tony Blair

Former British PM Tony Blair "offers an unparalleled analysis of the world's most difficult and complex issues" in his presentations. Unfortunately there are no customer testimonials on the site, so we're not sure how well his analysis has gone down. He is listed among the bureau's highest-paid speakers, though. (AP Photo/Ahn Young-joon/PA Images)

Arianna Huffington

Huffington is described by the WSB as a "key figure in the current communications revolution", while a customer testimonial from the Speciality Coffee Association of America said she was "fabulous and inspiring". Fee grade #6: $40,000 and up. (The Canadian Press Images/Mario Beauregard/PA File)

Sarah Palin

Sarah Palin's areas for public speaking are "the central issues of the 2012 election" as well as her vision for national security and fiscal responsibility. Teen Challenge International said that "she stole our hearts" in her address to the Montana Women's Outreach. (AP Photo/J Scott Applewhite/PA Images)

John Major

Former PM John Major offers WSB clients a 'look around the world' on issues ranging from politics to deplomacy, "with his trademark wit". Fee grade #6: $40,000 and up. (Gareth Fuller/PA Wire)

Michelle Kwan

Former Olympic and world champion figure skater Michelle Kwan's keynote address focuses on "aspiring to greatness". "Don't be afraid to fail, because that only makes you afraid to try," she is quoted by the WSB. Fee grade #4: $15,001-$25,000. (AP Photo/Wong Maye-E/PA Images)

Alan Greenspan

Former Federal Reserve chairman Alan Greenspan will take on a question-and-answers session to discuss economic issues. His topics include emerging markets, fiscal policy and government regulation. (AP Photo/J Scott Applewhite/PA Images)

Rumsfeld, Rice and Powell

Former defence serectary Donald Rumsfeld, former secretary of state Condoleezza Rice, and former secretary of state Colin Powell are all available as keynote speakers through WSB. Their speeches focus on a number of issues including the state of the world (Rumsfeld), empowering women (Rice) and diplomacy (Powell). Fee grades: Rumsfeld is at #6 ($40,000 and up). (AP Photo/Evan Vucci/PA Images)

David Blaine

The bureau promises that magician and 'endurance artist' David Blaine will "take your audience on a journey into his world of majic that will leave them believing they have the power to achieve the impossible". Fee grade #6: $40,000 and up. (AP Photo/Seth Wenig/PA Images)

Sugar Ray Leonard

Boxing legend Sugar Ray Leonard's 'power to win' keynote address has been described as both motivational and captivating by those who have employed his speaking services. Fee grade #5: $25,001-$40,000. (AP Photo/John Carucci/PA Images)

George W Bush - and family

Four members of the former president's family are exclusive speakers with WSB - George W Bush, his wife Laura, their daughter Barbara (front centre in this photo), and the ex-president's brother Jeb Bush. George W Bush's topics for presentations include patriotism and terrorism. Jeb Bush is on fee grade #5: $25,001-$40,000. (AP Photo/Jeffrey M Boan/PA Images)
#Open journalism No news is bad news Support The Journal

Your contributions will help us continue to deliver the stories that are important to you

Support us now