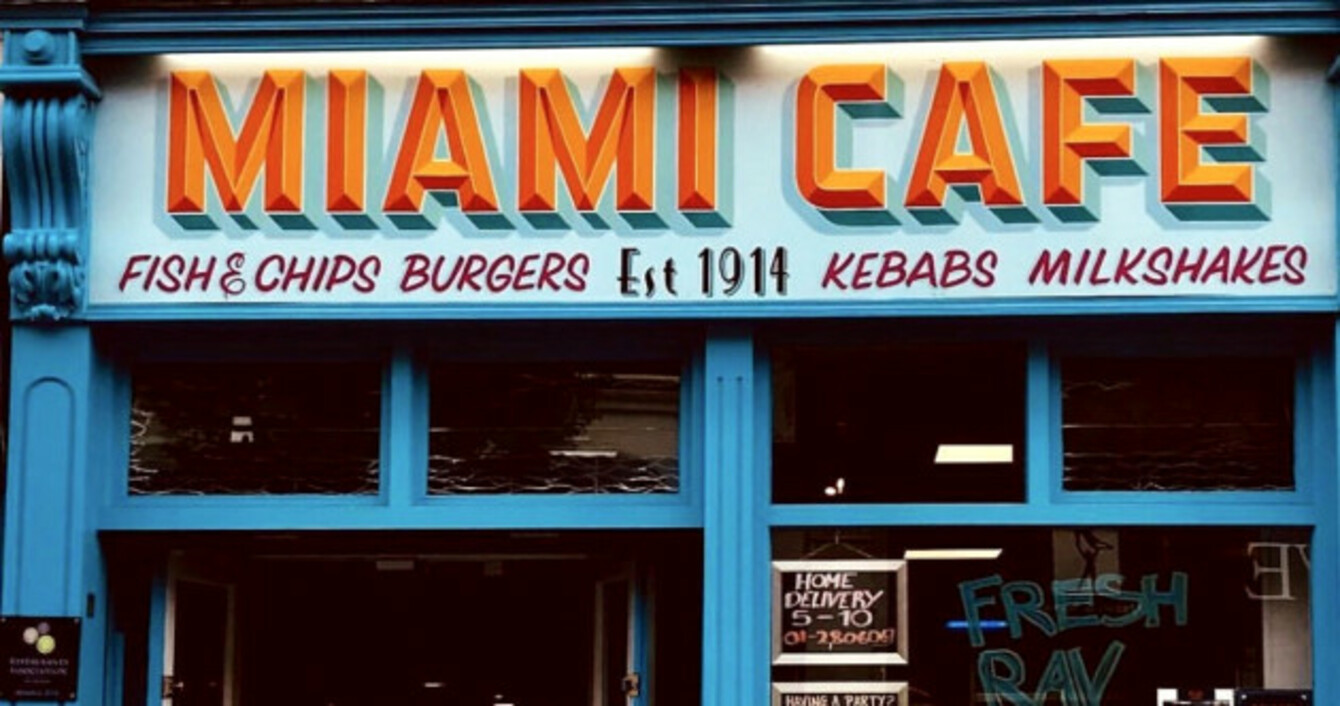 Image: Laura Kenny
Image: Laura Kenny
AS YOU WALK through Dublin today, your eyes are likely to be drawn up to the cranes and building works around the city.
But when you slow down and start to take in the signage and lettering on the existing buildings, it doesn't take long to spy some of the most beautiful shop fronts in the country.
We asked illustrators, sign painters and designers with a love for lettering, shopfronts and typographic quirks to tell us about their favourite signage and storefronts around the capital. Here are the spots they'll have you looking at more closely from here on out.
1. Pen Corner, Dame Street
Illustrator Anita Elliot incorporates some of the loveliest details from around Ireland — from pubs to bridges to road signs — into her designs at Clover Rua. One of her most popular pieces is an illustration of six Dublin shop fronts.
Personal memories of the Pen Corner help it rank highest on her list, "There's a quiet charm to The Pen Corner shopfront that's possibly linked to childhood memories of buying midnight blue ink with my grandfather for his collection of fountain pens. The old style golden lettering of the signage is beautiful and reminds me of many hours spent attempting calligraphy with those beautiful pens."
2. Toner's Pub, Baggot Street
Not all signage stands the test of time, especially in a city that's hit a building boom again, but Elliot is happy to see Toner's pub signage intact.
"As a textile student at NCAD in the 90s I fell in love with this facade and based my final embroidered collection on the beautiful carved relief woodwork of tropical fruits and flowers adorning the doorway," she says.
"Fast forward twenty years and I'm so happy to see it's been so well preserved we even made a print of it at Clover Rua."
3. Frank's Restaurant, Camden Street
Illustrator Shauna Harrison is always on the lookout for the best shop fronts in the city, and has illustrated quite a few of the cutest, prettiest and just downright interesting storefronts.
She says her favourite shop front of the moment is a new restaurant with an old facade. "There's a new restaurant called Frank's set in an old butcher and they've kept the original outside as it was in the 80s. It just looks mad from the outside," she explained.
The new opening from restaurateur Darren Free only seats 12-15 at a single table, and in fact, even kept the name of the old butcher's shop.
4. Dollard & Co, Wellington Quay
Harrison tells us she enjoys her daily view of recently revamped the Dollard & Co stores. "Dollard's on Wellington Quay was an old print house and they've fully restored the front. It's also directly across from my house, so it's a nice view every morning."
The sign painting work on Dollard and Co is the work of veteran sign painter Colm O'Connor, who himself recommended…
5. FX Buckley, Moore Street
You've likely noticed the red, black, white and gold signage at the front of FX Buckley butchers and steakhouses, and we have Colm O'Connor to thank for that handiwork.
"FX Buckley are a brilliant client and put a lot of time and effort in to their shop fronts," says O'Connor. And you can tell: their shop fronts look like they were painted yesterday, but in the style of a butcher from fifty years ago.
O'Connor was featured in the short film Gentlemen of Letters: A Dublin Sign-Painting Film, which is well worth a watch if you've found yourself admiring signage on your local pub or pointing out a typeface to friends on a walk around town.
6. Frank Ryan's Bar, Queen Street
Not all of the best signs and shop-fronts are designed in an old-school manner. Another favourite of Harrison's is actually quite a bit less traditional.
"Frank Ryan's bar is in Smithfield and the outside, the guy who owns it painted the outside bubblegum pink.
"Then they have an entry on Coke Lane, it's just covered with trinkets and colour. He's great with Dublin artists. He'll get them to do pieces on the walls."
7. The George Bernard Shaw, South Richmond Street
Some storefronts are beautiful in their imperfection, says Harrison, "The Bernard Shaw, I just love the outside. There's graffiti all over the outside. It's really kind of grungy and grotty but also so lovely."
8. Miami Cafe, George's Street, Dun Laoghaire
Art director Laura Kenny, the creative force behind some of the loveliest spreads you'll see in glossy magazines around the country, has an eye for beautiful lettering.
One of her local favourite spots with a beautiful shop front is Miami Cafe in Dun Laoghaire. "Miami Cafe is a lovely hand-painted shop front," she says. The old chipper/diner was established in 1914 but their bright signage has been updated since, with a strong orange in geometric type.
9. Artmines, Rathmines Road
Some of the most unique shop fronts are even more interesting out of business hours. Kenny explains. "There's an art shop in Rathmines called Artmines and they have a lovely hand painted lettering on the shutter when the place is closed, which is quite cool."
There's certainly added visual value in a place that looks lovely even when the shutter is down.
10. McNally's Newsagents, Great Denmark Street
Paul McBride, of Dublin based design firm Detail, started an Instagram account, @typodublin, to focus on interesting type around the city. "I use it as a source of inspiration for potential design projects and also to train myself to look a little closer at places I've walked past many many times," he says.
"I suppose it's quite a nostalgic account what with the city constantly changing especially when you see large swathes of city blocks removed completely – but I find it quite inspirational."
McBride's enthusiasm for signage is infectious. He tells us, "I love the exterior chequered tiling on McNallys newsagents on Great Denmark Street with the evocative acrylic 'Fancy Goods' sign — such personality that feels so 1960s."
11. Brown Thomas, Grafton Street
"It's the hidden or not so hidden signage around the city that's so informative, like the references to the current buildings past lives, for example the original Switzers mosaic tiling still visible on Brown Thomas' Wicklow Street entrance," says McBride.
It has "beautiful gold, teal and navy", he adds, "but the Art Nouveau ampersand is a beauty".