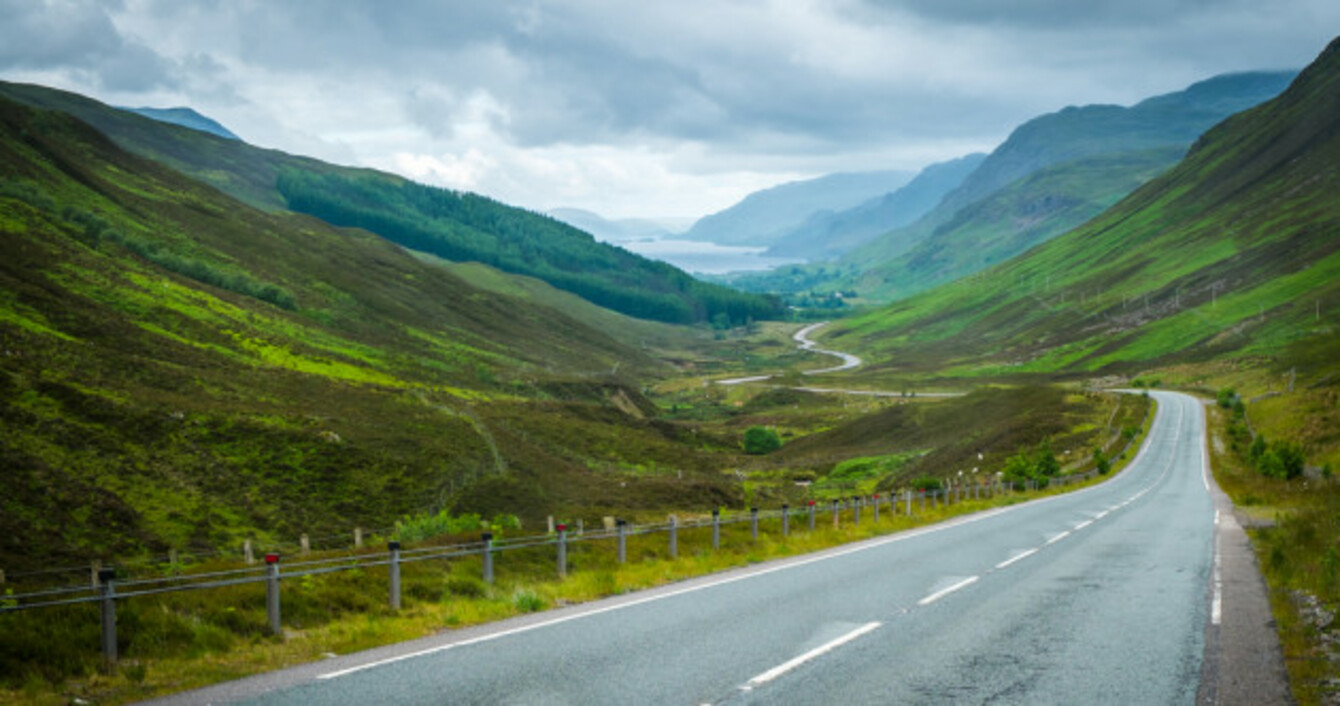 Image: Shutterstock/D K Grove
Image: Shutterstock/D K Grove
WHETHER YOU TAKE the ferry and bring your own car, or fly over and rent one when you get there, road tripping in the UK is a relatively stress free experience.
First off, they drive on the same side of the road as we do, hurrah, and the road signs and street signs are in English too. The rules of the road are similar to those in Ireland and by and large they have the same driving styles as we do.
The UK has more than 300,000km of road ready to explore and a road trip is a wonderful way to lose yourself in the spectacular and varied landscapes.
Here's just an example of four scenic road trips that you can take across England, Wales, Scotland and the Isle of Man.
Cotswolds Romantic Road, England
Looking for that quintessential English countryside drive? Then head straight for the Cotswolds in rural south central England. The Cotswolds tick all the picture-postcard boxes: rolling green hills, thatched medieval villages, quaint churches and stately homes built of distinctive honey-coloured local limestone.
Seek out Copse Hill Road in Lower Slaughter in Gloucestershire aka the Cotswolds Romantic Road. Here you'll be given two driving routes and you really should drive both the northern and southern loop. Both take you though the elegant Regency town of Cheltenham via twisty, narrow country roads through darling English countryside.
When you need a break from the driving, you can get active and walk some of the 164km Cotswold Way trail which follows the Cotswold Edge escarpment from Bath in Somerset to Chipping Campden in Gloucestershire.
North Coast 500, Scotland
Dubbed Scotland's Route 66, this 500-mile (805km) drive is one of the world's best coastal routes and is a bucket-list road trip for many driving enthusiasts. This epic route through evocative Highland scenery takes you past historic castles, traditional distilleries, sea caves, sea stacks and deserted beaches.
There are opportunities to park the car and take whale watching cruises as well as enjoying some 'Munro bagging' – the popular hobby of climbing any Scottish mountain over 3,000ft (914 metres). There are 282 Munros in Scotland and you'll find 37 of them along the North Coast 500.
Black Mountain Road, Brecon Beacons, Wales
The A4069 Black Mountain Road is a swooping mountain pass that twists and undulations for 32km up to a elevation of 493 metres. It cuts through the western part of the Brecon Beacons National Park and is one of my most scenic roads in the UK. You'll be memorised by the widescreen, technicolour, seemingly never-ending views and sky – and your driving skills will be put to the test dodging kamikaze sheep and taking sharp corners. Especially the hairpin bend known locally as Tro Gwcw, or "cuckoo turn".
This road also goes by the name the Top Gear, due to the fact that it was featured on Top Gear back in 2011 and has since become popular with driving enthusiasts on two and four wheels who want to pretend they are Clarkson behind the wheel.
TT route, Isle of Man
The Isle of Man is the road-racing capital of the world and car and motorbike enthusiasts flock here to drive the island's iconic 37.7-mile (60.67km) TT course. The TT course takes place entirely on public roads so you can enjoy the hairpin bends, flat-out straights and mountain passes all year round, and for free.
However, the Isle of Man has stirring scenery where ever you go and you would be missing out to just drive the TT course. You really should see the whole island, it's only 53km long and 21.7km wide. The best way to enjoy the Isle of Man is slowly, as this matches the pace of life that is enjoyed on this island.
Want to make sure you don't miss out on anything going on in the world of motors? Like us on Facebook and and follow us on Twitter for the latest updates.