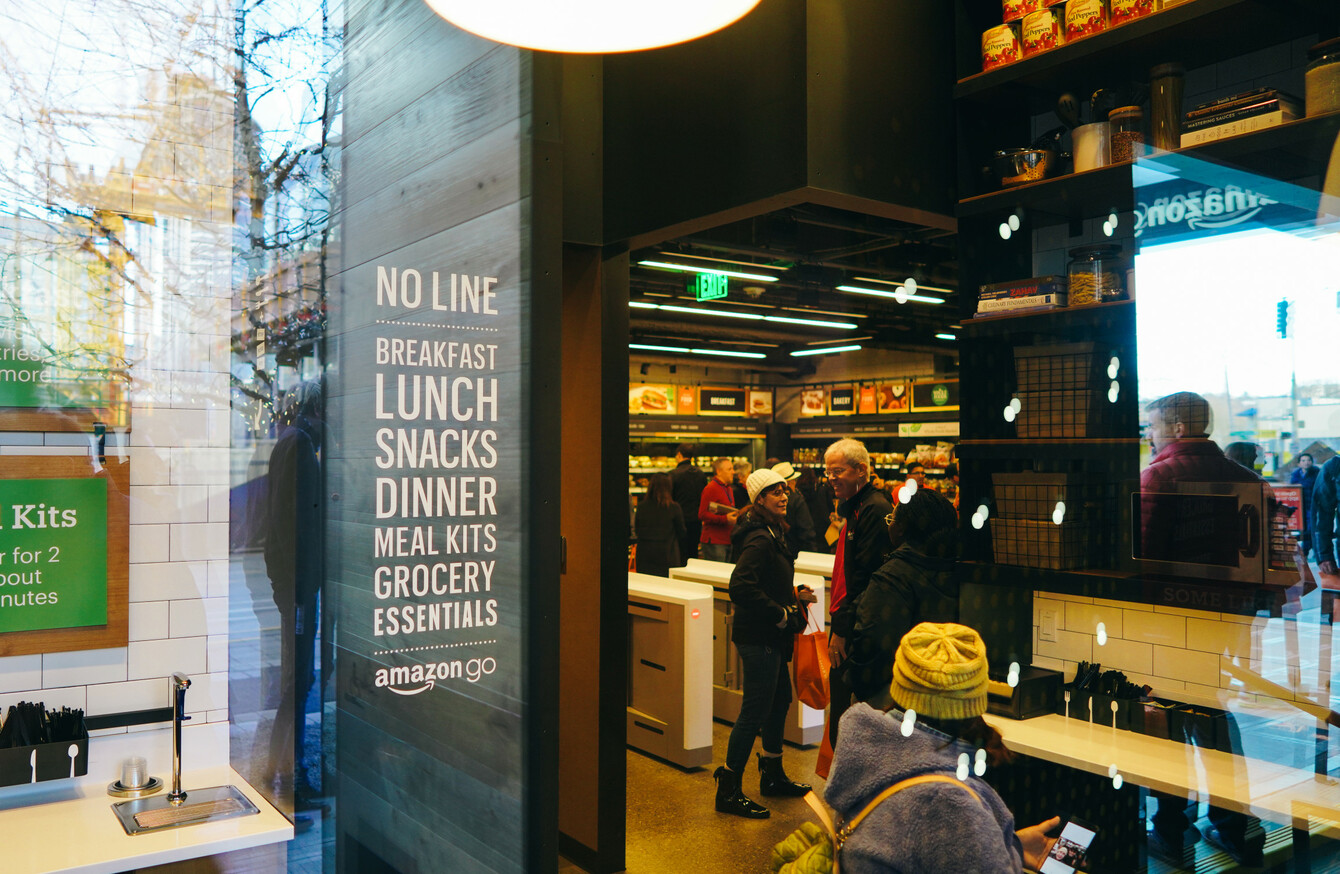 Inside the Amazon Go store in Seattle, which opened last month
Image: SIPA USA/PA Images
Inside the Amazon Go store in Seattle, which opened last month
Image: SIPA USA/PA Images
The way we live is changing fast. Every fortnight in our new Future Focus series, supported by Volkswagen, we'll look at how one aspect of everyday life could change in the coming years. This week: payments and grocery shopping.
TIRED OF STANDING in supermarket checkout queues? Fed up of looking for spare change for the bake sale or the charity collector?
The good news is, you might not have to fumble in your pockets for cash for much longer. The bad news is that if you think you're glued to your smartphone now, it's probably only going to get worse.
Enter Amazon Go, the first physical store run by the online shopping giant Amazon, which opened in Seattle in recent weeks. The major difference between Amazon Go and the local supermarket is that there's no checkout – you just download and use the Amazon Go app to enter and leave the premises, and the cost of your groceries is automatically deducted from your bank account after you leave.
But while Amazon Go might be the first completely cashless, cashier-less store, they're not the only retailer moving in that direction. Sainsbury's has also been trialling a checkout-free system in its London Euston outlet, and the rise of online grocery shopping and delivery across the sector has already offered a cash-free alternative to brick-and-mortar supermarkets.
Morissons and Ocado in the UK have even integrated their online grocery services with Alexa, Amazon's personal assistant, to allow for grocery orders using voice commands.
But we're still using physical retail outlets for at least some of our shopping – so why is cash falling from favour?
The problem is that the extra time it takes to handle and manage cash over card payments is inefficient. "Everybody has a smart phone, everything else happens instantly in the world, except money – cash is the one thing where it seems to take forever to do anything," says Charles Dowd, CEO and co-founder of Irish payments startup Plynk.
"In India they're pushing really hard for the demonetisation of society, and in the Nordic countries they've almost achieved it entirely, which is really impressive. There's a role for cash, but it's inevitable that it will change. Everybody's arguing over what might replace it – will it be an app, Apple, Google, Visa, a bank, or some other unknown start-up?"
Plynk is one of several Irish fintech start-ups which are changing how we deal with cash. Founded in 2015, the app "takes the social awkwardness out of financial interactions between friends," according to Dowd. The idea is that you install it on your smartphone and get a virtual Mastercard. As a result you can move money instantly via messaging from phone to phone, account to account; forgetting your wallet or not having enough cash on you is no longer an excuse for not chipping in on the taxi home.
"Studies have shown that in person-to-person transactions, things tend to either be settled through barter – deferred barter – or through cash," says Dowd.
We're trying to replace that cash element. We talk about cash being our competitor – where you used to use cash to pay friends back later, you can now use Plynk instantly.
Apps like Plynk, Way2Pay and even JustEat have taken physical cash out of the equation when it comes to paying for low-value goods. But Apple Pay, Android Pay and mobile wallets have also made huge inroads, while contactless payments are widening the ever-increasing gap between Ireland's card and cash spend.
Last year, the Irish Cancer Society introduced contactless payments as an option for collectors on Daffodil Day for the first time, while in recent weeks, a Paris church, Saint-François de Molitor, has introduced collection baskets which have a smartphone and contactless terminal installed.
However, the time is also coming where we won't have to use a plastic card to authorise payments at all. As Internet of Things (IoT) technology becomes more affordable and mainstream, our internet-enabled appliances and vehicles may start to undertake transactions on our behalf.
This is no longer the stuff of science-fiction. Visa Ready are preparing for IoT with their Token Service Provider (TSP) programme, which takes the account number from your card and turns it into a digital credential. This could be added to, for instance, an IoT-enabled car; which could then pay for petrol without the customer even having to leave the pump.
From order to pickup in 15 minutes
Already, Amazon's Dash Wand with Alexa (only available in the US at the moment) can be used at home to scan and reorder your usual groceries directly from Amazon, once you log into your account or app to confirm the order.
This isn't the only way that we might see our grocery shopping change. Yet again, Amazon is leading the way with its AmazonFresh pickup option, again located solely in Seattle for the time being.
AmazonFresh allows customers to place a grocery order online and pick it up just 15 minutes later. There are no queues, no searching high and low for that one vital ingredient – and no cash.
While retailers like Tesco and Dunnes are beginning to offer similar Click and Collect services here, there's nothing yet that's quite as instant as AmazonFresh. However, the increased availability of these services indicates that walking up and down the aisles with a trolley, and even traditional supermarkets themselves, could soon be consigned to the past entirely. The rise of IoT and location-tracking technology could even lead to your phone notifying the store's collection area when you're on your way.
The coming years will see an even greater push towards paying by card, by phone or by app for our everyday buying, while the power of cash dwindles. Currently, Amazon Go's technology that allows customers to walk in and out of their store – though they haven't shared the full details of what it entails – is likely too costly for them, or for other retailers, to roll out on a huge scale just yet.
But it's a tantalising taste of what might be down the line for our corner shops, as long as our internet connectivity can support it countrywide.
Not even Charles Dowd, however, can fully predict the future of payments: "The future looks obvious until the future arrives," he says. "And you say 'I never saw that coming'".