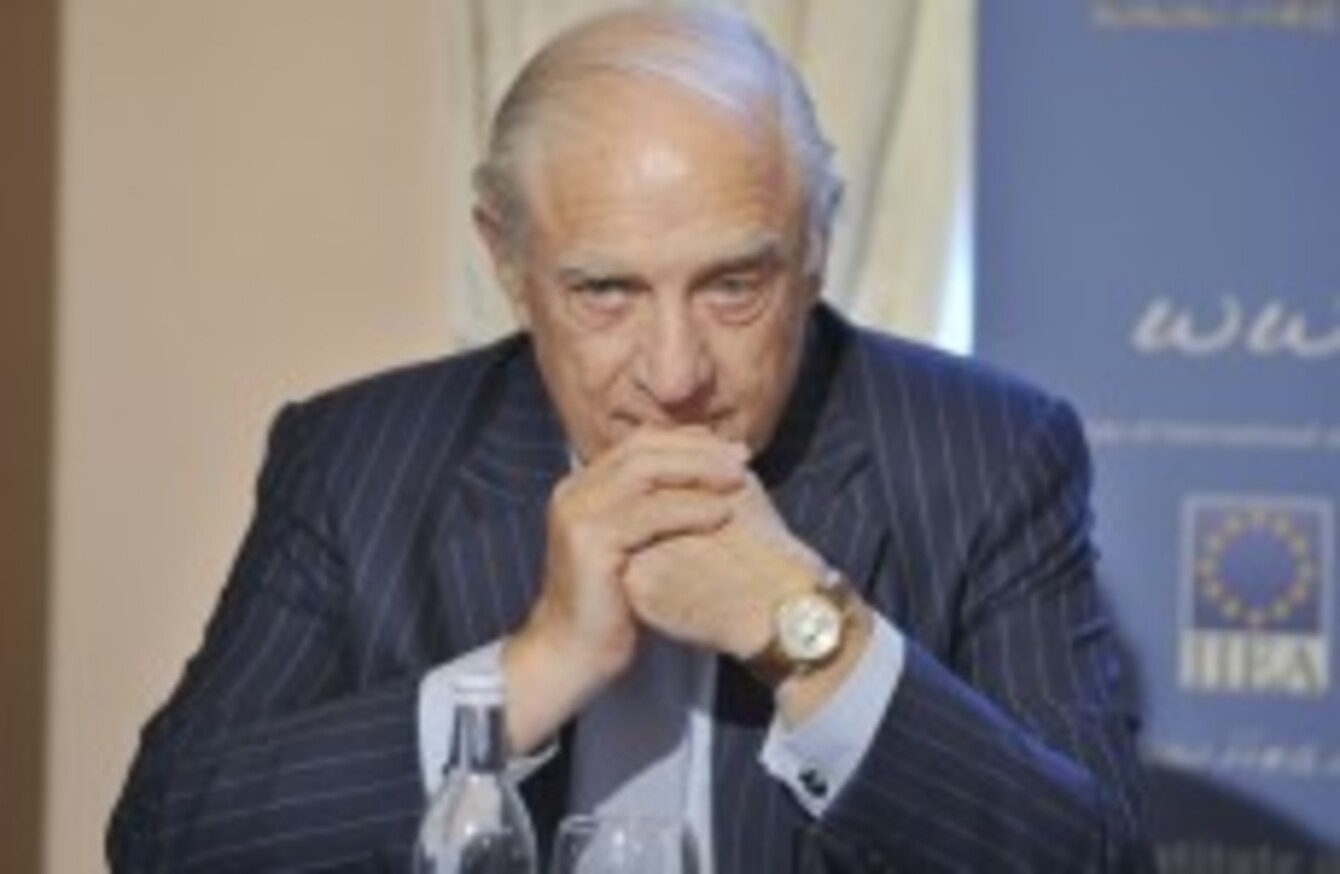 Former AG and current Chairman of Goldman Sachs International Peter Sutherland
Image: Sasko Lazarov/Photocall Ireland
Former AG and current Chairman of Goldman Sachs International Peter Sutherland
Image: Sasko Lazarov/Photocall Ireland
FORMER IRISH ATTORNEYS General Peter Sutherland and Paul Gallagher will join the likes of Henry Kissinger and British Chancellor of the Exchequer George Osborne at the annual summit of the highly-secretive Bilderberg Group tomorrow.
A list of around 140 participants has been released ahead of the four-day conference, which begins tomorrow at a hotel resort in Watford – some 30km outside London.
Finance Minister Michael Noonan – who attended the event last year – isn't on this year's list. A spokesperson for the Department told TheJournal.ie the minister had a full day of meetings scheduled in Dublin.
Other high profile attendees this year include Amazon founder and CEO Jeff Bezos, former Italian Prime Minister Mario Monti, and José Manuel Barroso, the president of the European Commission.
Meetings of the group – which has long been a favoured topic of conspiracy theorists – have been held every almost every year since 1954.
The original summit, at the Hotel Bilderderberg in the Netherlands, was organised with the stated aim of fostering closer economic and political ties between the US and Europe.
File picture of former US Secretary of State Henry Kissinger – a veteran attendee of Bilderberg (Image: Leon Farrell/Photocall Ireland)
A short press release on this year's meeting says a wide range of issues will be discussed by a 'diverse group of political leaders and experts from industry, finance, academia and the media'.
The agenda lists topics like 'cyber warfare and the proliferation of asymmetric threats' and 'major trends in medical research' – alongside less specific subjects like, simply 'current affairs'.
The group says the annual conference "has always been a forum for informal, off-the-record discussions about megatrends and the major issues facing the world".
Thanks to the private nature of the conference, the participants are not bound by the conventions of office or by pre-agreed positions. As such, they can take time to listen, reflect and gather insights.
The secretive nature of the Bilderberg meetings – and the elite nature of the guestlist-  means they've long been the subject of criticism.
Some groups have accused the organisation of being – at best – a mostly white, mostly male networking opportunity. Right-wing critics have accused it of attempting to promote a world government.
Perhaps the most bizarre claim in regard to the group, made by former BBC sports presenter David Icke, is that the majority of participants are, in fact, "inter-stellar reptilian humanoids".
The conspiracy theorist, who now makes a living from his books and lectures, has claimed that the Bilderberg Group – along with the IMF and the UN – have a goal of achieving world domination by micro-chipping the world's population.