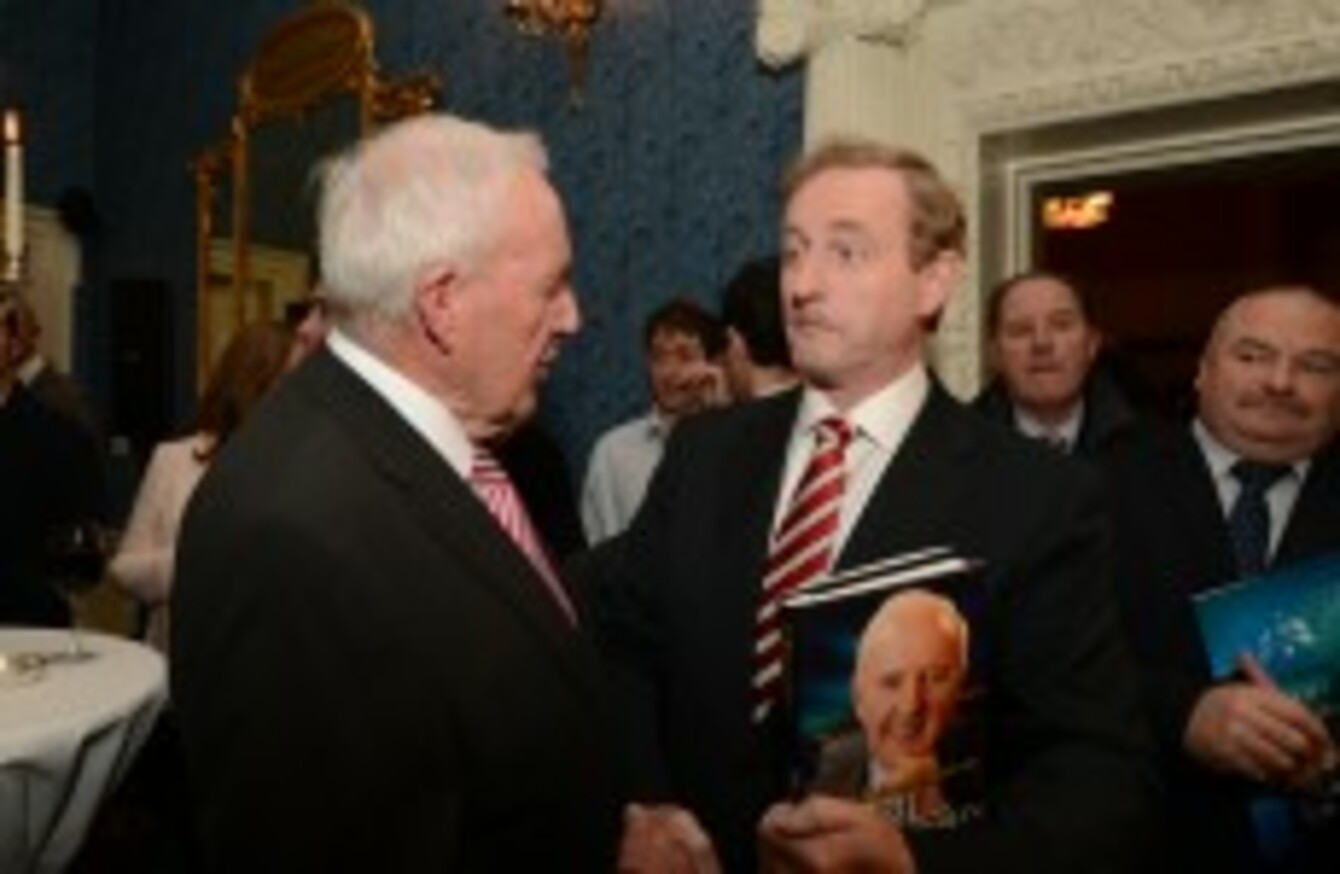 Bill O'Herlihy at the launch of his autobiography with Taoiseach Enda Kenny.
Image: Sasko Lazarov/Photocall Ireland
Bill O'Herlihy at the launch of his autobiography with Taoiseach Enda Kenny.
Image: Sasko Lazarov/Photocall Ireland
FINE GAEL SHOULD put aside their differences with Fianna Fáil and consider going into coalition, according to broadcaster and PR executive Bill O'Herlihy.
The presenter said Ireland's political divisions based on Civil War politics from 90 years ago have become "a damaging anachronism". Speaking at the Béal na Bláth commemoration in Cork on the 91st anniversary of the death of Michael Collins, O'Herlihy said Ireland has been "caught up with past battles" for too long.
"There can only be so many rematches, there comes a time when old fights can no longer teach us any more lessons," he told the audience.
The one-time Fine Gael strategist also said that he found the idea of an alliance between Fianna Fáil and Sinn Féin a "disturbing and retrogressive idea".
The RTÉ presenter said the 1957 general election was the last in which civil war politics played a significant part – but that the divisions in Ireland's politics remain.
"How much  more progress, how much more reform would be possible if senseless old historical divisions were eliminated from our politics?" he said.
I know the political analysts have been labouring for decades trying to analyse the paradox of having the two best-supported political parties at loggerheads for generations over passions played out eighty years ago.
I'm old enough to understand the phenomenon but the vast majority of the people of Ireland have lost any real contact with that quarrel. They have every right to be impatient with it.
He called for a change in Irish politics, saying only FF and FG have the "proven trust" of the people over the past eighty years.
"They should examine and if necessary pool what they share and allow the people of this country to reap the benefits," he said, addding: "I am aware not everyone shares this view and, frankly, it is more easily said than done."
I recognise this would represent a sea-change in Irish political life and an enormous challenge to implement.  I recognise the difficulties; I recognise the fear people have of an overwhelming political majority; I recognise the distrust the electorate has because of actions of the recent Fianna Fáil administration and the determination they will not recur; I recognise the promise of significant political reform is moving more slowly than we would wish.
But in spite of all these reservations, I believe coalition of Fine Gael and Fianna Fáil has much to offer at a time of huge challenge for Ireland.
O'Herlihy joins Sinn Féin and former FF politician Mary O'Rourke in suggesting that an alliance between the traditional rivals could be advantageous to both.