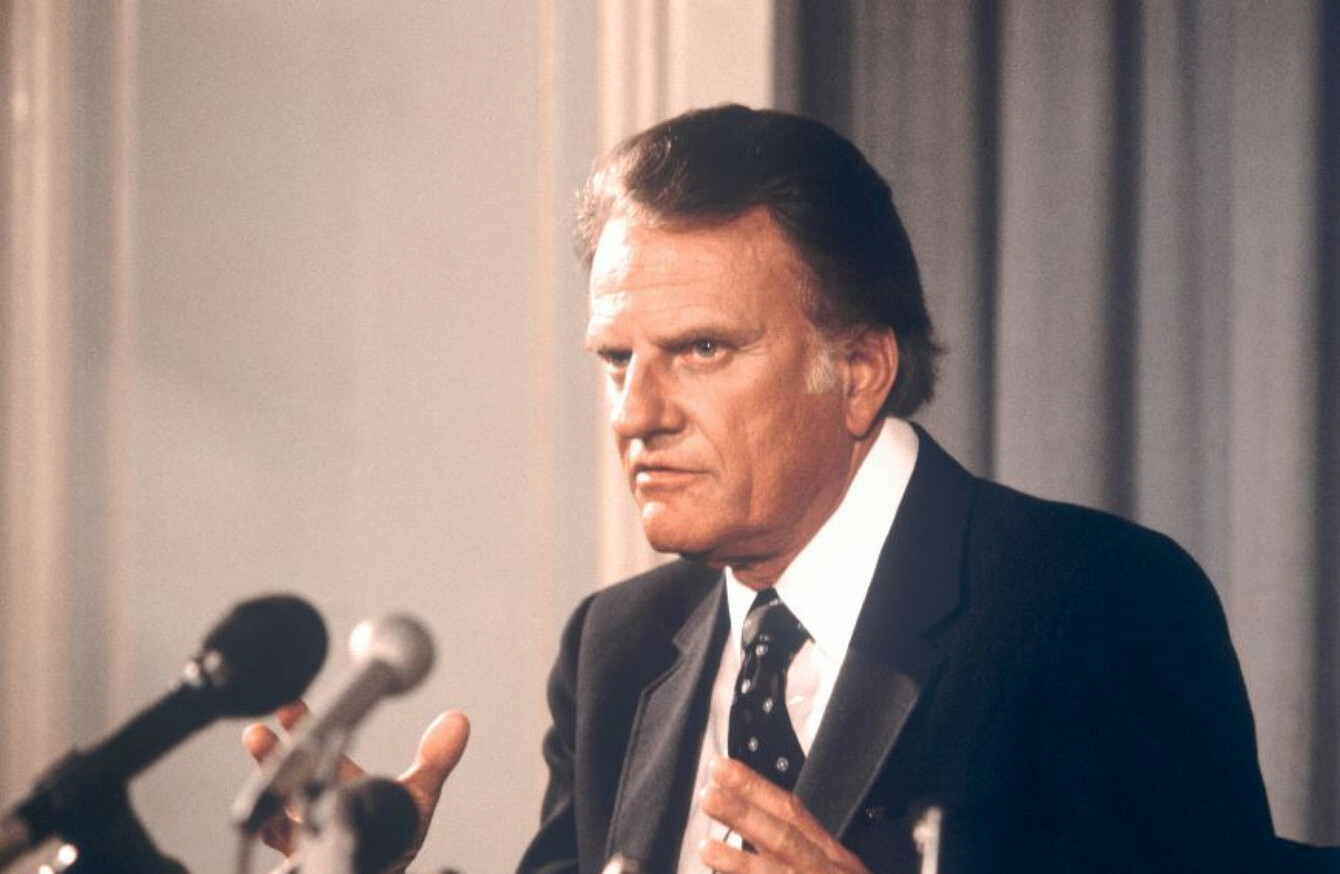 American evangelist Billy Graham pictured in 1982
Image: PA/PA Archive/PA Images
American evangelist Billy Graham pictured in 1982
Image: PA/PA Archive/PA Images
Updated at 6.15pm 
THE REVEREND BILLY Graham, one of the most famous preachers of the 20th century, has died at the age of 99.
Graham transformed American religious life through his preaching and activism, becoming a counsellor to presidents and the most widely heard Christian evangelist in history.
Spokesman Mark DeMoss said Graham, who long suffered from cancer, pneumonia and other ailments, died at his home in North Carolina this morning.
Graham reached more than 200 million people through his appearances and millions more through his pioneering use of television and radio. Unlike many traditional evangelists, he abandoned narrow fundamentalism to engage broader society.
Tributes
The one-time backwoods minister who eventually became the world's foremost Christian evangelist, spread a message of spiritual redemption at tent and stadium revival meetings, in a career that spanned decades.
"The GREAT Billy Graham is dead," President Donald Trump tweeted in tribute. "There was nobody like him! He will be missed by Christians and all religions. A very special man."
The Southern Baptist preacher was close to the family of President George W Bush, who once said that a private meeting with Graham in 1985 helped him quit drinking.
Graham was a pioneer of "televangelism" to convert souls to Christianity as television got off the ground in the 1950s.
Born on 7 November 1918 he was raised as one of four children on a dairy farm in Charlotte, North Carolina.
Graham had a spiritual awakening in 1934 that changed the course of his life. He subsequently attended the Florida Bible Institute, now Trinity College of Florida, and was ordained as a Baptist minister in 1939.
In 1950, he founded the Billy Graham Evangelistic Association (BGEA) in Minneapolis, Minnesota and launched a weekly Hour of Decision radio programme.
Adviser to US presidents
His ministry led him to preach the gospel around the country – and the world.
Over the course of his career, he was consulted by presidents Dwight Eisenhower and John F Kennedy.
For a time he was Richard Nixon's chaplain and golf partner. President George H.W. Bush invited him to pray at the White House in 1991 for guidance through the first long day of the Gulf War.
But of all the US leaders – almost all of whom have described themselves as practicing Christians – Graham found only Jimmy Carter to match him in dedication to his faith.
Graham also has been credited with helping hasten the end of segregation in his native south by refusing to preach to segregated audiences after 1953.
'I belong to Christ'
While he never snagged the top spot, Graham was on Gallup's list of most admired men more than any other – 55 times since 1955, the polling institute said in December 2011.
#Open journalism No news is bad news Support The Journal

Your contributions will help us continue to deliver the stories that are important to you

Support us now
Among his many honors, he was presented with an honorary knighthood in 2001 and received the Congressional Gold Medal in 1996.
"My greatest comfort comes from knowing that I belong to Christ, and that no matter what happens, he will never leave me or forsake me.
He will be with me as long as I'm on this Earth, and some day I will go to be with him in heaven forever. I look forward to that day.
Graham had his detractors: noted Christian theologian Reinhold Niebuhr challenged his preaching as far too simple and not reflecting the complexity of human existence.
And one-time associate Charles Templeton, a former evangelist turned atheist, wrote:
I disagree with him profoundly on his view of Christianity and think that much of what he says in the pulpit is puerile nonsense.
But he added:
There is no feigning in him: he believes what he believes with an invincible innocence. He is the only mass evangelist I would trust.
No other religious figure in America has had Graham's impact. Through a newspaper column, he answered thousands of questions about spirituality.
Unlike other high-profile evangelists, Graham managed to escape sex and money scandals by keeping a meticulous watch over his staff and finances.
"My greatest fear is that I'll do something that will bring disrepute on the Gospel of Christ before I go," Graham said in a 1991 interview.
He suffered from a host of ailments late in life, including Parkinson's disease and prostate cancer. In 1995, weakened by illness and old age, he turned over operation of his ministry to his eldest son.
 © – AFP 2018 With reporting from AP