Diver Artur Kozlowski at the site of one of his dives in Spain.
Image: YouTube.com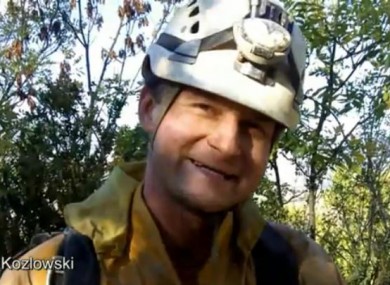 Diver Artur Kozlowski at the site of one of his dives in Spain.
Image: YouTube.com
Updated 16:45
A SPECIALIST CAVE diving rescue team is to be flown in from the UK this evening to try and recover the body of a diver who was found yesterday evening after he went missing on Monday.
The diver has been named locally as Artur Kozlowski, a Polish man in his 30s, who went missing on Monday after he went diving in the Pollonora cave, north of Gort in Co Galway on Monday.
When Kozlowski, an experienced diver, did not reappear that night, an alert went out and a search was carried out, co-ordinated by the Irish Cave and Rescue Organisation (ICRO).
The search continued yesterday and his body was eventually located at a depth of 52 metres.
Speaking on RTÉ's Morning Ireland the ICRO's Conor McGrath said that Kozlowski held a number of diving records in both Britain and Ireland and could dive to a depth of 103 metres which he described as "phenomenal".
He described the difficulties Kozlowski would have got into as divers do not have an easy exits in the event of an emergency when diving in underwater caves.
This evening, the ICRO said that three specialist divers from the UK were arriving in Ireland and were on their way to Gort. They are to start their dive tomorrow afternoon and the operation is expected to take several hours. A spokespersno for ICRO said:
These cave diving experts, amongst the best in Europe, have been requested to perform the recovery dive because of their extensive experience and training in this specialist diving environment.
Artur Kozlowski and a Belgian friend, Jim Warny, made the news in September of last year when they dived a 4km stretch of the cave system in the Gort area, one of the longest underground cave traverses in Ireland and the UK. Kozlowski spoke about his experiences of diving in the area to NUIG and GMIT students in January of this year (click here to watch his lecture).
Here he describes another long traverse dive in Spain, exploring new stretches of underwater cave in November last year (Artur speaks at about 3:38):

- additional reporting by Susan Daly