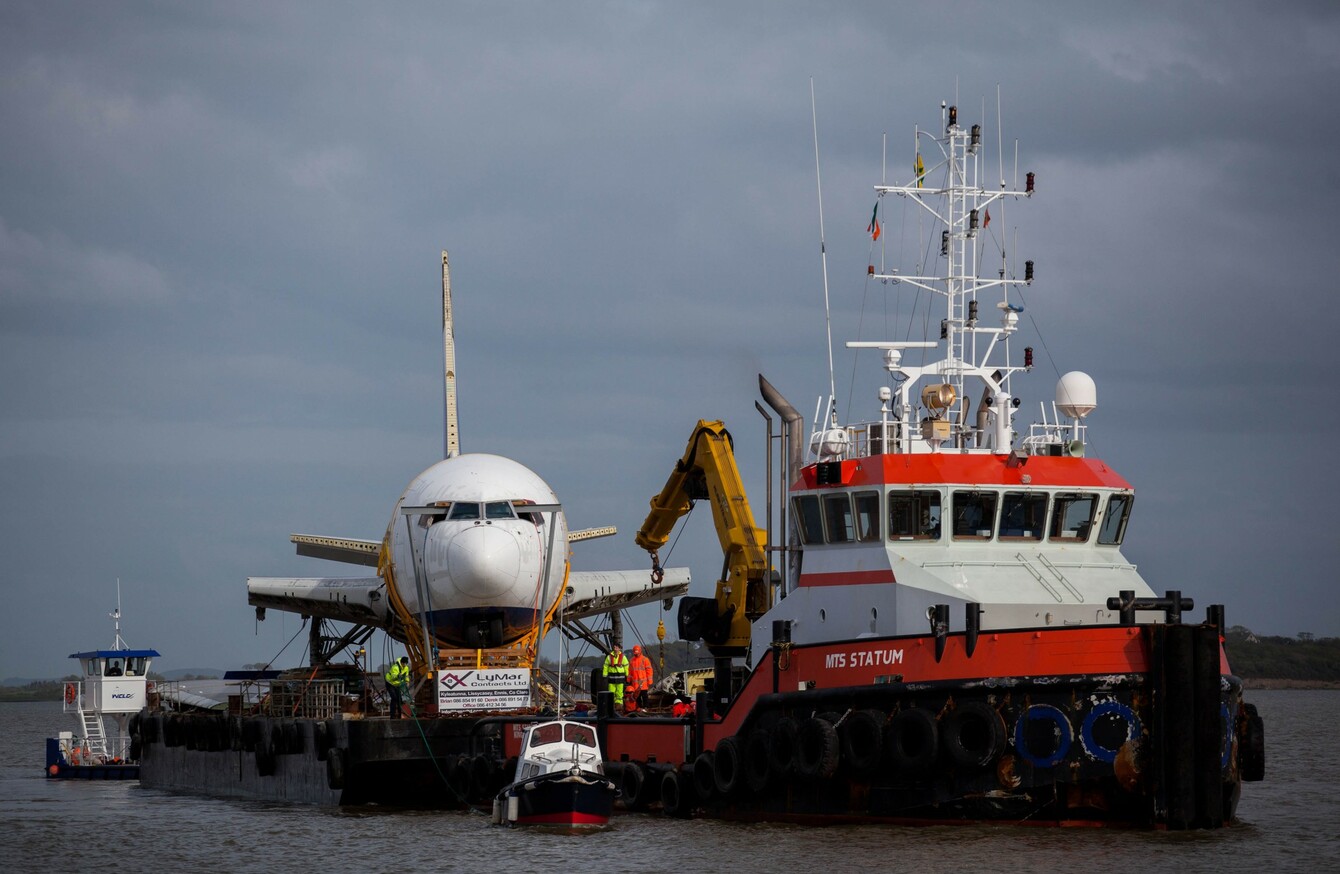 Image: Alan Place
Image: Alan Place
A MAYO UNDERTAKER'S plan to move a disused Boeing 767 from Shannon airport to a glamping site in Sligo is almost complete.
The decommissioned Boeing 767 aircraft is set to land at Enniscrone tomorrow morning after an incredible 36-hour journey by barge, starting from Shannon airport.
The seemingly mad plan has captured the imagination of people around the country after TodayFM's Anton Savage Show first started following the David McGowan's journey months ago.
The aircraft's final destination will be his Quirky Nights Glamping Village where he is turning various modes of transportation – buses, taxis and a train – into camping accommodation.
The man with the plan, McGowan said:
We are making good progress, the barge with the aircraft is making her way up the Wild Atlantic Way. We got good news on the weather front too with expected swells now not materialising so we are in good shape to be in landing in Enniscrone tomorrow morning.
Numbers of people are expected to be present at Enniscrone tomorrow morning when the plane will be lifted from the barge, and then moved onto its final destination to the glamping village.
At 4pm the barge was seen off Achill Island and, according to the Anton Savage Show, McGowan had been in a helicopter checking on his plane.
Here's a video of the plane sailing on the Shannon estuary earlier today.
Source: Jack O'Shea/YouTube
The plan had a setback last week when McGowan struggled to find a tug-boat to bring the plane on the Shannon river to Enniscrone.
He overcame it by sourcing a boat from the UK, and afterwards the wings were chopped off to allow it to continue on its journey.
Speaking about the experience as a whole, McGowan said:
I have learned an awful lot about the power of people working together on this project. The community spirit has been fantastic. From the tremendous help I got from Shannon Airport, to the many, many people who turned out to see us off, makes it all worthwhile.
The Boeing 767 was originally owned by Russian airline Transaero and was bought from Shannon airport for €20,000.
Deirdre Whitney, property manager at Shannon Airport said that Shannon has worked with all sorts of cargo over the years but this initiative stands out.
"We have worked on many, many different projects over the years but never anything quite like this.  I don't think we will be seeing its likes again too soon, if ever," she added.
Watch the aircraft's journey from Shannon airport:
Source: Shannon Airport/YouTube