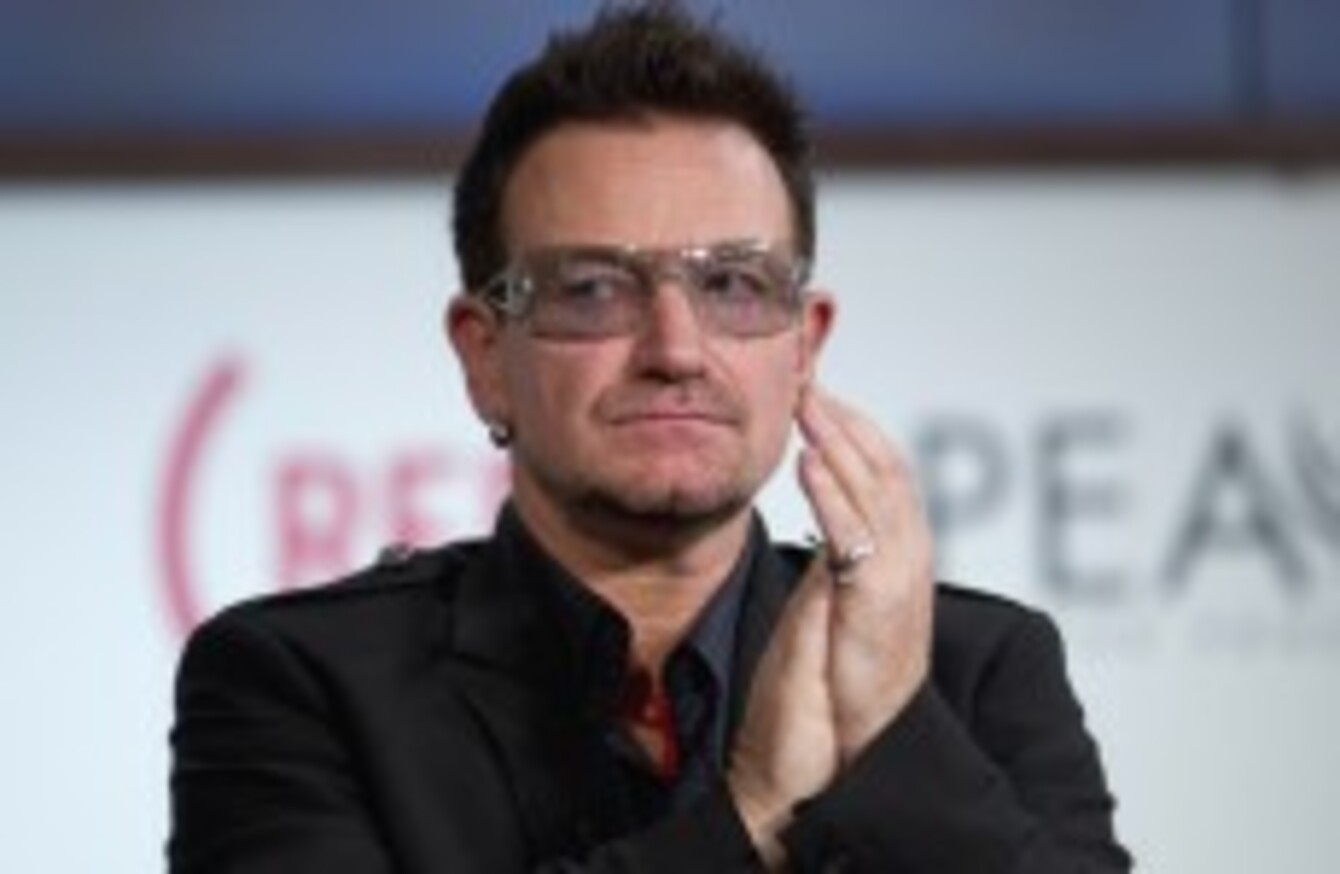 Image: Evan Vucci/AP
Image: Evan Vucci/AP
HE'S SOLD 150 MILLION RECORDS and played to packed stadia all around the world – but today the personal fortune of U2 frontman Bono is likely to be doubled – thanks to Facebook.
Bono is one of five primary investors in Elevation Partners, a California-based investment vehicle which owns somewhere between 1 and 1.5 per cent of the social network – and which stands ready to reap the rewards from the social network's Initial Public Offering today.
Though Bono has previously been mocked as a poor investor – with Elevation Partners having reportedly made significant losses through investing in the likes of PDA maker Palm – the Facebook investment is by far the company's, and the singer's, best investment.
Elevation Partners owns 0.88 per cent of the company as it currently stands, having initially bought a reported 1.5 per cent in the company for $90 million – a stake which will will, despite a slight dilution in its stake following the issue of its new shares, be worth $1.524 billion at the beginning of today's trading.
That's assuming an initial price of $38 (€30) per share, the value at which Facebook's shares will begin trading when the NASDAQ opens. Part of that will be (at least) $175 million in cash, which will be earned when Elevation Partners sells off 4,622,496 shares.
It's not known precisely how much of a holding the 51-year-old Bono, real name Paul Hewson, actually holds in the investment vehicle – and therefore how much of the company's newfound wealth he can lay claim to – but there are hints in other places.
Documents filed with the US's Securities and Exchange Commission show Bono as having a 10 per cent stake in other companies where Elevation Partners has a stake. If Bono's stake in the Facebook arm is similar, his wealth will increase by $152 million (€120 million) today.
That's based on the price of today's shares alone: if Facebook meets with large investor demand today (and there are plenty of signs suggesting it will), the value of the shares – and therefore of Bono's holding – will surge.
#Open journalism No news is bad news Support The Journal

Your contributions will help us continue to deliver the stories that are important to you

Support us now
The most recent Sunday Times rich list put the collective wealth of U2 at £514 million (€640 million); Bono – real name Paul Hewson – and U2 guitarist David 'The Edge' Evans are thought to command the lion's share of that given their extensive interests beyond U2, such as their stake in the Clarence Hotel in Dublin.
Assuming Bono's wealth is about 30 per cent of that (U2′s earnings are split five ways, between the four musicians and manager Paul McGuinness) his personal fortune, including property investments, is around €190 million – meaning today's Facebook events are likely to match his entire lifetime's earnings from music.
Nice work if you can get it.