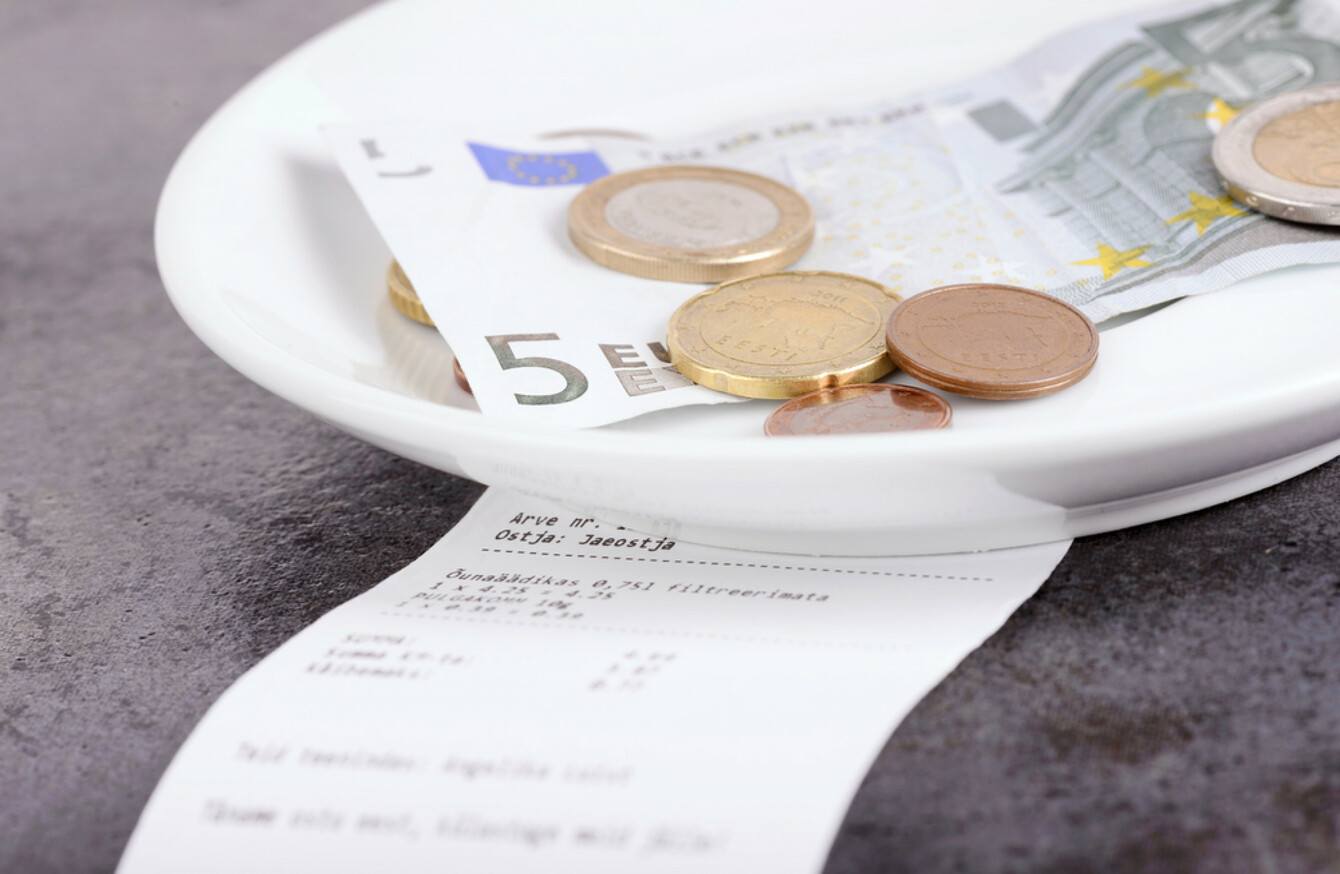 Image: Shutterstock/Anna Maloverjan
Image: Shutterstock/Anna Maloverjan
TIPS ARE BEING taken off staff at restaurants, bars and cafes to make up cash shortages in the till at the end of the day.
Unions are warning that this behaviour is widespread in the food and beverage industries and is unfair as these workers are already on low pay and need every penny they earn.
Popular Mexican burrito bar Boojum has admitted to using staff tips to make up for shortages in the till.
Its handbook, which was published in 2013, states that money could be taken from a staff member's wages if there was a shortage. It said:
Any cash shortages at the end of the shift/day will be the responsibility of the individual/shift on duty and must be made good by that individual/shift. Any such shortages may be deducted for wages/salary.
"You will be given a written statement of the amount of the deduction, date when the error occurred and the reason for such a deduction. This is an express written term of your contract of employment in compliance with current legislation."
When TheJournal.ie contacted the Boojum about deducting cash from wages, it said it was never enforced "nor were there ever any plans to start".
However, it did acknowledge that tips were taken in this manner.
A practice did develop in stores whereby tips were used to make good shortages.
It added that staff recently raised this practice as an issue and that it has now agreed to end the practice of using tips to offset shortages.
It said that a new policy was agreed at a meeting but in the meantime staff agreed to revert to the policy in the handbook where shortages may be deducted from wages.
It said, "The absolute operative word here is MAY" adding: "Boojum has not and will not deduct shortages from wages (unless due to theft or fraudulent activity) and a tips practice that developed years ago was ended weeks ago in a positive move between staff and management."
The company ended the statement by listing what it called "the reality". This list included how it paid staff who could not make it to work due to the snow in March, that it will spend €340,000 feeding and providing refreshments to staff this year and that it has extended maternity pay and funds cycle to work schemes.
It ended with the sentence: "Boojum is sound".
'They need every penny' 
David Gibney from Mandate told TheJournal.ie, "The behaviour of some companies who will take money from workers wages is reprehensible, particularly because many workers in the food and drinks industries are already low paid and face high costs of living. They need every penny they earn.
Unfortunately this isn't an isolated incident and we know that it happens frequently in the bar trade too.
Gibney added that if workers want to ensure they are protected from this type of behaviour, they should join their trade union.
A Bill, which is currently before the Seanad, is looking at the issue of employers taking tips from workers to make up any cash shortages in tills.
The Protection of Employee Tips Bill seeks to amend the National Minimum Wage Act to add protections to ensure that employees receive the tips paid by customers.
The Bill aims to give staff in restaurants, bars and cafes a right to keep the tips they earn from customers.
If passed into law it would make it illegal for an employer to withhold, deduct, or demand the return of a tip from an employee without a lawful excuse.
It would also require businesses to display their tipping policy on a menu or in a similarly prominent manner.
The
Low Pay Commission
 is also examining the area of tips and gratuities after it was requested to do so by the Employment Minister Regina Doherty.
The commission has sought submissions from concerned parties and will be giving its recommendations to Minister Doherty as part of its 2018 work programme.