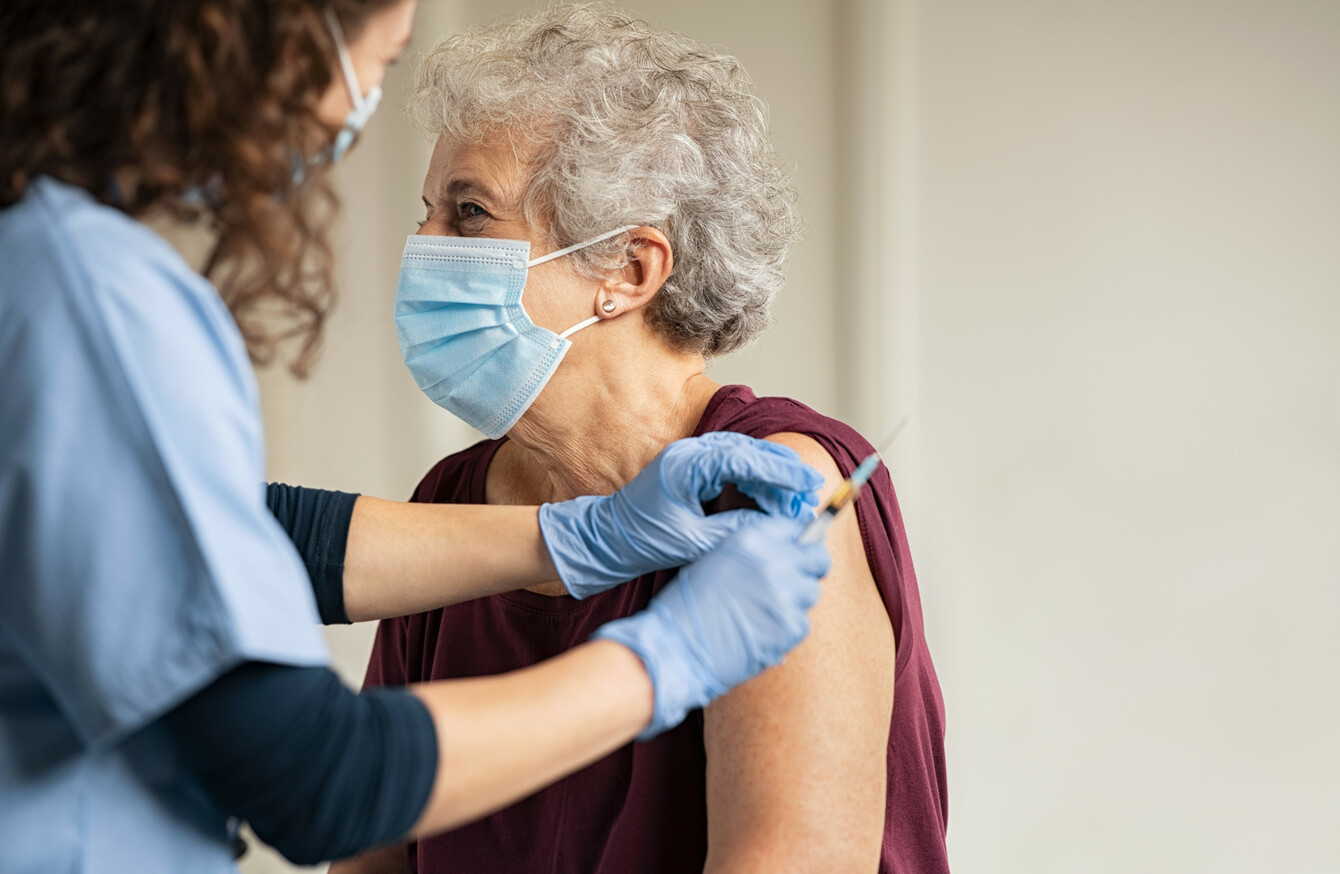 Image: Shutterstock
Image: Shutterstock
Updated Sep 8th 2021, 8:32 PM
THE NATIONAL IMMUNISATION Advisory Committee (NIAC) has recommended that a booster vaccine dose against Covid-19 be given to over 65s living in residential care and anyone over the age of 80.
NIAC has recommended a booster dose of an mRNA vaccine for the two groups, even if their first vaccine was an adeno-viral vector like AstraZeneca.
The booster dose can be given after an interval of six months after the primary vaccination course was completed.
NIAC issued its recommendation to Chief Medical Officer Dr Tony Holohan, who endorsed the advice. 
A statement from the Department of Health outlined that "in coming to their recommendations, NIAC considered the emerging evidence relating to decreasing immunity, vaccine effectiveness of a booster dose against the Delta variant of Covid-19 in protecting against serious disease including hospitalisations, ICU admissions and death, as well as safety data in respect of a booster dose".
It also considered "global vaccine equity and upholding the principles of minimising harm, fairness and moral equality as outlined in the National Vaccine Allocation Framework".
Minister for Health Stephen Donnelly said that "once again this week, we have seen some of the necessary public health restrictions eased thanks to the enormous efforts the Irish people have made to continue to follow the public health advice and, in particular in relation to our amazing levels of vaccine uptake".
"Vaccination remains our pathway out of this pandemic, and as with the earlier phases of our vaccination programme, this update to the programme ensures that we continue to prioritise our most at risk loved ones from the risks posed by Covid-19," Donnelly said.
"I am aware that operationalising these updates to our vaccination programme will take a short period of time. I will continue to work with my Department, the HSE and the High-Level Task Force to implement these recommendations as safely and efficiently as possible."
Nursing Homes Ireland (NHI) has welcomed the news that boosters will be rolled out to nursing home residents. 
NHI CEO Tadhg Daly said the organisation commenced engagement in July with Government ministers, the HSE and the National Immunisation Office regarding rollout of a booster programme for nursing home residents. 
"Today's announcement is very welcome, with spread of the virus within our communities posing a continuing threat to nursing home residents," Daly said. 
He added that "clarity is required regarding the status for residents in nursing homes who are under 65 years of age, together with healthcare workers, who were excluded from today's announcement". 
In August, the HSE said it intended to retain its vaccination infrastructure until the end of the year to facilitate any potential booster campaign.
A total of 6,951,760 doses of vaccines against Covid-19 have been administered in Ireland up to yesterday.
World Health Organization
The news from the Health Minister comes as the World Health Organization today called for countries to avoid giving out extra Covid jabs until year-end, pointing to the millions worldwide who have yet to receive a single dose.
"I will not stay silent when the companies and countries that control the global supply of vaccines think the world's poor should be satisfied with leftovers," WHO chief Tedros Adhanom Ghebreyesus told journalists.
Speaking from WHO's headquarters in Geneva, Tedros urged wealthy countries and vaccine makers to prioritise getting the first jabs to health workers and vulnerable populations in poorer nations over boosters.
"We do not want to see widespread use of boosters for healthy people who are fully vaccinated," he said.
The WHO called last month for a moratorium on Covid-19 vaccine booster shots until the end of September to address the drastic inequity in dose distribution between rich and poor nations.
But Tedros acknowledged today that there had "been little change in the global situations since then.
#Open journalism No news is bad news Support The Journal

Your contributions will help us continue to deliver the stories that are important to you

Support us now
"So today I am calling for an extension of the moratorium until at least the end of the year," he said.
It was confirmed last month that Irish people have donated more than one million Covid-19 vaccines to people in some of the world's poorest countries.
The 'Get a Vaccine, Give a Vaccine' campaign has raised more than €2.5 million since it was launched earlier this summer.
The appeal urges people getting vaccinated in Ireland to give a vaccine to people in poorer nations.
As a result of the campaign, one million vaccine doses will now be delivered to healthcare workers and vulnerable people in countries with little or no access to vaccines. 
Around €4.48 allows UNICEF to deliver two doses of a Covid-19 vaccine to someone in a country facing a humanitarian crisis.
The support in Ireland for the campaign is helping UNICEF to lead the largest-ever vaccine procurement and supply operation as part of the global COVAX programme.
COVAX has delivered over 175 million doses to 138 countries since March. It aims to secure enough vaccines this year for the most vulnerable 20% in every country, rich or poor.
With reporting by Hayley Halpin and © AFP 2021