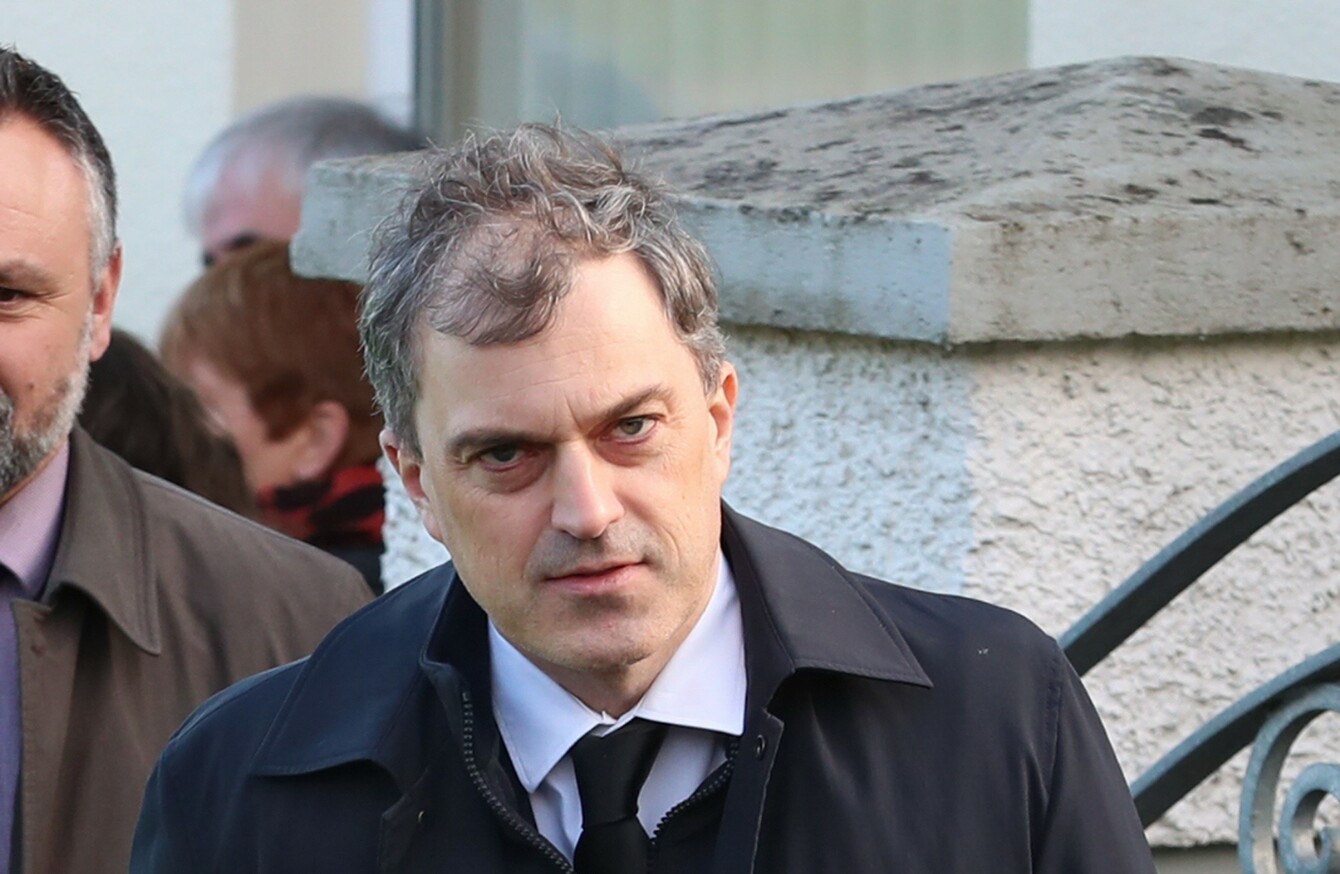 File photo of Julian Smith.
Image: Liam McBurney/PA Images
File photo of Julian Smith.
Image: Liam McBurney/PA Images
Updated Feb 13th 2020, 10:58 AM
THE NORTHERN IRELAND Secretary Julian Smith has been sacked, as part of a reshuffle by Prime Minister Boris Johnson.
His departure comes just weeks after brokering the deal which restored the power-sharing administration in Stormont.
In a tweet this morning, Smith said that serving the people of Northern Ireland has been "the biggest privilege". 
"The warmth & support from people across NI has been incredible," he said. "Thank you so much."
Johnson axed Smith despite the role the MP for Skipton and Ripon played in restoring the power-sharing executive in Stormont just before Christmas.
Smith loses out as fellow Cabinet ministers braced themselves for a "brutal" process in the prime minister's reshuffle.
He was originally appointed to the role less than a year ago – on 24 July 2019 – replacing Karen Bradley.
Since taking the job, he has played an important role in cooperating with Sinn Féin, the DUP and the Irish government in restoring the Northern Irish Executive.
Prosecution of British soldiers 
Speculation about Smith's position centred on the terms of the Stormont deal, amid Tory concerns it could pave the way for prosecutions of British soldiers.
But allies of the axed minister said it was "absolute crap" to suggest that Johnson and Number 10 had not been kept informed of the process and details of the deal.
SDLP leader Colum Eastwood said this morning that sacking Smith was a "strategic error".
He said: "It defies belief that after the successful restoration of power sharing following a three-year collapse, Julian Smith's reward is a cabinet office P45.
It tells you all you need to know about Boris Johnson's attitude to the North that he would sack the most successful Secretary of State in a decade. He is at best indifferent.
Taoiseach Leo Varadkar tweeted this morning: "In eight months as Secretary of State, Julian you helped to restore power sharing in Stormont, secured an agreement with us to avoid a hard border, plus marriage equality.
"You are one of Britain's finest politicians of our time. Thank you."
Tánaiste Simon Coveney – who worked closely with Smith – said he had been a very effective Secretary of State "at a time of real challenge and risk", adding that he didn't believe there would be a government in Northern Ireland today without Smith's leadership.
Speaking on Today with Seán O'Rourke, Coveney said he didn't know if Smith was sacked because of future potential prosecutions of British soldiers, adding that Smith "respected previous agreements that were made in writing between the two governments".
The outgoing Tánaiste said he, Smith and others "managed to achieve something that many people thought would not happen" in getting power-sharing up and running again.
Coveney said whoever takes over from Smith will have to be mindful of Northern Ireland's "incredibly painful and difficult past" and the "trauma" experienced by many people.
DUP leader Arlene Foster said: "We may not have always agreed (we did sometimes) but his dedication to the role was incredible. Best wishes to him and his family."
DUP MP Jeffrey Donaldson said: " I have enjoyed working with you across a wide range of issues and you and your family will be very welcome back in Hillsborough any time."
Javid resigns 
In other Cabinet reshuffle news, Sajid Javid has resigned as the UK's chancellor. 
Rishi Sunak was confirmed as the new chancellor moments after Javid's resignation. The 39-year-old is a hedge fund millionaire who is married to the daughter of Indian billionaire NR Narayana Murthy. Sunak was first elected as an MP in 2015.
Javid's short tenure in office makes him one of the only chancellors in British history to never deliver a Budget; the UK Budget is due to be announced next month. 
Several British political correspondents tweeted that Javid was told he could remain as Chancellor if he sacked all of his advisers, but refused to do so.
Other senior ministers who have been axed by Johnson include Geoffrey Cox from his post as attorney general, Esther McVey as housing minister, Andrea Leadsom as business secretary, and Theresa Villiers lost her job as environment secretary.
Alok Sharma has been named as the new business secretary. Oliver Dowden has been promoted to Digital and Culture Secretary.
Among those who are staying in their roles, are: Dominic Raab is to remain as Foreign Affairs Secretary, Michael Gove as the Duchy of Lancaster (effectively the deputy prime minister), and Priti Patel will remain as Home Secretary.
Matt Hancock is also staying put as Secretary of State for Health; Robert Buckland  remains Lord Chancellor and Secretary of State for Justice; and Liz Truss remains as International Development Secretary and Minister for Women and Equalities.
With reporting by Órla Ryan