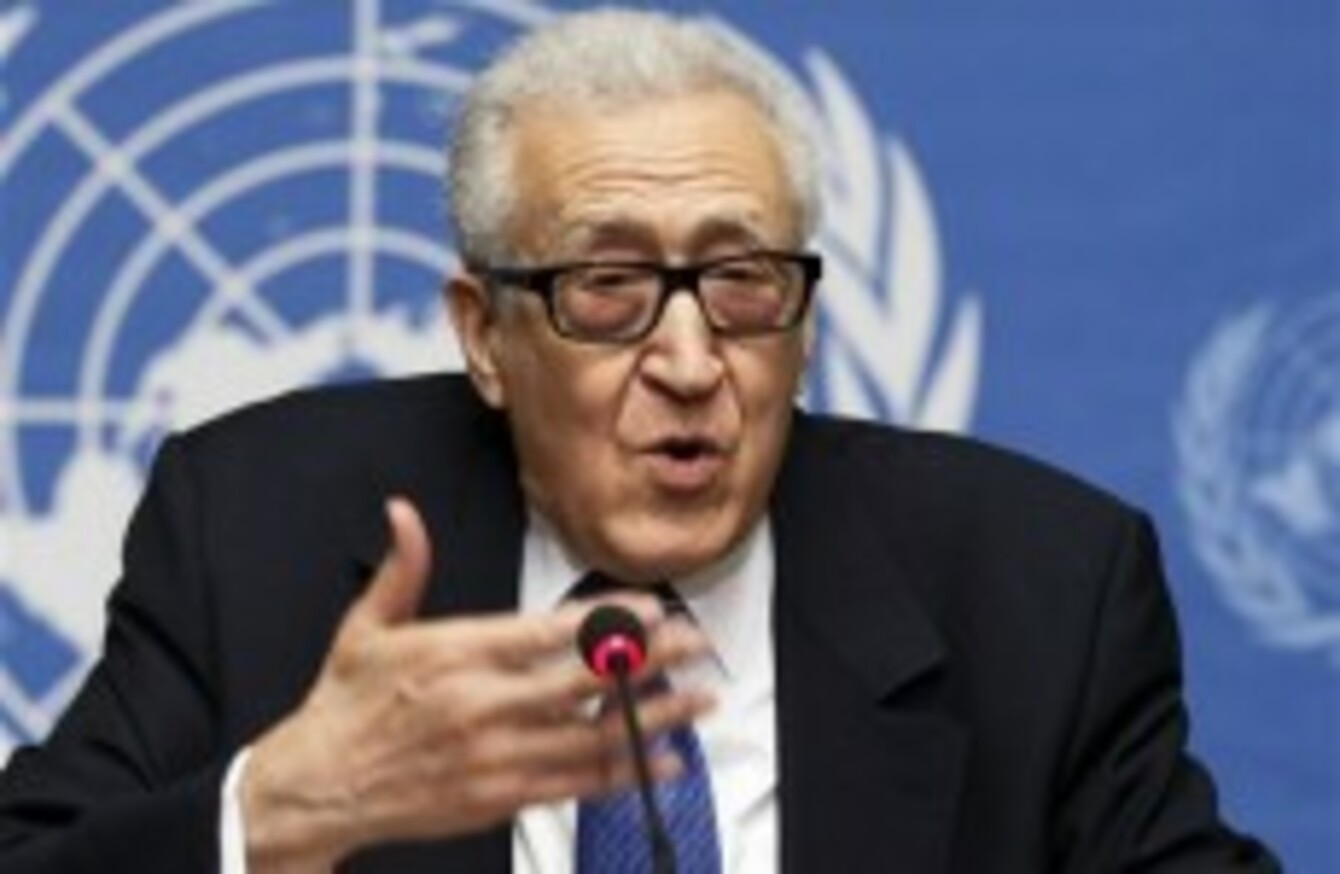 Image: AP Photo
Image: AP Photo
UN-ARAB LEAGUE MEDIATOR Lakhdar Brahimi ended direct talks between the Syrian government and opposition today without finding a way of breaking the impasse in peace talks.
Today's talks, which lasted less than half an hour, left the future of the negotiating process in doubt and no date was set for a third session.
Afterward, Brahimi told a news conference that he had proposed an agenda for another round of talks that would focus first on ending the violence and terrorism, then on how to create a transitional governing body.
"Unfortunately, the government has refused," he told reporters, saying he would now seek consultations with the United States and Russia, the main sponsors of the peace conference, and the United Nations to see how to proceed.
"I think it is better that every side goes back and reflects on their responsibility (and if) they want this process to continue or not," Brahimi said. "It's not good for the process, it's not good for Syria, that we come back for another round and fall back into the same traps that we have been struggling with."
But he also made clear that he did not want to lose another week or more before negotiations could resume.
The latest round of talks lasted for a sixth consecutive day at U.N. European headquarters in Geneva, while the violence kept escalating back home for Syrians.
Despite the hostility between the two delegations that has produced little more than public displays of acrimony and sparring before the TV cameras, the opposition said it continued to hold out hope for a political solution.
Anas al-Abdeh, a member of the opposition negotiating team, said his side accepted the agenda but the government's unwillingness to go along with it has put the prospects of a third session of talks within the "Geneva 2″ negotiating round in doubt. The first peace conference, dubbed "Geneva 1," produced a roadmap for peace in June 2012 that was not followed.
Al-Abdeh called the stalemate a result of the government's "continuous effort to not talk and not to discuss the issue of the transitional governing body."
"And only when we know that we have a partner, a real partner, that is interested in talking about the political solutions there will be a next round," Al-Abdeh added.
The Britain-based Syrian Observatory for Human Rights, citing on informants on the ground, said Saturday that the death toll has reached 140,000 from three years of violence.
More than 3,400 reportedly have been killed this month even while the peace talks were being held in Geneva. The U.N.'s human rights office said in January it has stopped updating the death toll from Syria's civil war, confirming that it can no longer verify the sources of information that led to its last count of at least 100,000 in late July.