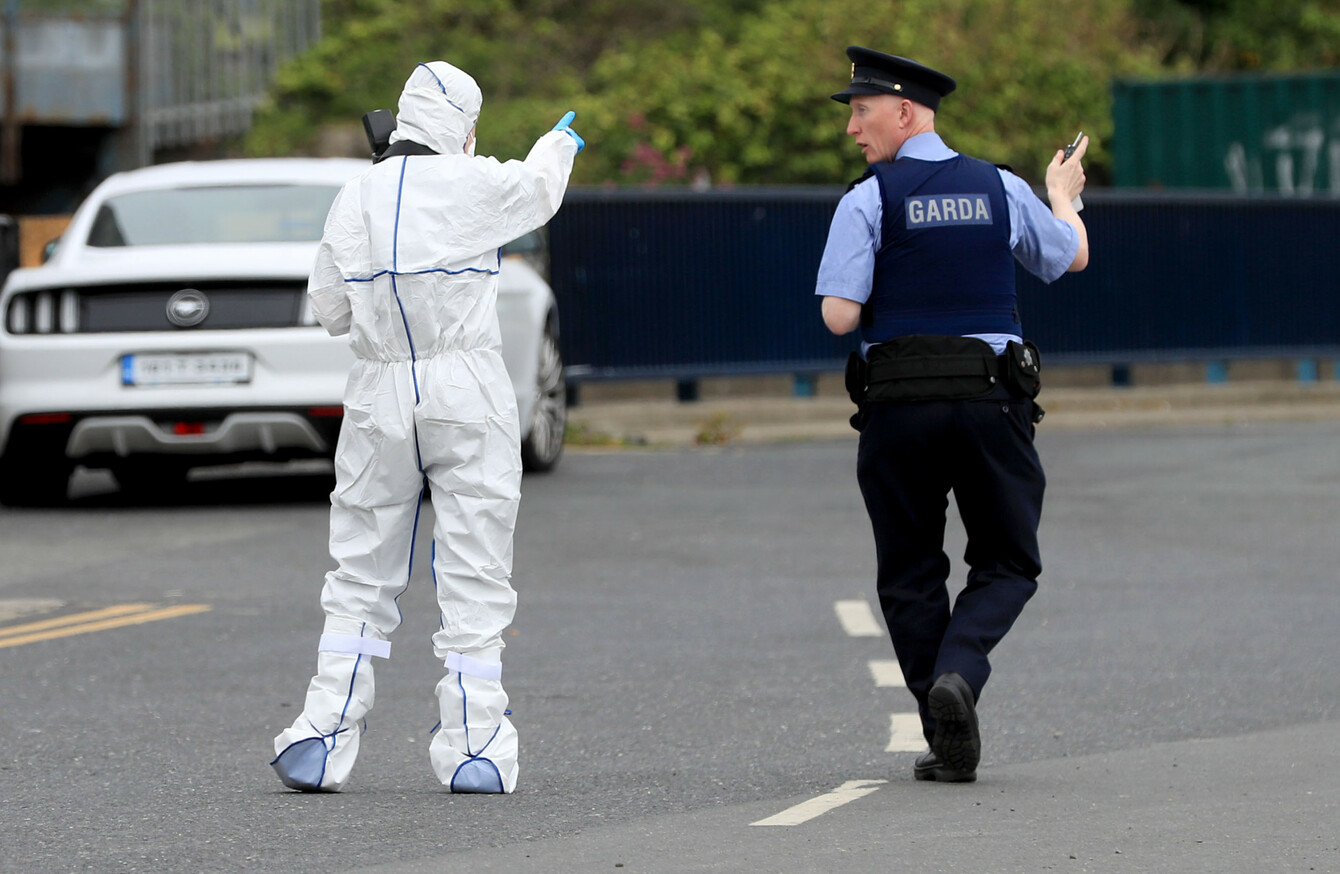 Forensic detectives at the scene of a shooting incident at Bray Boxing Club in The Harbour, Bray, Co. Wicklow.
Image: RollingNews.ie
Forensic detectives at the scene of a shooting incident at Bray Boxing Club in The Harbour, Bray, Co. Wicklow.
Image: RollingNews.ie
AT AROUND 6.45am on 5 June, a call came through to Bray Garda Station that a man had entered a boxing club and had opened fire, seemingly randomly, at a number of its patrons.
Another serious crime committed in an area which had seen its fair share in a considerably short period of time.
The last month has been one of the busiest in recent memory for many officers based in Shankill and Bray garda stations. While they are just five kilometres away from each other, they belong to two different garda areas – Shankill part of the Dublin Metropolitan Region East while Bray is part of Wicklow's policing plan.
In the last four weeks, there has been:
Responding to and investigating these incidents occurred outside the usual day-to-day jobs officers are carrying out, which includes dealing with anti-social behaviour and low-level crime which blight most areas in the greater Dublin region.
While the stations come under different districts with two different budgets, the members rely on each other to pass on information and intelligence.
TheJournal.ie has spoken with two well-placed sources about the recent spike in crime. Speaking on the condition of anonymity, they shared similar emotions; frustrated by a lack of resourcing and the ever-dwindling number of officers.
"There's nothing you can really do about it at all. The Valdez case was just a complete once off. You can't prepare for it, there's not a hope," one said.
There were gardaí, the Civil Defence, the Defence Forces, the garda helicopter, everything really. Everything was done to help that poor woman straight away but we were too late. There is nothing more we could have done.
"It's been the busiest, if we can say that, that I've ever seen it anyway. The guards are doing the best they can with what they have. There will never ever be enough resources in the world for policing. It doesn't matter if money wasn't an option. You do all you can do with what you have and plough on."
Bray Garda Station does not have a drug unit despite being a district headquarters in an area which has a noted problem with cocaine and heroin.
There are at least two high-profile drug dealers operating out of the seaside town. One of these men is suspected of ordering a shooting at the boxing club earlier this month. It is understood the shooting occurred as a result of a personal grudge. There is no suggestion anyone at the club is involved in criminality.
A source based in north Wicklow said the re-establishment of a drugs unit would help gardaí effectively police the district and remove a number of high-profile dealers from the area.
However, this is a matter of garda management and not for those based at the station. Many senior officers feel that the lack of a drugs unit makes Bray and its surrounding areas a soft touch for illegal activity. Many areas around the town have issues with problematic drug use – most notably heroin.
A Divisional Drugs Unit was established in the DMR East region in September 2017 while, at the same time, Bray's drug unit was rebranded as a Crime Prevention Unit – meaning it effectively took on more operations and did not specifically target drug crime.
But the biggest problem in the region is the dwindling numbers of officers in the area. In the DMR East which includes Dún Laoghaire-Rathdown numbers are down by 22%. Sources have said that gardaí can only do an effective job if there are enough people to do it. The rebranding of the drugs unit didn't go down so well, as a result.
"It didn't make much sense to the lads once they heard what was happening. It was sold to gardaí as this big new push against crime. I think it was dressed up as something it wasn't – it was actually a bit of a cash saving thing.
"It's a bit typical that Dublin gets the drug unit but you can see why – there's a bigger population and there's more opportunities to make seizures. The guards in Bray are always told to check in with Shankill to make sure they're getting any intelligence that could concern what's happening in Bray, Greystones, Kilcoole  – wherever you think there's a chance to make an arrest or a seizure," another source said.
What many gardaí in the north Wicklow region want is the return of the drugs unit. Many felt that there was good work being carried out by the group of officers and that they were keeping dealers' actions in check.
"We know local management are doing their best and there's no in-fighting or anything like that at the station. We're happy with the way the resources we have are being directed – we'd just like more of them, more officers, more support structures, better cars. I suppose like the rest of the country."
When it was announced that the Crime Prevention Unit was to be established in the drug unit's place, Bray Superintendent Pat Ward told local media that the unit was not being disbanded – instead it was undergoing a change.
Speaking to the Bray People last year, Ward said: "The time of the personnel has come to an end in that unit. It was always a finite period of time. It is the responsibility of every member of An Garda Síochana to enforce drugs legislation. The Crime Prevention Unit would have a particular focus on the enforcement of drugs legislation."
The areas of Shankill and Bray have been blighted with numerous incidents of low-level crime in recent years – most notably anti-social behaviour. Figures for 2017 show that burglary in the area had reduced. This is down, in part, to the allocation of Operation Thor resources to the region in recent years. Operation Thor is a nationwide garda initiative targeting repeat burglary offenders.
While burglary remains a constant battle for officers, the emergence of a worrying crime trend in the area in the last two years has been challenging for gardaí.
There has been a number of sexual assaults perpetrated by who gardaí believe to be the same person.
The first known incident involving this suspected attacker occurred in December 2015, when a woman was assaulted as she walked near Shankill Dart Station.
A month later in January 2016, a woman was attacked 300 metres from the Dart station at the entrance to the Holly Park estate. Two weeks later, two complaints of assault were made to the authorities. The incidents are alleged to have taken place on the Quinn's Road just after Shankill village and on Military Road, which leads to Killiney Dart Station. The next attack occurred in between Shankill Dart Station and Military Road in February of last year.
Last month, a woman was dragged to the ground as she walked on Loughlinstown Drive – around two kilometres from Shankill Dart Station. Investigations are at an early stage in this case but officers do not feel this attack was connected to the others.
There have been repeat calls by members to management for them to increase patrols around areas where suspicious approaches have been reported in the last 12 months. The members argued that these patrols would not just give peace of mind to people walking alone at night but would serve as a reason for officers to patrol anti-social blackspots.
Areas where these sex attacks occurred share the same location as other serious crimes in recent weeks. In fact, last week shots were fired at a house in Rathsallagh Park in Shankill – 500 metres from the Dart station.
This summer sees the reintroduction of Operation Irene.
This is a targeted operation to combat underage alcohol consumption and drinking in public places. Gardaí believe the implementation of this initiative has seriously reduced the amount of anti-social behaviour incidents during the summer months.
Elected representatives have urged locals both in Bray and Shankill not to be overly frightened or concerned by the past few weeks, saying gardaí and politicians are doing all they can to ensure the safety of those going about their day.
Councillor Cormac Devlin said that a lot has been done in the area in recent months to make it more secure.
"Since 2010, garda numbers in Dublin have fallen by over 15%. In the DMR East which includes Dún Laoghaire-Rathdown, numbers are down by 22%. This represents the greatest single reduction in the capital. This is in direct contrast with an increase in our population which grew by over 5%.
"Not only have we lost three garda stations, we have lost over 100 serving gardaí. This acute shortage is putting huge pressure on the remaining gardaí. When I highlighted this issue back in 2014 and 2015 we were promised numbers would increase. But the latest figures from April 2018 reveal garda numbers are at an all time low.
"The evidence is crystal clear, the best deterrent to crime is the fear of being caught.
The Minister for Justice must provide additional resources to ensure the capital is adequately policed. It is simply not acceptable that numbers continue to fall especially in circumstances where the population is increasing, and the economy is continuing to expand."
Asked if it was happy with current resourcing levels, a spokesman for garda management said: "Local Garda Management closely monitors the allocation of garda personnel in the context of crime trends, policing needs and other operational strategies in place on a District, Divisional and Regional level, to ensure optimum use is made of garda resources, and the best possible garda service is provided to the public.
"Senior Garda Management is satisfied that a comprehensive policing service continues to be delivered and that current structures in place meet the requirement to deliver an effective and efficient policing service to the community.
"Garda management is provided with an annual budget and must work within that budget. The budget is kept under constant review by local and senior Garda Management. An Garda Síochána will maintain the current level of service provided to our communities."