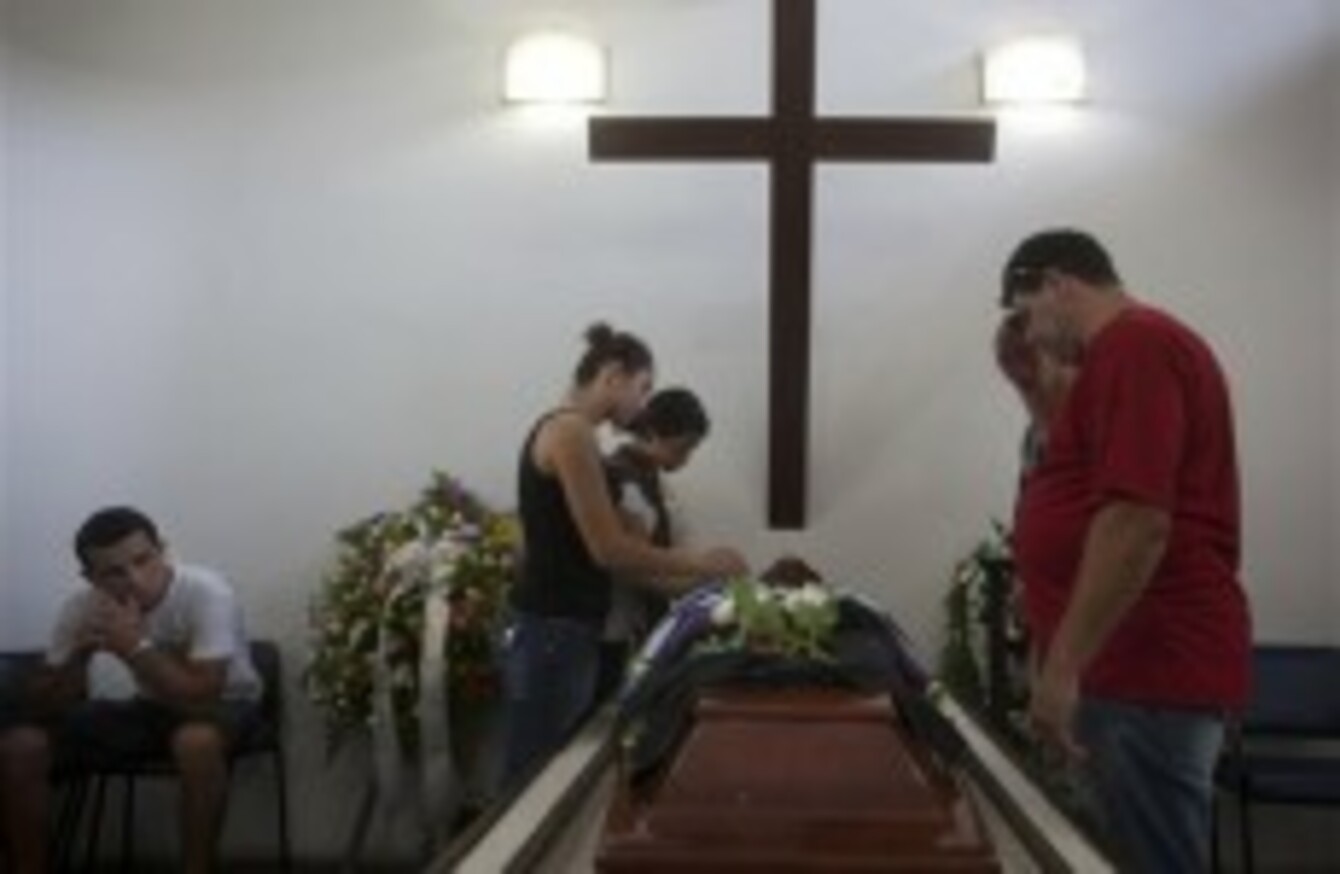 People attend the funeral of Gustavo Goncalves, a victim of the Kiss nightclub fatal fire.
Image: (AP Photo/Policia Civil do Rio Grande do Sul)
People attend the funeral of Gustavo Goncalves, a victim of the Kiss nightclub fatal fire.
Image: (AP Photo/Policia Civil do Rio Grande do Sul)
THE OWNER OF a nightclub in southern Brazil where more than 230 people died in a fire last weekend deflected blame to "the whole country," as well as to architects and inspectors charged with making sure the building was safe.
Attorney Jader Marques said his client, Elissandro Spohr, "regretted having ever been born" because of his grief over the fire, but still blamed Sunday's tragedy on "a succession of errors made by the whole country."
Police investigating the blaze have said it likely started when a country music band performing at the Kiss nightclub in the college town of Santa Maria lit a flare, which ignited flammable soundproofing foam on the ceiling. That initial error was compounded by the near-total lack of emergency infrastructure such as a fire alarms or sprinkler systems, police have said. The club also had only one working door and a faulty fire extinguisher.
A police officer inspects victims' belongings after a fire at the Kiss nightclub. (AP Photo/Policia Civil do Rio Grande do Sul)
Marques insisted in an interview that "my client's responsibility is having trusted too much in the inspectors and in those responsible for the construction."
"Hindsight is 20-20," he said, stressing that public officials had signed off on the club.
The number of injured jumped to 143 yesterday after 22 people were admitted to hospitals with respiratory problems after having escaped the club apparently unharmed. Brazil Health Minister Alexandre Padilha has urged the fires survivors to remain alert for any symptoms of so-called "chemical pneumonia," which can take up to three days to develop following exposure to toxic fumes and smoke.
The blaze also claimed another life late Tuesday, raising the death toll to 235, as a 25-year-old man with burns covering 70 per cent of his body succumbed to his wounds. The man's older brother was also killed in the fire and buried on Sunday. Their grieving mother, Eliane Goncalves, had pinned her hopes on her younger son making a recovery.
"When they went out at night, I blessed them," Goncalves said. "I asked myself how I would be able to sleep with both of my boys out. But what could I do, follow them? God bless them."
A woman mourns on the coffin containing the remains of Gustavo Goncalves. (AP Photo/Felipe Dana)
Earlier this week, police detained Spohr, the club's other co-owner and two musicians who were playing in the club when the fire broke out, and are holding them for five days as part of the investigation.
Marques denied reports that overcrowding helped cause Sunday's tragedy, insisting there were only 600 to 700 people in the club at any one time. Capacity for the 615-square-meter (6,650-square-foot) nightspot stood at less than 700, though the band's guitarist told media that the space was packed with an estimated 1,200 to 1,300 people. Police have given the same estimate.
Authorities have said that of the 143 people still hospitalized, more than 70 are still in life-threateningly critical states.
The tragedy raised questions about the reliability of safety regulations in a nation set to host the World Cup and Olympic Games.