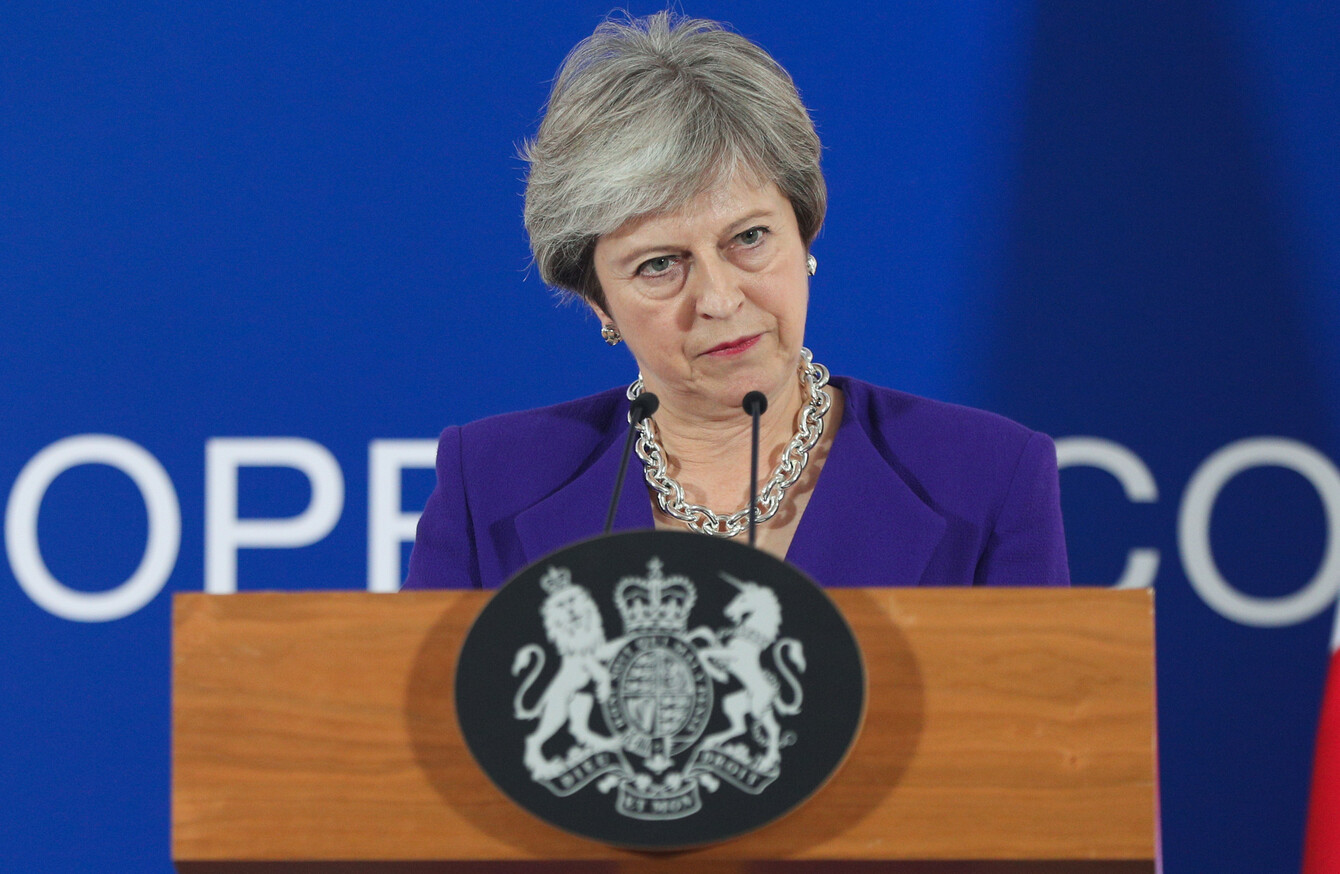 British Prime Minister Theresa May
Image: Xinhua News Agency/PA Images
British Prime Minister Theresa May
Image: Xinhua News Agency/PA Images
BRITISH PRIME MINISTER Theresa May is to tell Britain's parliament today that Brexit negotiations are "95%" complete but that she cannot accept the European Union's Northern Ireland border proposals – as she faces down an increasingly mutinous faction within her own party.
May has been on the receiving end of a furious backlash from Brexit hardliners in her own party after indicating at an EU summit last week that she could accept a longer post-divorce implementation phase than previously envisaged.
Her shift aimed to break an impasse in negotiations between London and Brussels over how to keep the Irish border open after Brexit, by giving the two sides more time to agree their future relationship.
But it infuriated Brexiteer colleagues who fear remaining tied to the EU for years after Britain's formal departure next March. 
Several Sunday newspapers said rebellious MPs were preparing a fresh bid to topple her leadership this week, many carrying colourful off-record quotes from the plotters.
In a bid to calm passions, May will address MPs in the House of Commons today where she will say the divorce deal with Brussels is nearly done. 
"95% of the Withdrawal Agreement and its protocols are now settled," she is to tell parliamentarians, according to a partial transcript released by her office last night.
Highlighting progress in the year-long talks, she will say agreements have now been reached across a broad range of issues including with Spain on the status of the British Overseas Territory of Gibraltar, and with Cyprus on the UK's military bases there.
"We have broad agreement on the structure and scope of the future relationship, with important progress made on issues like security, transport and services," she will say.
Busted backstop
But on Ireland, she will seek to reassure MPs in her own party that she will not bow to the EU's current proposals. 
"As I set out last week, the original backstop proposal from the EU was one we could not accept, as it would mean creating a customs border down the Irish Sea and breaking up the integrity of the UK," she will say. 
"I do not believe that any UK Prime Minister could ever accept this. And I certainly will not."
The so-called backstop is a proposal to keep either Northern Ireland or all of Britain in a customs union should future trade talks end in deadlock.
Talks have stalled over how to stop its land frontier with the Republic of Ireland becoming a hard border again.
London believes customs and other checks can be avoided through a new trade agreement with Brussels but accepts the need for a fallback plan until that deal is agreed.
However, the two sides have so far been unable to settle the terms of this so-called backstop.
Despite rumours that solidarity with Ireland is wavering in some EU quarters, Tánaiste and Minister for Foreign Affairs Simon Coveney said on Friday that those rumours are not credible and solidarity between all EU members and Ireland remains strong. 
#Open journalism No news is bad news Support The Journal

Your contributions will help us continue to deliver the stories that are important to you

Support us now
While another EU summit was rumoured to be taking place in November, it was ruled out last Thursday. Coveney said a meeting could still be held next month, but only if the two sides make significant progress.
"There will be a summit in November if it is needed. I think what EU leaders have sensibly said is there is no point in having a summit for the sake of it, if we don't have a deal," he said, adding:
If there is a deal to be done whereby the negotiating teams can recommend an agreement on a deal then I think there will be a November summit but in the absence of that signal from the negotiating teams then i don't think people will meet for the sake of it. Everyone wants to get this done in November.
Coveney said it could well push into December, but was firm that a deal must be reached by Christmas so as to ensure there is adequate ratification and preparation time.
"Of course it is possible this could go into December, but really this needs to be done before Christmas. Hopefully it can be done in November, to take the pressure off everybody and give people time and space and enough time to plan."
Despite voting in favour of a split from Europe, the British public remains deeply polarised on Brexit. 
On Saturday, more than half a million anti-Brexit protesters hit the streets of London, the largest demonstration since 750,000 people showed up against the Iraq war in 2003.
Meanwhile, later today the two-day British Irish Parliamentary Assembly begins in London, with sessions held in Canary Wharf and the Palace of Westminster. 
Today, the assembly will hear from Secretary of State for Northern Ireland Karen Bradley and Ambassador of Ireland to the UK Adrian O'Neill. 
© – AFP, 2018 with reporting by Christina Finn