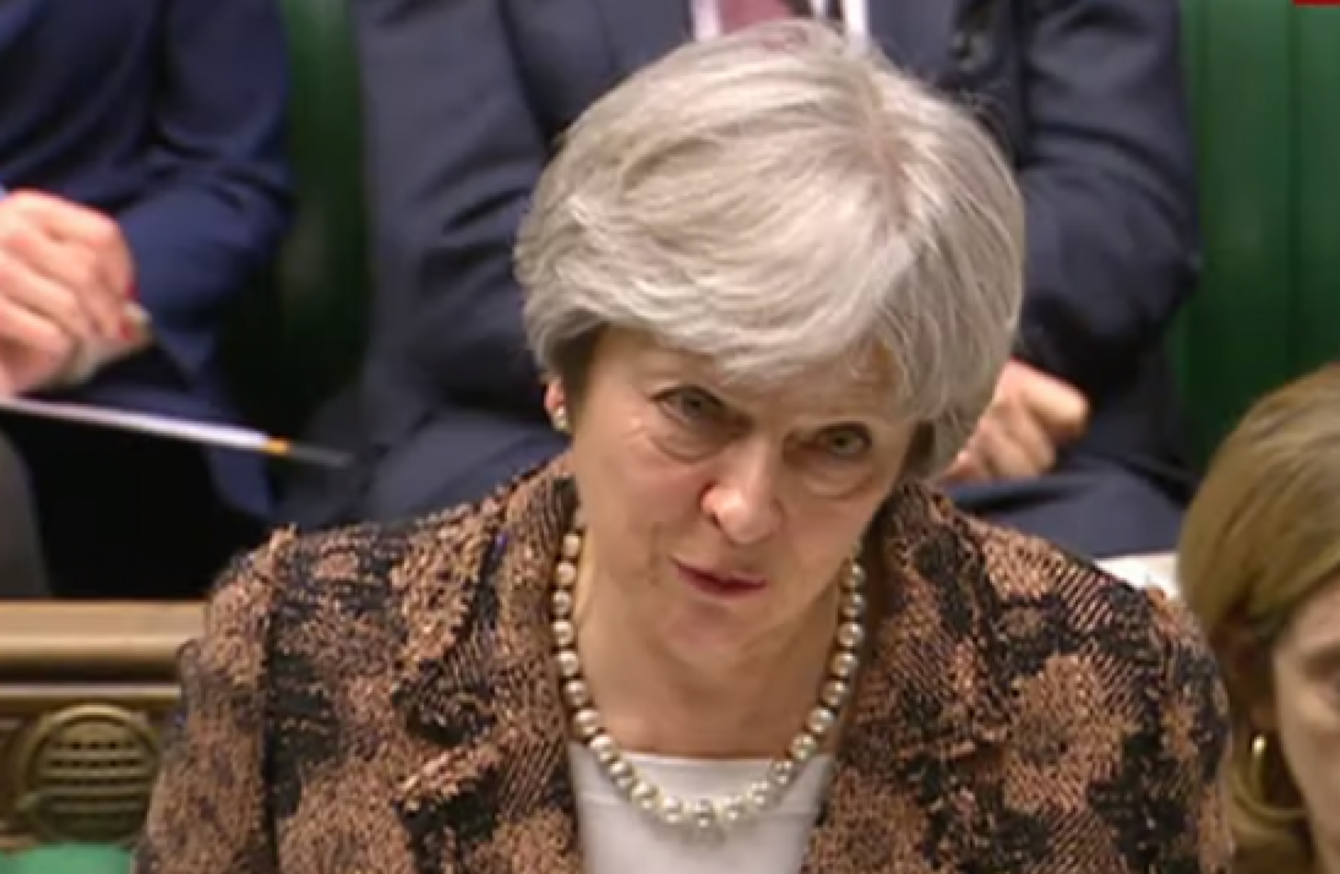 Theresa May addressing the UK House of Commons.
Image: Sky News
Theresa May addressing the UK House of Commons.
Image: Sky News
Updated at 5.25pm
UK PRIME MINISTER Theresa May has said that it is "highly likely" that Russia was responsible for an attack with a nerve agent on a former Russian spy and his daughter last week in Salisbury in England.
Earlier, May and senior ministers received an update on the investigation into the 4 March attack on Sergei Skripal, 66, and his 33-year-old daughter Yulia.
The Russian pair were found slumped on a bench in Salisbury, southwest England, and remain in a critical but stable condition in hospital. Authorities have yet to confirm the precise substance involved in the attack.
Addressing the UK Commons this evening, May said that that incident amounted to an attack on UK soil.
She said that the poisoning was carried out using a "military grade" nerve agent developed by Russia.
This nerve agent was identified as coming from a group of agents called Novichok, which Russia has made in the past.
Using strong language she said that either the poisoning was a "direct" attack by the Russian state on the Skripals or that the Russian government had lost control of its chemical weapons.
"This has happened against a backdrop of a well-established pattern of Russian aggression," May said.
Russia's illegal annexation of Crimea was the first time since the Second World War that one sovereign nation has forcefully taken land from another.
She said the the UK has demanded a "full account" from  from Russia and that if there is no "credible response" the UK will come back with a full range of measures to take in response to the incident.
"This attempted murder using a weapons-grade nerve agent in a British town was not just a crime against the Skripals, it was an indiscriminate and reckless act against the United Kingdom, putting the lives of innocent civilians at risk," she said.
We will not tolerate such a brazen attempt to murder innocent civilians on our soil.
May's comments received widespread support from her own party after the statement.
Precautionary measures
Sally Davies, England's chief medical officer, said yesterday that up to 500 people who may have come into minimal contact with the nerve agent should wash their clothes and belongings as a precaution.
The advice was aimed at locals who visited The Mill pub and Zizzi's restaurant that the targeted duo visited prior to falling ill.
The advice, given a week after the incident, surprised residents repeatedly reassured they were in no danger.
Nick Bailey, one of the first police officers on the scene after Skripal and his daughter fell ill, is in hospital but conscious, local police have said.
Meanwhile, Britain's armed forces are continuing to assist police in the probe.
Around 180 troops, including chemical warfare experts, have been deployed in Salisbury after investigators requested expert assistance.
Interior Minister Amber Rudd has said police were examining more than 200 pieces of evidence, had identified more than 240 witnesses, and were ploughing through security camera footage.
With reporting from © – AFP 2018