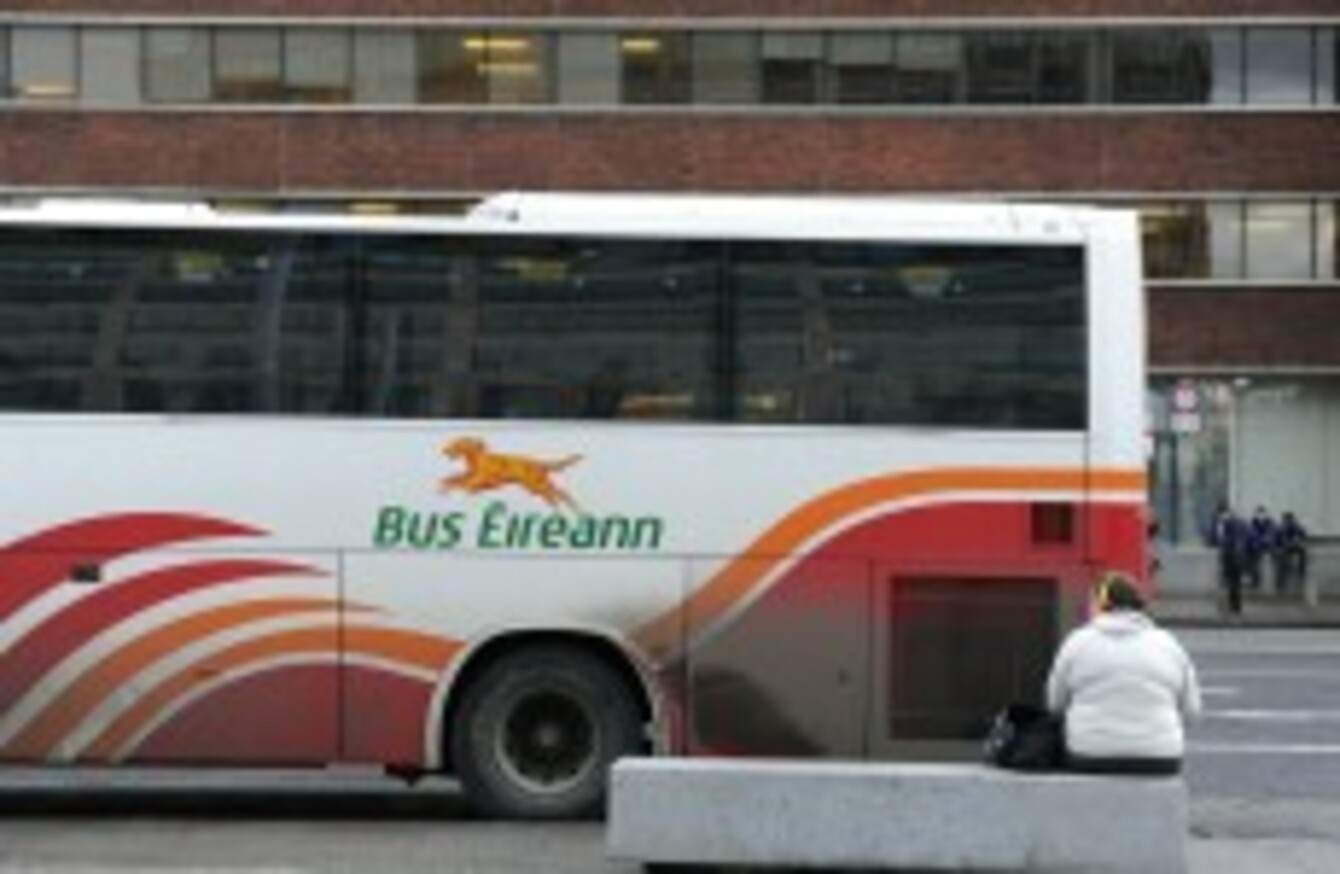 A Bus Éireann bus outside the main bus terminal Busaras in Dublin
Image: Barry Cronin/PA Wire
A Bus Éireann bus outside the main bus terminal Busaras in Dublin
Image: Barry Cronin/PA Wire
BUS ÉIREANN HAS warned that a controversial cost-cutting plan at the company need to be implemented as soon as possible or the company is 'highly likely' to end up breaking the law.
Unions at the company have rejected the proposed changes to pay and conditions, but Bus Éireann said tonight if it does not implement the new plan, it is 'highly likely' to breach company law within one month because of its 'precariously low level of net assets'.
The new financial proposals were set out in a recent Labour Court recommendation aimed at resolving the ongoing dispute at the company as management battle to cut costs but workers fight against cuts to their pay.
The company said it may be required to call an Extraordinary General Meeting to deal with the situation if it isn't allowed to cut pay.
"The likely need to call an EGM is a further demonstration that the future of Bus Éireann is clearly at risk," said a spokesperson.
The company has said it. The Labour Court has said it. The trade unions' own independent financial assessors have said it.
The payroll savings from the Labour Court recommendation are vital to Bus Éireann's survival.
The Labour Court recommended a range of measures to save around €5 million from the payroll . The company says it plans to implement the changes from this Sunday. If it doesn't bring in the changes, Bus Éireann says it faces annual losses of more than €11 million, which it says are not sustainable.
Unions have said they will take industrial action from this Sunday if the changes to pay and conditions go ahead. When strikes were threatened in January, Bus Éireann warned employees that their jobs could be at risk if they took industrial action.
Among the changes recommended by the Labour Court are:
An increase in the working week for clerical and executive staff from 36 hours to 39 hours
Reduction in premium payments (such as Sunday payments) to be x1.5 payments rather than double payments
Reduction in annual leave entitlement by 3 days for the next three years
Reduction in allowances and expense payments by 20 per cent
Bus Éireann said its low level of assets means any more losses from not bringing in the payroll savings set out in the Labour Court recommendation means it could breach Section 40 of the Companies (Amendment) Act 1983.
This means that shareholder funds no longer exceed 50 per cent of the called-up share capital, requiring the company to hold an Extraordinary General Meeting to deal with the situation.